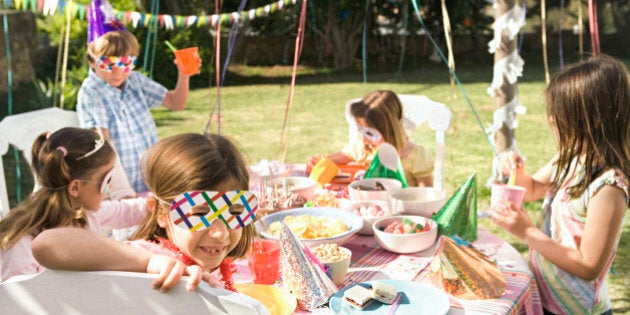 The parents of five-year-old Alex Nash were shocked to discover an invoice for nearly $30 after their son missed a classmate's recent birthday party.
"It was a proper invoice with full official details and even her bank details on it," explained father Derek Nash, who claims he was told that he would be taken to small claims court after refusing to pay the invoice.
Birthday Mom, Julie Lawrence, apparently feels justified in sending the "no show fee" since Alex's parents had confirmed his attendance through an RSVP.
On the day of the very important birthday party, however, Alex's parents realized that their son had been "double-booked" and was scheduled to spend time with his grandparents. So the busy lad skipped the party and spent time with granny and gramps instead.
Children's birthday parties can be fraught with peril.
Lawrence, who organized the birthday party at Plymouth Ski Slope and Snowboard Centre in the U.K., was clearly miffed that Alex's parents had failed to notify her that their son would no longer be attending the festivities. Alex's parents allege that they tried to reach out on the day of the party, but could no longer find the party invite which contained the contact details.
Not surprisingly, this story has gone viral. Everyone seems to have an opinion as to who is in the right, who is in the wrong and who is just plain cracked.
To be clear, I think all of them are out to lunch.
One simply cannot send an invoice to another parent for missing a child's birthday party, no matter how tempting it might be to do precisely that.
But the other parents are not blameless victims in all of this either. A couple days before the party, the father confirmed with Lawrence that his son would be attending the party. Then, on the day of the party, Alex's parents suddenly remembered that Alex was due to spend time with his grandparents. There was no phone call, no email or text message sent. Also, no apology.
And while the party took place sometime before Christmas, little Alex Nash did not receive his invoice until January 15th. Had Alex's parents made a real effort to contact the birthday boy's parents and actually apologize for his absence, it likely would have been the end of it.
Keep in mind that Ms. Lawrence was required to submit payment for each child prior to the actual event. Not to mention, if some children could not attend the party, it is likely that Lawrence would have extended invitations to other children in their place.
As a mother of three, it feels as though I am forever planning birthday parties. In fact, I am still recovering from the last one where I stayed up all night trying to create a three-tier Elsa Ice Castle cake.
And there definitely seems to be a trend towards hosting these celebrations at a venue, rather than one's home. Whether it be an indoor playground, bowl lounge or laser tag facility, children's parties are now big bucks and big business. It is not uncommon or unusual for parties to cost $15 - $20 per child and that generally does not include loot bags or food.
I sympathize with Julie Lawrence. It is incredibly frustrating to try to plan the perfect birthday party only to be met with parents who never bother to RSVP and others who do, but then fail to show up or offer an explanation.
For my son's fifth birthday, we were a little puzzled by the lack of RSVPs. Since he wanted a bowling party, we needed to give a final headcount to the facility in order to determine the proper number of lanes. This typically must be submitted a week or so before the actual event.
As a party novice, I was working under the assumption that if a parent had not RSVP'd, then their child would not be attending. My good friend (and mother of four) quickly set me straight. She explained that many parents forget to RSVP (or choose not to) and will simply show up on the day of the party and assume that a spot will already be reserved for their child.
In fact, this very thing happened when planning my daughter's "farm" birthday party. One mother actually emailed me on her way to the party, alerting me to the fact that her daughter would indeed be attending, along with her two sons (and also both parents). So my headcount suddenly jumped up by five (and yes, we were required to pay for every person attending...adult or child).
Needless to say, I knew then and there that we would never be inviting that particular family again. (Though I didn't consider sending an invoice...).