Forget Mama Bear. This Hamilton mom is an absolute shark.
Jennifer Jamieson of Stoney Creek was none too pleased when she discovered that her nine-year-old son was slated to attend a school trip to Marineland Niagara Falls.
"This is not some hippie bandwagon stunt. I am a mother (who is) truly concerned for and dedicated towards the welfare of animals," explained Jamieson during an interview with CBC Hamilton. "I want my children to live a compassionate lifestyle and for society to stop viewing captivity as just another social norm...There's nothing educational about using animals for our entertainment."
The determined mother was successful in her bid to get the class trip terminated and Mountain View Elementary School students will now be treated to the exhilarating sights and thrills offered by the Royal Botanical Gardens instead.
Now don't get me wrong. I admire people who have strong opinions and have the backbone to stand up for what they believe in.
But I am not so sure we should involve young children in our battles.
Personally, if I were in Ms. Jamieson's vegan-friendly shoes, I would just keep my kid home for the day.
Being known throughout the school as "The Mom who Cancelled Marineland" -- and the ramifications that may have on this nine-year-old boy -- would not be on my to-do-list. Let the kids have their fun.
Children grow up so quickly these days, their innocence is all but fleeting. It seems a shame that we should rattle them with tales of alleged animal cruelty and abuse (whether real or imagined). Or expose them to the absolute boringness of the RBG -- a sad and anorexic version of Butchart Gardens. (Sorry...but these children are nine, not 90. And no nine-year-old is going to do cartwheels over a trip to the RBG.)
Ms. Jamieson is well within her moral rights to decide to keep away from the facility. I would not even fault her had she approached the school quietly before any trips were officially declared, or after the fact to advocate for more "humane" class trips in the future.
But part of good parenting is to allow our children the right to their own thoughts and opinions, even (and especially) if they are in contrast to our own. We must also protect our children.
Unfortunately, Ms. Jamieson has made her son a potential target.
At nine, most kids are not going to be pondering the ethical dilemma posed by places like the zoo, the circus or Marineland. They will just enjoy it for what it is...a fun show that allows children the opportunity to view marine animals up close and even feed a beluga whale. A trip like that may spark a lifelong passion for marine biology, or cause a child to steer clear of shark fin soup or dolphin meat for eternity.
I absolutely cringe every time I see a young child fumbling with an over-sized sign at a pro-life rally. Kids do not belong there. Let the parents protest. Let the parents fight and do battle. Let children be children.
Ms. Jamieson's son has now become an unwitting combatant in the war against Marineland. His classmates will forever peg him as the boy whose mother ruined the class trip.
Some of my fondest school memories revolve around the year-end trips. African Lion Safari. Marineland. Canada's Wonderland.
As someone who is overly opinionated for my own good, I recognize that there are a slew of things I could protest at my children's school.
I might take issue with the pepperoni that is being served on Pizza Days.
I might take issue with the fact that a teacher would not allow my daughter to eat a mini Twix bar, even though it does not contain peanuts or peanut butter.
I might take issue with the fact that the annual school Christmas concert has been replaced with a Winter celebration.
I might take issue with the fact that our local school just held its umpteenth fundraiser to raise money for new technology at the school, despite the fact that the playground equipment is falling apart. And we have a problem with childhood obesity in this country ... not a lack of technology.
But those are my battles. And I realize that my kids will have to fight their own battles one day.
So we participate in the bake sale, and the book sales and Pizza Day. We send in the obligatory tissue box each year to help stock the classroom with Kleenex so that school administrators can pay $143 for pencil sharpeners instead.
We dutifully complete the daily homework (even though I do not believe that a six year old should have homework).
My job as a parent is not to make my children little soldiers. We are privileged to live in this great nation and I never forget how lucky I am that my kids get to grow up surrounded by peace and with an abundance of rights and protections.
There will be plenty of time for my kids to learn life's hard lessons and to decide for themselves where the battlelines should be drawn and when it is better to simply make peace.
================================================================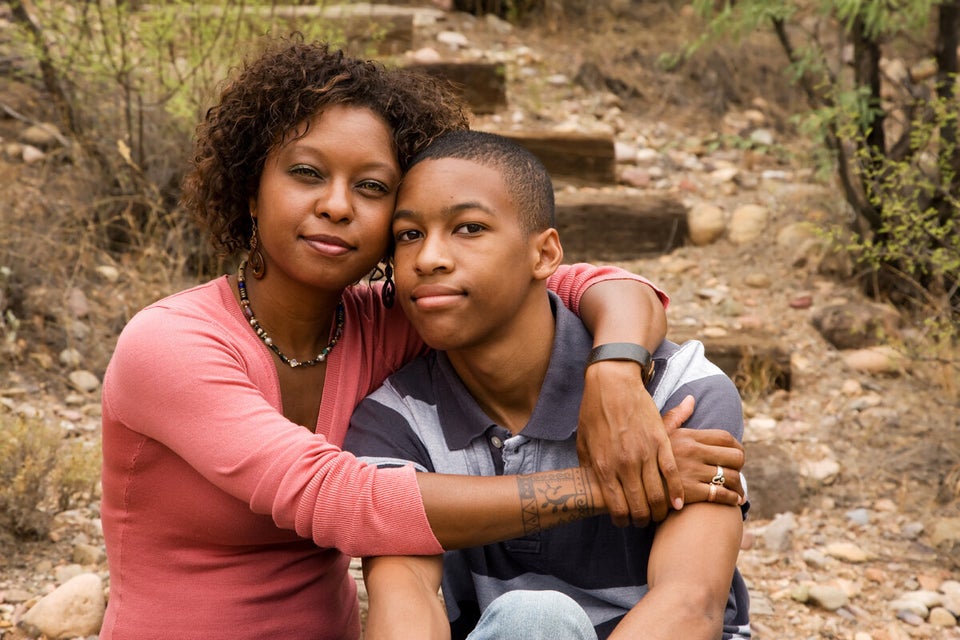 How To Talk About Bullying