Are you on life's last lap and have yet to make a real difference? That's the angst of some boomers who came of age believing they would change the world, but then life got in the way. Now retiring from the jobs that derailed them from their dreams, they're hoping it's not too late to leave a legacy. One strategy is to find new work that makes a social contribution -- an "encore career." This term for purposeful later-in-life employment was made popular by Marc Freedman, the founder and CEO of Encore.org. He calls these jobs, in fields such as healthcare, education, and the environment, "second acts for the greater good."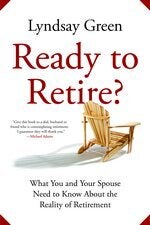 When I interviewed retirement-age Canadian men for my book Ready to Retire? a desire to do good with the time remaining was a frequent topic of discussion. Whether already retired or still employed, many of these men were working in soup kitchens, mentoring peers or contributing their time to non-profit organizations as managers, fundraisers or board members. And they were doing these jobs as unpaid volunteers.
Freedman's concept of an encore career includes paid work because retirees who want to make a contribution to society may also have financial needs to meet. And, most importantly, an encore career emphasizes jobs that use a retiree's life experience and skills. Freedman argues that seniors should be recognized in the workplace for their education and expertise, what he calls their "experience dividend."
But negotiating an encore career can be challenging. Retirees need pathways to transition into this new work, and potential employers need to recognize the value of older workers. If there are too many roadblocks for the retiree, it's easier to just go golfing. As E. B. White put it, "I arise in the morning torn between a desire to improve the world and a desire to enjoy the world. This makes it hard to plan the day."
Some of the men I interviewed were aware of American programs to help people find later-in-life careers that combine personal meaning and social impact, and they want Canada to step up. As one man said, "I wish there was more encouragement for encore careers in Canada, the way there is in the US. There's an interest from us seniors, but not from the folks who should be sponsoring it, like governments or educators."
Here are some examples of what he was talking about:
Encore Fellowships provide short-term paid assignments with non-profits and public agencies, allowing people to build networks and learn what it's like to work in a new environment. In 2014, 250 Fellows worked in host organizations across the US. The Stanford Social Innovation Review assessed the initial pilot and concluded that the program was particularly successful in providing value to its stakeholders. All but two of the non-profits in the pilot offered Fellows continuing paid work, and all 10 Fellows decided to pursue encore careers in the social sector.
The Legacy Leadership Institute on Public Policy at the University of Maryland Center on Aging helps residents 50 and up move into new careers as service leaders in the government or with non-profits. Candidates receive 64 hours of intensive instruction and on-site mentoring over eight weeks on topics such as government, volunteer skills and professional service careers. Graduates contribute volunteer service in their local community for a minimum of 300 hours over two years, and the university assists them in finding career opportunities in the government or with non-profits. A report by the National Council on Aging analyzed the program's success and found that about half of the volunteers transitioned to part- or full-time paid positions, usually in the non-profit sector and related to their LLI volunteer experience.
Encore!Hartford, offered in collaboration with the University of Connecticut's Nonprofit Leadership Program and Leadership Greater Hartford, offers professional support in the transition to managerial and professional positions in the Connecticut non-profit sector. The program runs for 16 weeks and includes workshops held at different non-profit organizations, followed by eight weeks of fieldwork in a related organization. The program enrolls 20 to 25 participants a year. The minimum qualification is 15 years' experience, and many participants are in their 50s and 60s. Leadership Greater Hartford also offers Third Age Initiative, a year-long program for older adults who want to give back to their community. The program begins with a day-long workshop once a week for six weeks, followed by a two-day retreat. Over 10 months, participants work in teams to complete community action projects. The program is now in its 14th year, and more than 300 older adults have participated, ranging in age from 48 to 88 and working in over 40 communities in Greater Hartford.
In Canada, Carya (formerly Calgary Family Services) is providing a model for Canadian programs with its Elder Service Corps. Launched in 2012, the program is designed to make community leaders out of retired seniors. Participants are paid for 32 weeks to work on projects focused on aging, social justice and community development. Past projects include connecting high school students with a seniors' home to help the residents write their memoirs, working with the Calgary Sexual Health Centre to offer discussion groups on older adult sexuality and providing weekly arts workshops in an affordable seniors housing complex. Participants need to be 65 or older, with diversity being a key factor in recruitment. To date, fifty-four people have graduated from the program. Recruiting for 2016 has begun, with staggered intakes beginning in June, September and March.
Engaging retiring boomers for social good is in everybody's interest. People who get involved in community building and guiding the next generation bring joy to their own lives and contribute to the greater good. One uniquely Canadian approach would be to rework Opportunities for Youth to support seniors in projects of civic engagement that could lead to encore careers. Boomers might embrace the nostalgia of the OFY projects of the '70s that had them running around the country making films on community issues, building playgrounds and taking part in socially rewarding tasks. This new project could be coined Opportunities for Second Youth.