Summer is here, and the combination of hot temperatures and local fruit mean only one thing; smoothies.
When the mercury rises smoothies are a great way to beat the heat. Cold and creamy, simple to make, and easy to digest (seriously who wants to eat solid food when it 100° C with 100 per cent humidity outside?), they are the perfect no fuss meal in a glass.
Whether smoothies are your breakfast go-to, or afternoon snack to keep blood sugars balances and hunger at bay having a solid dose of protein is key to success. But bumping up the protein doesn't necessarily mean turning to weird, artificially flavoured powders, here are 5 all-star, non-powdered ways to add some oomph to your blended beauty.
Hemp Hearts: Grown here in Canada, hemp hearts have a slightly nutty taste, and add a creamy texture to smoothies. High in essential omega-3 fatty acids just one serving equals 10g of protein.
Pumpkin Seeds: one of the highest food sources of zinc, pumpkin seeds can help to prevent breakouts, and improve immune function keeping summer colds at bay. Just one 28g serving gets you 5 of protein.
Greek Yogurt: creamy, tangy and perfect in fruit smoothies, plain Greek yogurt adds a whopping 18g of protein for just ¾ of a cup
Sea Veggies: maybe not the most conventional protein option, but adding sea veggies to smoothies is a great way to increase your daily intake of iodine to keep your thyroid healthy, as well as vital trace minerals that are often lacking in more conventional diets. Protein content depends on the sea veggie you choose. Great ones to try: chlorella, spirulina or Irish moss
Eggs: a surprisingly delicious addition, eggs add 6g of protein to your smoothie, as well as good dose of choline (crucial for your nervous system), and a silky texture you may not expect. When using raw eggs always make sure to choose organic and free-run to reduce the risk of any potential food poisoning.
Chocolate Cherry Smoothie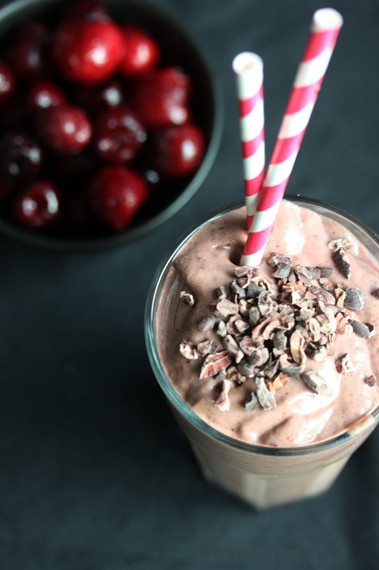 ½ avocado
½-1 banana (depending on size)
1 handful of frozen cherries
2 Tbsp hemp hearts
1 Tbsp chia seeds
1 Tbsp pumpkin seeds
T Tbsp almond butter
1 Tbsp raw cacao or cocoa powder
1 medjool date, pitted
1 ½ cup water or liquid of choice (depending on how thick you like it)
Cacao nibs, optional
Place everything in the bowl of a blender and blend on high until smooth. If banana is not frozen you may want to add a handful of ice to make this super creamy and frosty.
Top with cacao nibs if using!
MORE ON HUFFPOST: