Nadon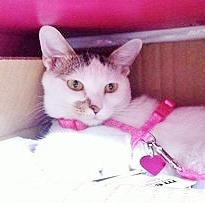 Little Mary is a darling young cat whose life was recently saved at the last minute when she was under threat of euthanization, pulled from a local pound and taken into foster.
She is not quite a year old, and packs a lot of personality into 6.8 lbs! In fact, she already thinks she's a dog. She follows you around the house, runs in front of you up and down the stairs, sits on your chest in the morning and grooms your face, and sits on your chest at night (with her arms around your neck) and purrrrrs during TV time. She is full of spunk and personality, talks liberally, and totally brightens up a room!
Mary is very good with dogs, super clean, in excellent health, responds nicely (and vocally) to her name when you call her. She is spayed and up to date on shots. She's looking for a family who will love, respect and protect her for the precious little soul that she is. In return, she'll find all your mice for you and scare them away! (she LOVES mice).
Contact: Toronto Cat Rescue 416.538.8952 http://torontocatrescue.ca/adopt-a-cat/

Or C4P Animal Rescue 905.726.2011 c4p@mediaintelligence.ca