Huffington Post Canada is pleased to announce, in conjunction with the organization C4P Animal Rescue, Adopt-a-HuffPet. Each week we feature adoptable rescue pets eager to find a loving home. Pets will be chosen from shelters across the country. If you wish to find out more about available rescue pets in your area, please visit C4P Animal Rescue.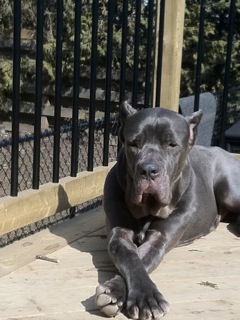 Sheena was found wandering the streets, scared and alone. No one cared about this giant beauty. Emaciated and covered in sores, Sheena required extensive vet care, treatment and surgery.
We immediately fell in love with Sheena and took her under our wing. Through all of this she has maintained a sunny disposition, her gentle spirit and her silly playfulness shining through. This beautiful girl is now ready for a home of her own.
Sheena enjoys the company of other dogs and loves to play and be cuddled. We are looking for a home that understands the Cane Corso breed and who is prepared to deal with her regimented diet. Sheena would be best in a home with children over 14 years due to her size -- she now weighs a healthy 100 pounds!
At two years of age, Sheena has a super knowledge of commands, however, due to the protective nature of the breed, professional training is still recommended.
For more info or to adopt this gorgeous girl contact The Dog Rescuers Inc. at 416.567.6249 or via email: info@thedogrescuersinc.ca www.thedogrescuersinc.ca.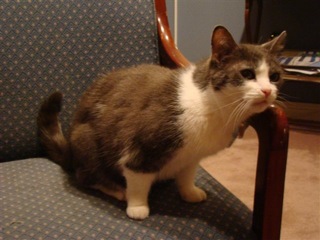 Mitzi is a sweet, cuddly senior, whose long-time caregiver recently passed away. At 14 years, she has some stiff joints (who doesn't at such an age?) and needs to be the only cat so that she can have all the love and attention she deserves!
This poor girl has had her life turned upside down and lost the person who loved her for 14 years. However, Mitzi is a happy, sweet old lady, who really loved being in the car and hotel room with people around her when transferred to foster.
Mitzi deserves to have a chance at a new loving home. Please contact Rachelle Hansen at 416.829.5489 or email: fishdreamsblue@gmail.com