Flickr: fwooper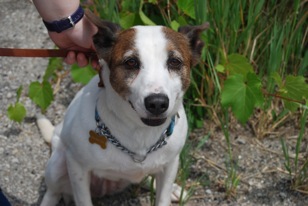 Katie is a sweet, energetic girl with a fun-loving attitude. She loves the simple things in life: nice long walks, rolling in the grass, snuggling with her humans. She makes friends easily wherever she is and is happiest when she is with you.
She was found as a stray so we have no history on her. Although a senior, don't let her age fool you. She has lots of spunk, and a sharp brain. She can't wait for you to teach her new tricks. She's a great model for "You're never too old to learn." She knows "sit," "down," "shake a paw," "wait," and is working on "playing dead."
She walks very well on leash with her harness, and runs nicely next to you. Katie knows what she wants. She gets along well with dogs and may enjoy a canine companion. She tends to ignore cats. She is an outstanding dog and will make an amazing companion. She's loyal, loving, and goofy, and always ready for an adventure.
If you are interested in adopting Katie apply to adopt her at the Oakville & Milton Humane Society, 445 Cornwall Road, Oakville, 905-845-1551.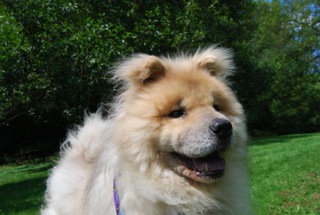 T.J. is a senior Chow Chow with a b-u-tiful cream coat who was brought in as a stray to a shelter in British Columbia and his owner never claimed him. Tracking information to find his family was a dead end, all we know is that his name is T.J. and he's about nine years old. Shelter staff say he has a charming personality.
Plans are underway for transportation from B.C. to Toronto on September 1st. Once safely in foster, he will be seen by a vet, have his medical needs looked after, and will be ready for his forever home. As we do not have any background information on him, he would be best suited to an adult home, possibly one with Chow Chow experience or knowledge of the breed.
T.J. has been tested with other dogs: male, female, large and small and has done fine. He has also been tested with cats and showed little interest. T.J. tolerated grooming and a bath, takes treats gently, and does not pull on a leash. He enjoys his walks.
This sweet smiley senior deserves a loving forever home.
Contact: Laurie Toth, Chow Rescue Ontario, tothchow@xplornet.com 519-688-5449