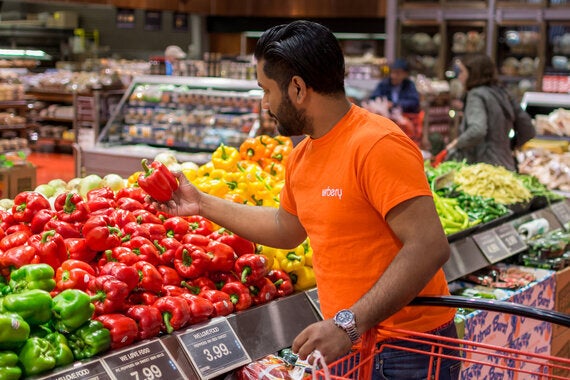 The professional: a determined and unwavering individual who laughs in the face of challenge and scoffs at risk. The true professional will do whatever it takes to "get there," and has no trouble getting back up and dusting off. Although hefty challenges usually breed big rewards, industrious individuals often find themselves in a fruitless scenario upon arriving home tired and hungry, to an empty fridge.
"No groceries!" you utter, quickly thinking of the easiest and fastest take-out option. Besides, after a long day the last thing any hard-working person wants is to do is take a few laps around a grocery store with a flappy-wheeled shopping cart. Nor does anyone enjoy lugging groceries home, because we all know that commuting with heavy bags is a total nightmare, especially in the winter months.
I've had the opportunity to avoid the nightmare that is "winter groceries" in the past thanks to living closer to the equator and local grocery delivery services. Living closer to the equator was fantastic, but the grocery delivery services, not so much. My experiences included having items delivered that the reps would never consume if prompted. Luckily, a recent return to my Toronto hometown brought an awakening to a new wave of the grocery delivery industry in our city, one that is customer-centric and technologically expansive.
This grocery shift was brought to my attention during a recent PayPal event announcement that Toronto grocery delivery company Urbery started accepting PayPal payment. I just had to know more and scoped out Urbery's CEO Mudit Rawat, and COO Dipesh Dar, and we chatted about the grocery industry as well as what sets Urbery apart. I was informed that my concerns about past grocery delivery services were no more. "Grocery Gurus," as Urbery's personal grocery shoppers are called, are trained to select your groceries with utmost care. My ears perked up instantly -- did this mean no more blighted produce? Thank goodness for the future!
Now, there is a sense of control connected to buying groceries in-person that many cannot surrender. With the rise of allergies and dietary restrictions many cannot afford to overlook the ingredient labels of the products they purchase. This is now taken care of with the ability to make notes in your grocery order, where you can ensure that your purchases are chosen with the farthest expiration dates, have your deli sliced thinly and "only get ripe avocados, otherwise no avocados". It's thrilling to know that unsaid expectations customers have from grocery delivery companies have now become part of service protocol.
For those of you who want to be free from the manacles of what I call "the bad food cycle," I would highly suggest leaving the work of grocery shopping to a professional so you can use the time to better yourself. "Betterment" meaning being selective about what goes into your day and your diet -- leave the store-hopping to your Grocery Guru.
It is amazing that we finally live in a day and age where we can see the whereabouts of our Grocery Guru in real-time, information that is very useful for those with tight schedules. The evolution of the grocery delivery service also allows your Grocery Guru to communicate with you during the shop to keep you in the loop.
I would say it takes about two hours to complete an average-sized grocery run, which is exactly under the amount of time it takes to receive your groceries from Urbery. Having your errands taken care of with no delivery charge for regular-sized grocery orders is a first of its kind in Toronto, and with the holidays here it is definitely worth the minimal alcohol delivery fee for those necessary LCBO stops.
Successful people know that part of reaching their business goals requires allocating responsibility to those who are capable and trustworthy; allowing you to take back the reins to your personal resources and energy expenditures. With the extra time you can get some rest, read and learn, prepare meal plans for the week ahead, and probably by around that time your groceries will have arrived. Gain back control of your time by eradicating the time-consuming task of grocery shopping and you can ensure that your daily plate will be more fulfilled.