World Vision staff member Mai Zamora was sleeping peacefully in her home in central Philippines last week, when a 7.2-magnitude earthquake hit the area. What she experienced in the hours that followed left her trembling for days.
It was Tuesday morning in Cebu City. I was in the middle of my sleep when a little voice inside my head called "Mai, wake up." I thought it was just a dream. Suddenly, I heard something like roaring thunder. Everybody in the neighbourhood was shouting. People were panicking.
I was in our rented apartment, an old wooden house built more than a decade ago. I felt the strong shaking inside the house and it took me awhile to realize that it was indeed an earthquake.
Heading downstairs, I felt the room shake violently. The walls were swinging. Everything around me was plunging down, including the TV set, books and cabinets. My housemates all looked so scared and shivering. We were still wearing our sleeping clothes.
The strong quake lasted over a minute. It sounded like bulldozers demolishing houses. The dreaded aftershocks soon followed, at minute intervals. It was so terrifying. I thought it was the end of the world. I could only think of my family then, who lived far from me.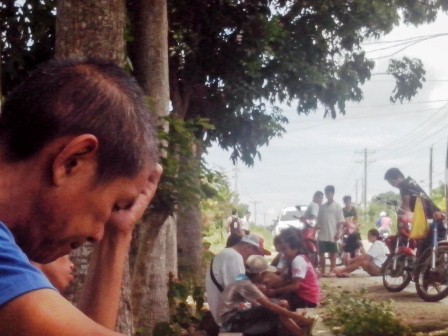 Children and families line the streets outside their collapsed houses,
uncertain of what to do next.
After a short while, fire trucks and ambulances passed by the streets. Debris was falling from the tall buildings. Many structures showed cracks while aftershocks persisted. I began to feel dizzy. Many people outside were looking up at the high-rise buildings, perhaps waiting for them to collapse. Some were crying, others were holding on to each other. Some were just walking in circles wondering. It seemed that everyone was wondering "Could this be real?"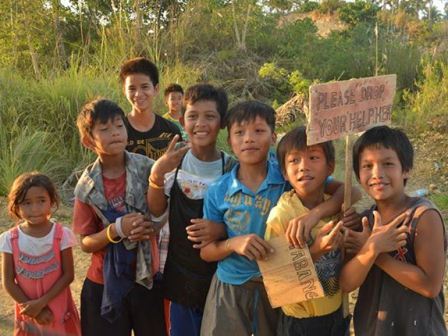 In any emergency, World Vision's first priority is meeting children's needs.
In the chaos, girls and boys are vulnerable to poverty, injury and abuse.
But it was. And that reality sank in as my workmates and I sought for a safer place in the city. We stayed at the house of a colleague overnight. However, I didn't have a good sleep. I wished I'd had a button to switch off the recurring aftershocks.
Eventually, I learned from the news that the epicenter of the quake was in the neighboring island of Bohol. The damages there were even more extensive and horrible than in our city. Images of massive devastation were circulated over Facebook. I've have travelled to Bohol many times to visit children who are part of World Vision's development programs there. What I saw through social media broke my heart.
In almost five years of covering disasters, this one hit me the hardest. At the onset, I did my chores of sending updates overTwitter and responding to media inquiries. But honestly, I was trembling. The thought of those aftershocks scares me, even now.
The night of the quake, the villagers felt safer staying outside on the streets.They were setting up temporary tents on a cold, dark night. Some families and children slept on the rice fields while others found shelter at evacuation centers. One mother shared, "I thanked God for my second life. My children need me!"
The day after the quake, World Vision response teams were deployed to do a rapid assessment of the situation. Who was in need? What kind of help did they require? And, for World Vision, what was happening to the children?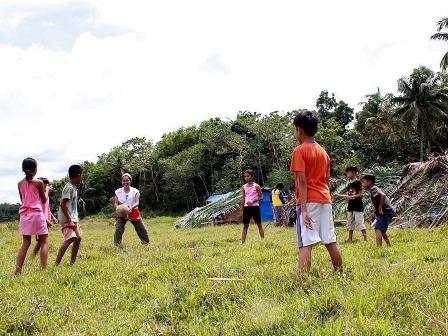 Part of keeping children safe in a crisis is giving them safe places to play.

Here, Mai enjoys a moment of fun with the children.
Trying to recover from our own personal experiences in Cebu, we were also relentless about looking into the needs and situation in Bohol. We recognized the risks but knew we should keep going. We couldn't let the families suffer more.Work like this is always a leap of faith.
Roaming around Bohol, we saw massive destruction in of all kinds: collapsed buildings, old churches, destroyed houses big and small. There were the anxious family members hoping for signs of life - and the continuous, heartbreaking retrieval of bodies. It's hard to describe what that was like.
Listening to the tales of the survivors was gruelling. A child survivor recalled how who he was tending the cow when the quake happened. "I was crawling on the ground and the cow was running all around. I kept crawling until the earthquake stopped. I hugged my mother tightly when I arrived home," the 12-year-old child shared.
I felt so sorry for those who lost their loved ones. My heart went to the children facing the challenges living at the evacuation centres. Some families had set up camp just in front of their collapsed houses. Others were in makeshift tents in the rice fields. Hundreds of families had nothing to eat while the aftershocks kept coming back!
Despite these challenges, the survivors were determined to keep hoping. They were patient as they lined up for a few sips of clean drinking water from the scarce but safe supply. I was amazed at how they always remembered to help each other.
We were told that the aftershocks could last another week or more. And after seeing the devastation, I know that schools, houses and communities will take a long time to rebuild. I will continue to send my updates, over Twitter and Facebook, to hundreds of World Vision offices around the world, so they have information to give their media. Perhaps people will read of the children here and find it in their hearts to give.
Read more about World Vision's work in the Philippines
http://www.worldvision.ca/give-a-gift/Pages/EmergencyReliefWhereIt'sNeededMost.aspx
http://worldvision.org.ph/stories/aidworkers-diary-central-visayas-earthquake#