Many of us love autumn; the sticky heat of summer passes, and we're able to sleep comfortably at night. We revel in the colours of fall and our maple trees embody natural Canadian beauty. But what about our yards? How do we make the most of the change of seasons? How can we make the most out of fall?
One of the things I did in September was to switch over my summer vegetable garden. I use a modified square foot gardening method for this thin strip of garden, which runs down the side of my driveway. Unlike my backyard, this area gets loads of sun through the summer and this year we had successful crops of corn, onions, garlic, zucchini, carrotsm and rainbow chard.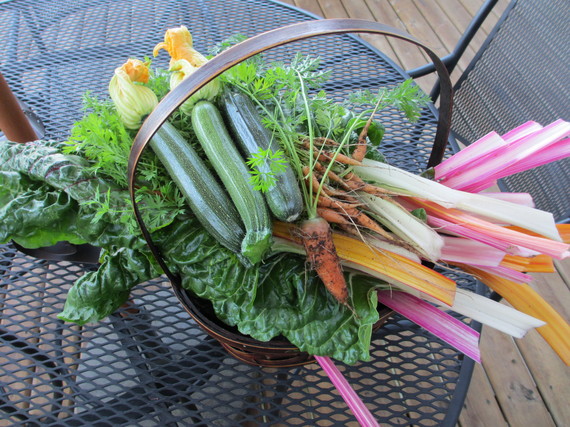 Depending on the year, and how cold it gets -- and for how long -- we can eat from our gardens through the winter. I planted a bunch of kale last year and after a slow start, we had it fresh into April.
So I wanted to convert my veggie garden into some winter crops and generally keep things looking nice through our dreary, rainy months. After the harvest and general cleanup, here's what I planted:
• 4 kale plants (which I grew from seed back in July)
• 18 lettuce plants (purchased)
• Ornamental millet (also purchased)
I also did some salvage work. I noticed that the garden centres were selling big pots of rainbow chard. I realized that I had planted mine too close together over the summer and decided to dig them up and give each one their own over-winter square to see what happens.
Similarly, I hadn't been aggressive enough thinning my beets, and now have loads of plants -- but again too close together. I transferred them into nicely spaced squares. I left my summer carrots in the ground a little longer, along with my leeks, squash, and zucchini.
Here's how my sections looked: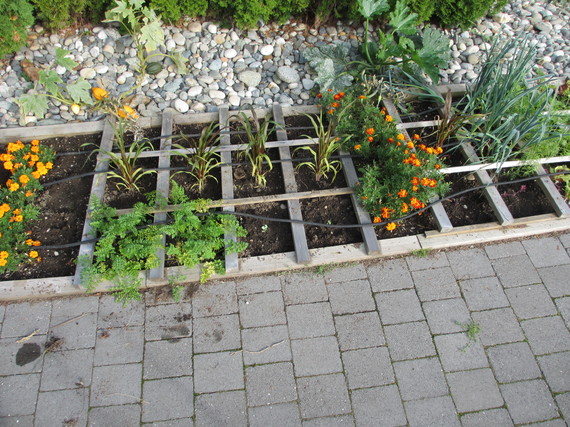 Ornamental millet down the centre. I've left the leeks and marigolds for now.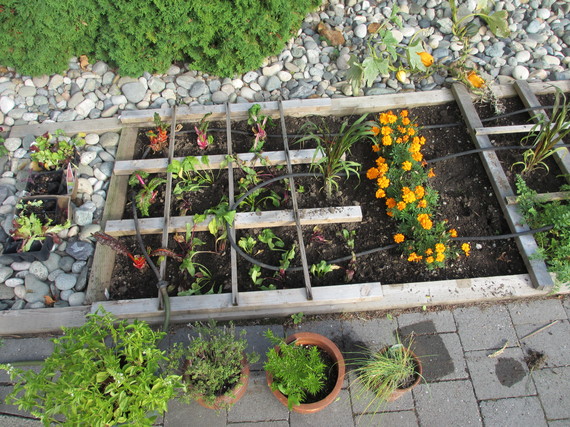 Transplanted chard and beets with more space to grow.
After that effort, I was away on business for a couple of weeks. I wondered how the rest of summer garden fared in the transition to autumn. The rain and wind was unrelenting on my return to Vancouver, but the sun was out recently and I hurried outside to capture some of the bright pinks, oranges, and greens of the garden.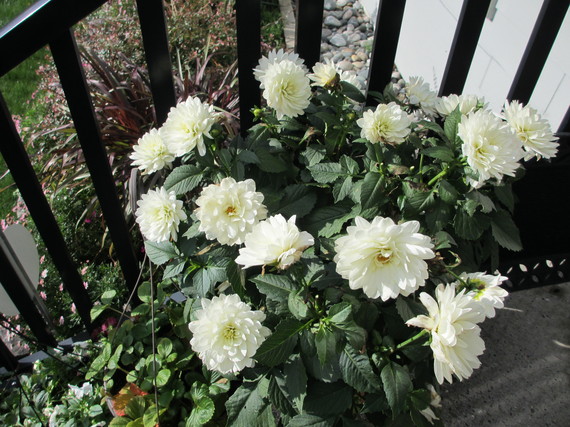 While I was away, my dahlias were looking a little bedraggled with all the rain. With a few snips and the deadheads removed, my huge dahlia pot was returned to a state of beauty. It was my bargain this fall; I picked up two for $15 at West Coast Gardens.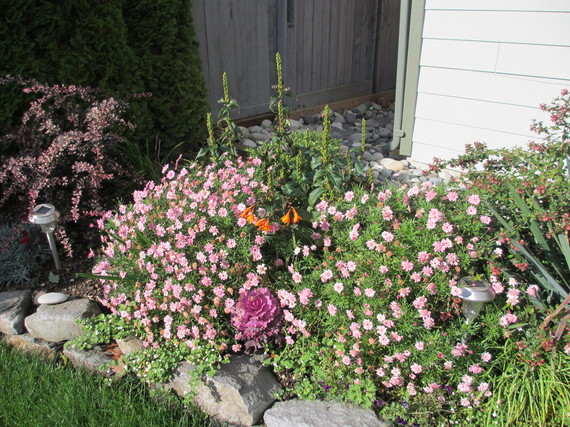 I can't believe that these summer flowers are still threatening to crowd my newly planted ornamental kale, but I really love how the colours go together!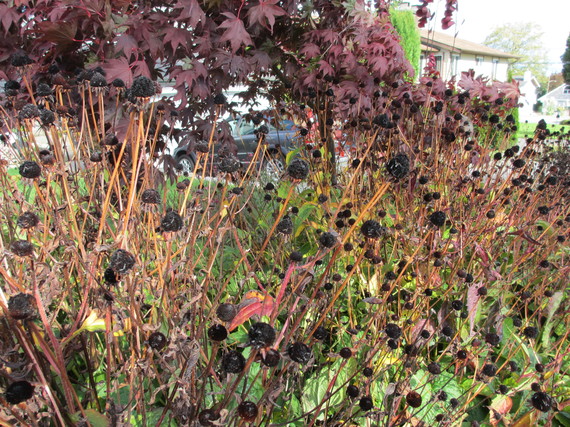 My black-eyed Susans clearly need a good deadheading, but there is a delicious creepiness to their fuzzy black eyes, especially with Halloween around the corner. I'll leave them for now.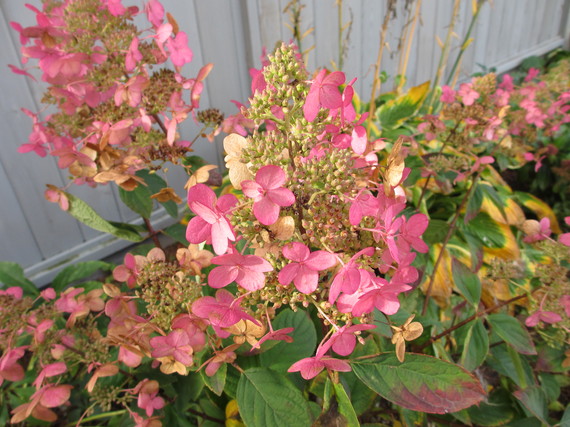 My transplanted Pinky Winky Hydrangea is clearly much happier in its new location. I'm tickled by its ethereal colouring.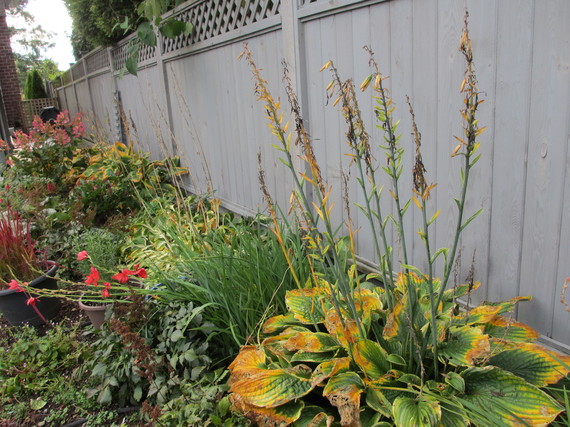 My row of hostas in the back underneath the neighbours' fir trees have clearly made the transition into fall. They seem to have entered a living dead, zombie state whereupon they have started to decompose but remain standing. I do appreciate the pop of yellow to provide contrast to wall of green.
Upcoming projects
Fall cleanup and spring planning
These two things go hand in hand. As you begin your autumn cleanup, use something like our GardenSketchApp to record where your existing plants are.
Startup is easy. Download and install Garden Sketch and enter the dimensions of your yard. You can position the shape of your house and draw your garden spaces with freehand or straight lines. Also record the trees in your yard. Use the different coloured plant icons to record the positions of your existing perennial plants. As you clean up, record their position. This will be a great help over the winter when you start planning for next year.
Spring bulbs
While I was away, I received a big box of spring bulbs from Botanus that need to get into the ground. I also have to do some bulb maintenance. I noticed last spring that I had planted some tulips a little too far in the shade and they had to reach for sun rather than growing straight up.
As my spring bulbs finished, I used white plastic markers and a Sharpie to record how much of each colour had been there. Now I have to go in and make good on the promise of move them! It would also be a good idea to record where your bulbs are in your garden map.
Garlic
My friend Debbie got me started on growing my own garlic, and autumn is the time to plant for harvest next summer. My first year was not very successful, but last year with better spacing and some fertilizing my crop was impressive.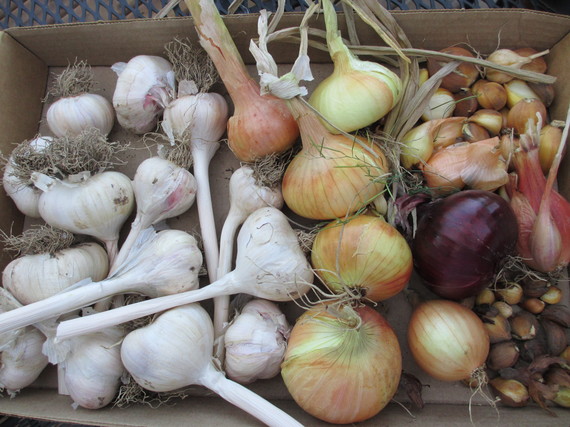 I have the option of just replanting cloves from this year's harvest, or buying some designer flavours such as those offered from Railway Creek Farms in Ontario. Despite my best intentions, I think I have now run out of time and will likely replant the same again this year.
Take away tips
1) A detailed map of your yard and garden can make garden planning for next year more fun and successful.
2) Some plants may make the transition through autumn and winter. I'm curious to see how my Swiss chard and beets will do with better spacing in my winter vegetable garden.
3) Even without the perfection of the summer blossoms, plants capture the spirit of the season. Bright yellows or the sharp blacks of skeletal flowers reflect to us nature's preparations for Halloween. Enjoy it!