Kathrin Ziegler via Getty Images
My front garden bed has needed a makeover for a while. When we originally designed it, I was trying to preserve some grass for the kids to play on but as they are now into their teens, the space is now mine! The original bed was just not big enough for three tiers of plants, tall, medium and short and the plants there were completely taking over. It was definitely time to plan a spring garden makeover with my GardenSketch App. I was also curious to see if the iPad App was also good for this small scale project.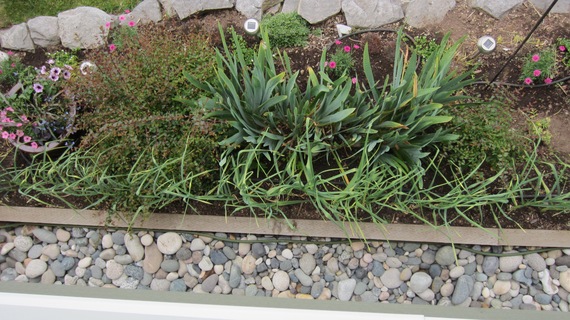 Our sad garden before the makeover
We rented a sod cutter to roll up the existing grass and repositioned the existing rock wall four feet forward. We filled it in with a trailer of top soil from our local nursery and I moved all my border plants to the new wall. These included my early spring favourites: Snowdrops, Crocuses, Grape Hyacinths. Our big patch of Irises was getting unwieldy and there weren't very many buds for this year. We made the decision to split the existing patch into three to anchor points of early summer colour. We kept the stepping stones through the garden that provide access to the side of the house.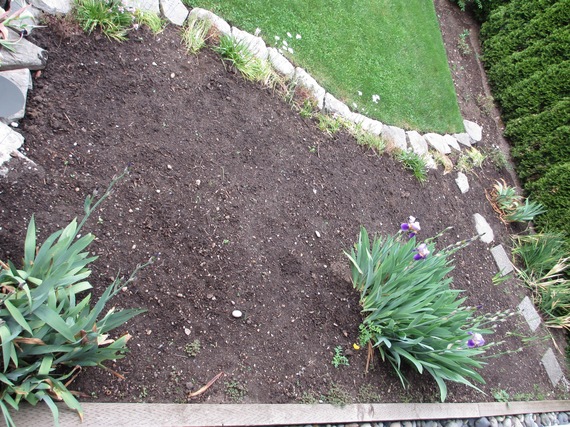 Dreamy new garden space with lots of room
With our skeleton in place, it was time to think about some plant selections. The house faces south and with a black front door, we trap a lot of heat and create a highly localized micro-climate. It is definitely Full Sun. I've already had to move many plants to our much cooler backyard. My garden sensibility is 'Country Cottage' and I was really inspired by the recent Colour Issue of my Canadian Gardening magazine and I decided to focus on working with plants of purple-blues, whites and yellow.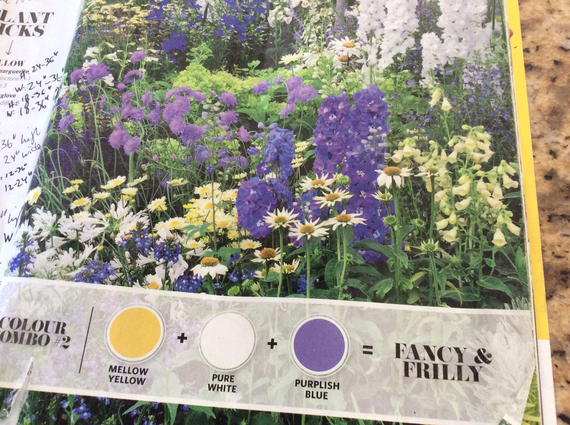 Collect sources of inspiration
I placed an order with Botanus in Langley for a few perennials. A great local company, they operate an online mail order gardening business. You place your order for plants and bulbs and they ship things in time to plant. Botanus had a blue Globe Thistle (Echinops ritro 'Veitch's Blue') and I added a few Blue Sea Holly (Eryngium planum 'Blue Hobbit').
My goal was also to move some few plants that I already had in my garden. Some of you may know that my Shasta Daisies are always amazing.There were some under-appreciated Lilies of the Nile that I bought last year. I also decided to add in some Yellow Day Lilies by splitting a couple of existing plants--so there was lots of recycling going on.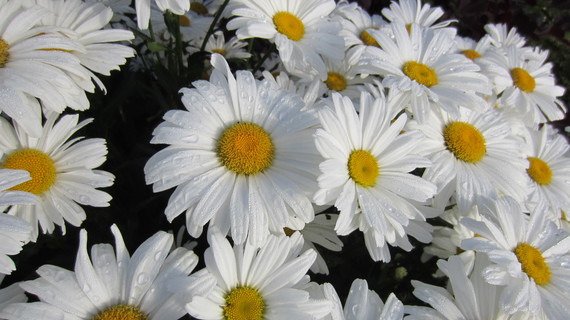 My Shasta Daisies are spectacular in July
Before I headed to the Nursery to pick up some the other plants I would need (White Swan Echinacea, Foxgloves and Delphiniums), I wanted to plan the layout to estimate how many of each I would need.
This is where Garden Sketch came in handy. Rather than working with the whole yard space, I decided to just add a blank "Plan" and design just the one Garden. When you open Garden Sketch, if you've added a house shape before (or not!), you can slide to the 'Plans' tab at the top of the screen. If you tap the '+' sign on the bottom, you will get a blank plan showing any house structure you've added. If you want to add to an existing plan, tap that plan select the 'Copy' Function. To save the original and modify the new one.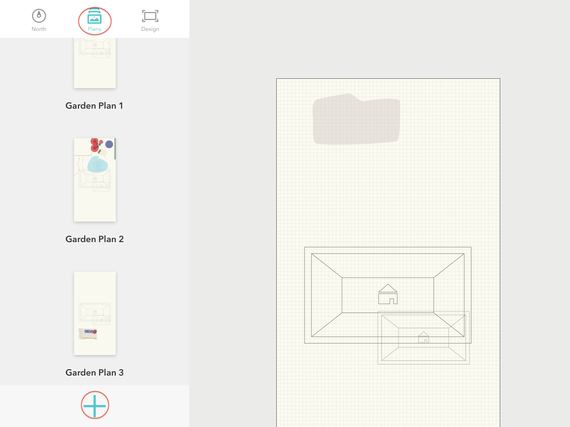 Using the Garden Sketch App to create a fresh design
I measured the garden at various points and then worked to recreate the shape in the Garden Sketch App. By moving to the 'Design' tab at the top, I could used the little 'Plant' icons to layout the shape. Each square measured one foot.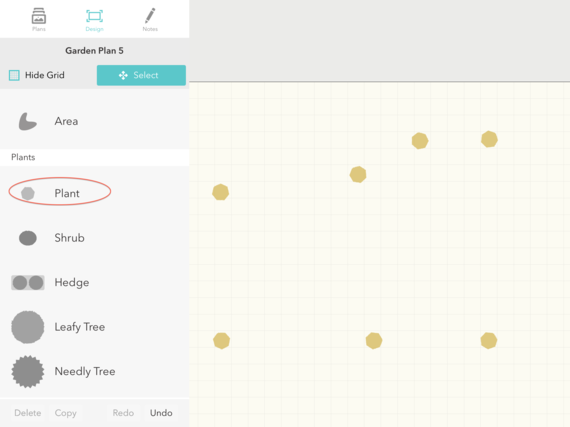 I've found that using straight lines does not work really well for adding garden boundaries. If you want to move the garden you have to move each line. So instead of connecting my dots with straight lines, I use the 'Area' function in drawing section and connected the dots with a single line. You can pre-select the colour so this is also ideal for drawing ponds and water features.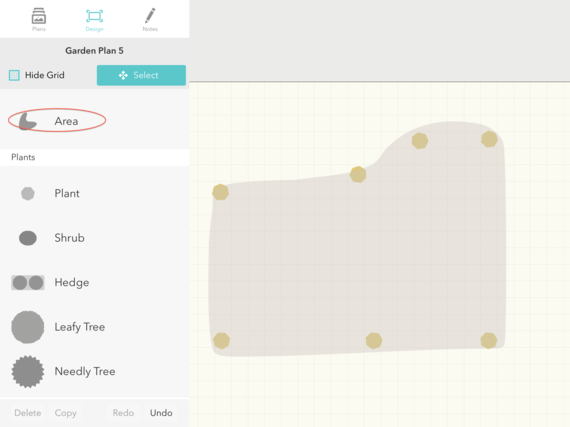 Once your shape is complete, so you can move it out of the way and 'Delete' your place holder icons and move your garden bed wherever you want it.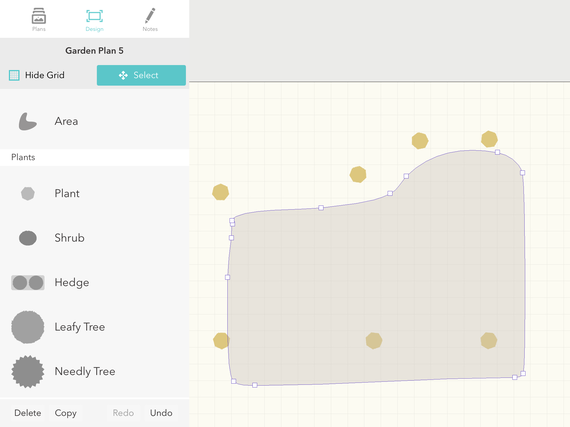 With my garden shape in place I added the Irises that I had split and used to anchor the corners of the garden, using the smallest "Plant" icon in a lovely shade of purple.
Then with all the data I researched about each of my plant selections, I was able to approximate how much room they would need and come up with this layout. The goal was to have many layers of height, and add in some elements that would make the garden beautiful throughout the growing season.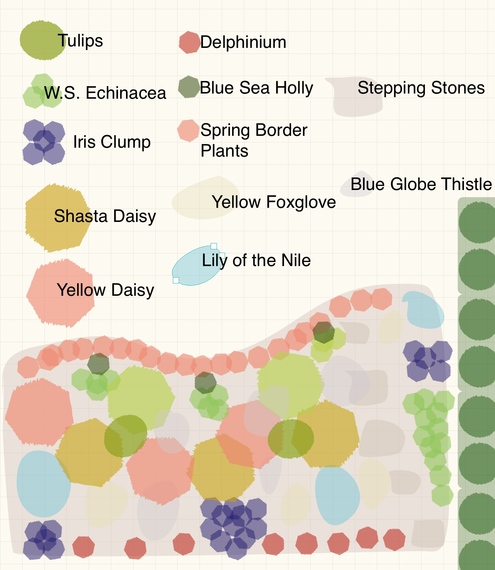 With a completed design, the shopping list was easy
Heading to the Nursery there really wasn't much to buy: 7 delphiniums, 3 yellow daisies, 3 White Swan Echinaceas and 4 Yellow Foxgloves. Because it is still so early in the season I was able to buy the Blue Delphiniums but not the White. Nor did I find any Yellow Foxgloves. They will have to wait a few more weeks until temperatures warm up a bit.
Then I dug up the various tranplants. I am not good role model for this kind of work. I believe if I dig something up, move it and it dies, it was just not meant to be. I know that there are optimal times of the year to do these things, but I'm not usually digging then. I just take my chances.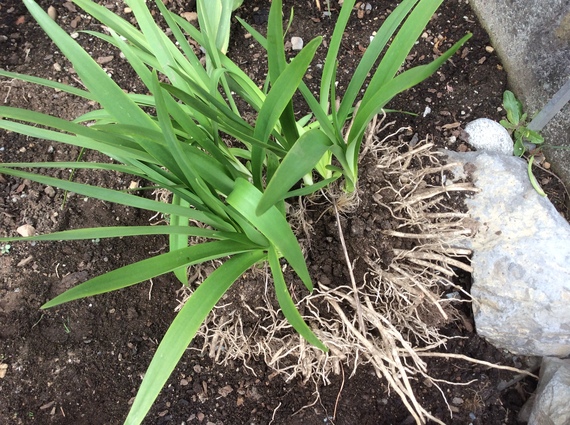 The giant root ball of my Lily of the Nile, a beautiful blue agapanthus
This is when all those pots you never recycle come in handy. I use them for all my transplanting and then to estimate how close together things can be planted.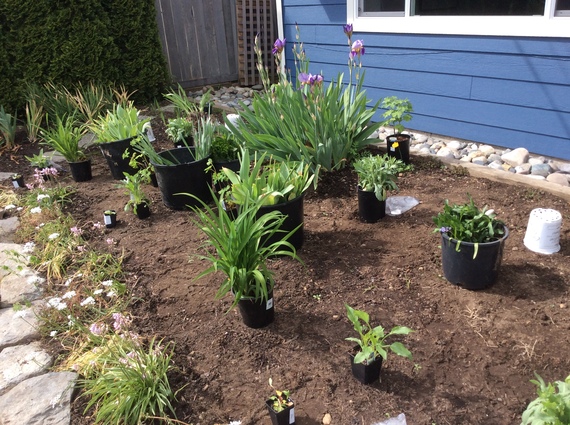 Never throw away your pots. They always come in handy.
With everything so well laid out and organized, DH and I were able to get things planted into the ground really quickly.

All in all, everything went smoothly. There were a lot of upside to having a plan. I was able to be efficient with my time and money. I did some plant purchasing online, allowing me some unusual choices which were delivered right to my door. I was able to work out what could be recycled from other parts of the garden and I prevented the impulse buys at the Nursery--"Oh, isn't that pretty! I don't know where I'll put it but...." and only bought one plant not on my list: three Sapphire Corydalis. With the plants laid out, once we started to dig, we were really efficient and the whole job was done in an afternoon.
We often don't think we have time to plan, but the opposite is true. We don't have time not to plan and Garden Sketch was a big help.
What are your upcoming garden plans this year? Are you planning any makeovers?
Download the iPad App Garden Sketch FREE from the iTunes store for a limited time.
Check in next week when I'll share 9 Money Saving Tips for Frugal Gardeners!