I noticed the Bald Eagles when I started driving to White Rock every week back in 2000. Coming onto Highway 99 off the 91A from New Westminster, I passed what I began to call the Eagle Tree. At least four or five eagles were usually perched there overlooking Mud Bay. Having grown up back east, the sight of them never failed to thrill me. Their casual presence there by the side of the highway convinced me I lived in a truly remarkable place.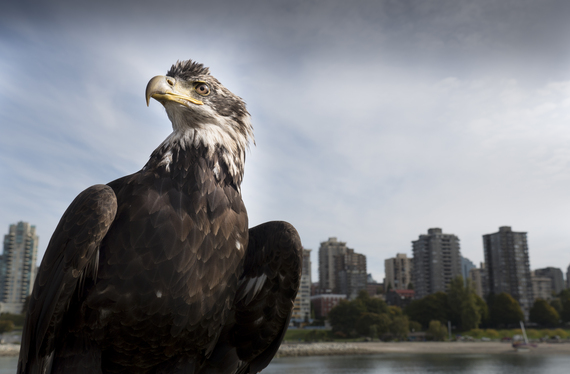 I didn't know much about the Bald Eagles cycles. It just seemed one week they were there and then they were gone. But year after year, it became a familiar pattern. I'd get a happy twinge in the autumn when I spotted the first Bald Eagle of the season, "They're back!"
Over time I noticed a change. The Bald Eagles didn't seem to hang around "their" tree as much. But further up the highway through Delta, I would sometimes see 20, 30 even 40 Bald Eagles as we passed Boundary Bay Airport. I started to pick out their huge nests in the trees, which had dropped their leaves for the winter. More Bald Eagles? But how?
One of the occupational perks of being a documentary filmmaker is that you can phone people up and ask questions. So we got in touch with David Hancock, a local Bald Eagle researcher, and learned that there actually are more eagles hanging around Metro Vancouver -- probably more than there have ever been before.
Everything about this area, the kilometers of coastlines, the passages of the Fraser River, our temperate weather, cleared farmland -- even Delta's ditches to prevent flooding -- have created an optimal habitat for Bald Eagles. Of course they have always lived here, and many more passed through to feed on local salmon runs. But with the collapse of the Columbia River fishery in Washington state, many thousands of bald eagles now come as far south as greater Vancouver and stop, staying here until northern rivers thaw again, all the way up to Alaska.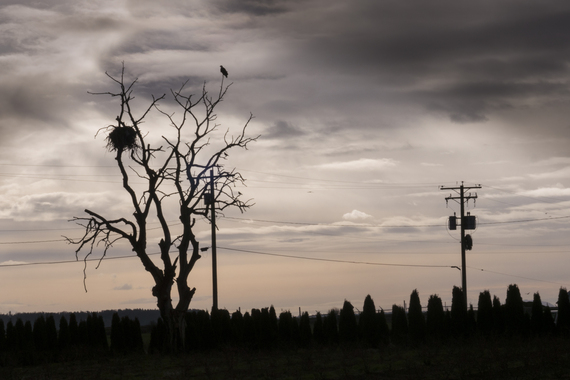 Metro Vancouver also has a convocation of local breeding Bald Eagles. When Hancock began his research in the 1960s there were only a handful of nests, but there are now hundreds. It is the story of these nests that we follow in our new film project, The Eagles Next Door. We share a unique bird's eye view of the Bald Eagle family.
Eagles Next Door - Excerpt

EAGLES: It's called 'winger-sizing.' More next week on The Nature of Things: http://www.cbc.ca/natureofthings/episodes/eagles-next-doorcc: Hancock Wildlife Foundation Bird Studies Canada

Posted by CBC Docs on Tuesday, 26 January 2016
There are lots of other ways to see Bald Eagles. You can sit quietly on a bench at Jericho Beach, but the easiest remains to drive Highway 99 and keep your eyes peeled, watching for their distinctive white heads. In November, the Fraser Valley Eagle Festival on the Harrison River is a wonderful opportunity. You can take guided tours on the water as the eagles feed on spawning salmon. In January you can head towards Squamish and check out Brackendale's famous eagles.
If you give a 'hoot,' you might visit OWL: the Orphaned Wildlife Rehabilitation Centre in Delta. They rescue and rehabilitate local birds of prey. You and the kids can get a close up view of these magnificent raptors.
With so many places to see our Bald Eagles, which is your favourite place in Vancouver to watch?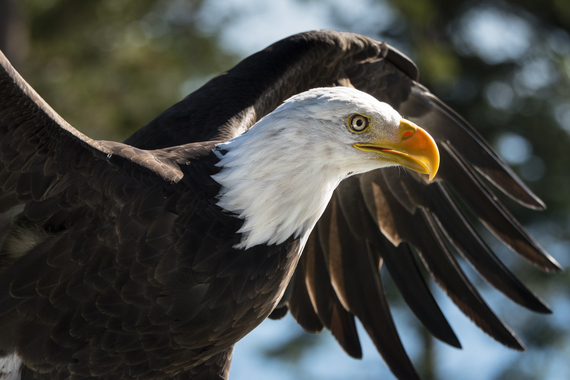 Our new film, The Eagles Next Door will air on CBC's The Nature of Things hosted by David Suzuki Thursday, February 4 2016 at 8pm and 8:30pm NT.