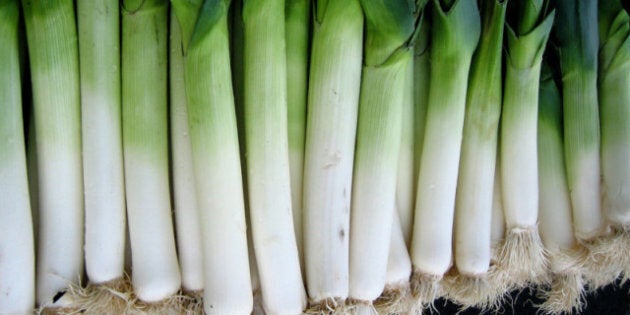 I had a meeting in Toronto's financial district on Monday morning, and then a lunch date a little to the east at Jamie Kennedy's Gilead restaurant in Corktown. I decided to walk from the first to the other to see if and how Bay Street was "occupied" (as far as I could see, it was not). I also checked out the tent city that had been put up in St. James Park as the "Occupy Toronto" headquarters. With about a dozen tents scattered around, the protest-cum-camp out would have had all the appearances of a typical campground, if there wasn't a larger "media centre" tent in the middle, about 20 cops standing around looking bored and a bunch of news trucks parked off to one side. Later that day, I heard radio reports that a hundred occupiers had caused (made worse?) some rush hour traffic jams downtown that evening.
Twenty-four hours before, I was in a very different sort of traffic jam about 100 km northwest of St. James Park. It was caused by tens of thousands of people coming and going to the site of Foodstock, off of Highway 124, which runs across the Niagara Escarpment from Shelburne down to Collingwood. Somewhere between 20,000 and 30,000 people showed up at it on a potato farm on a cold, often wet and blustery day to protest the mega quarry that is proposed to be dug next door. The quarry will destroy thousands of acres of prime farmland and disturb the water table at the headwaters of a bunch of rivers that an estimated 1,000,000 people use for drinking water.
The "occupiers" of the potato farm had been invited by the Canadian Chef's Congress' Michael Stadtlander, whose famous Eisenginn Farm restaurant is a few miles north, to demonstrate a very singular and simple demand: that the provincial and federal governments use all their powers to ensure the mega quarry is never dug. The occupiers were fed with food donated by local farmers, cooked by 100 volunteer chefs from across Ontario (and a guest or two from as far away as the Prairies and Atlantic Canada) and entertainment was provided volunteer musicians, including Jim Cuddy, Sarah Harmer and most of the Barenaked Ladies. There were a handful of OPP officers on hand, but the event was mostly run by volunteers, who asked the occupiers to pay what they could at the gates (an envelope was provided and a "minimum donation" of $10 per person was suggested).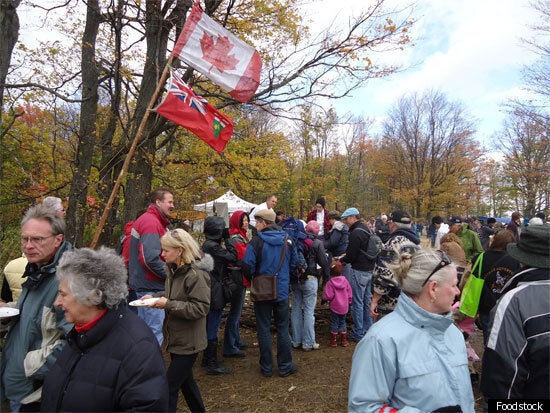 If the parking lots were anything to go by, then Foodstock pulled people interested in preserving farmland from all walks of life. There were expensive German-made luxury cars parked next to farm trucks and everything in between. The crowd on the ground ranged from all ages with lots of families, often composed of three generations. It took a long time to get in and a long time to get out (especially for the cars that got stuck in the mud), and there were long line-ups for all the food stalls. Many chefs ran out of food early, having underestimated how many people would turn up. The weather was, at times, brutal and there was no way to avoid the mud, despite many wagons of hay that had been spread. But it was mostly smiles all around. A straw poll of a dozen attendees from Toronto I know confirmed that all enjoyed themselves, were glad they went and thought it was a marvelous afternoon. The event worked because it showed the seriousness and commitment of all who showed-up and steeled their resolve to fight the quarry. Plans are already being made, says Stadtlander, for next year.
This is why the good food movement works and is working. It's a broad coalition of people, from city and country, who care about where their food comes from. It's made up of consumers and voters, who are serious people with serious concerns about where their food comes from and where it is made. This is not a particularly complicated idea to care about what you eat, which also helps. Politicians of any stripe, from any jurisdiction, ignore this at their peril.