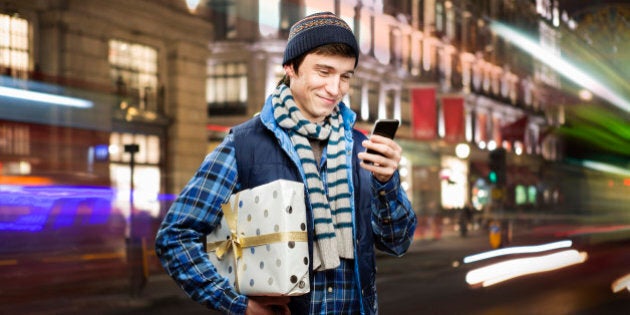 From buying a new winter coat and gift exchanges with friends, to purchasing a ticket home and celebrating the end of exams, there is no doubt that the holidays and New Year's Eve can put stress on a student's finances.
To ensure you enjoy the holidays without the spending hangover and start the New Year with good financial resolutions, follow these helpful tips.
Make a list and check it twice.
It's easy to get caught up in the spirit of giving, especially when there are so many sales and buy one, get one offers. To avoid buyer's remorse when you see your bank statement or credit card bill in January, make your list and stick to your budget.
When buying items on sale, be sure you can return them if necessary. I have learned never to impulse buy things that can't be returned because by the time I get them home I have often changed my mind.
Consider the "Cost per Wear."
While shopping for gifts, you may want to treat yourself to a new holiday outfit or be tempted to buy things you don't need thinking YOLO. Calculate the "cost per wear" -- that trendy dress may be deeply discounted, but if you wear it only once it could actually end up costing more per wear than a pricier sweater that becomes your favourite go-to piece.
When swiping your debit card or tapping your credit card it is easy to lose track of just how much you're spending. Set a limit, and to help stick to it, download your bank's mobile app. Set up alerts to let you know when purchases are made and you're getting close to your limit. I used to track my spending on a spreadsheet, making a list of all the people I wanted to buy for and a maximum price per gift to make sure I didn't go over. I wish mobile apps existed back then!
Always ask for a student discount.
Whenever you're shopping, dining or travelling, be sure to ask about a student discount. This can often range from 10 to 20 per cent off regular prices. Also look online for lists of retailers that have sales to plan your shopping trip -- when combining the student discount with special holiday offers, the savings can add up quickly.
Do you participate in loyalty and rewards points programs? Now is a great time to redeem points for holiday shopping. Review your points balance to see what's available -- there may be more reward options than you think, from merchandise to events, attractions and gift certificates.
At this time of year, many loyalty programs also offer ways to earn bonus points, so be sure to check out any special promotions before you begin shopping.
When considering your holiday wish list, tell your family you would like a gift card from your favourite store or a pre-paid VISA. That way you can ensure you get the items you really want or need. You can also use it to shop the sales at the end of the holiday season to make your dollars go even further.
Also, if you have trouble sticking to a shopping budget, giving gifts cards is a good way to set your spending limit.
The holiday season is just one time during the year that can overwhelm your budget. During the school break, focus some energy on making a New Year's resolution to grow your savings, and improve your financial know-how by learning Why Financial Literacy Matters.
Do you have a tip for being nice -- not naughty -- with your holiday spending? Share your comments below or on Twitter @RBC_Canada.