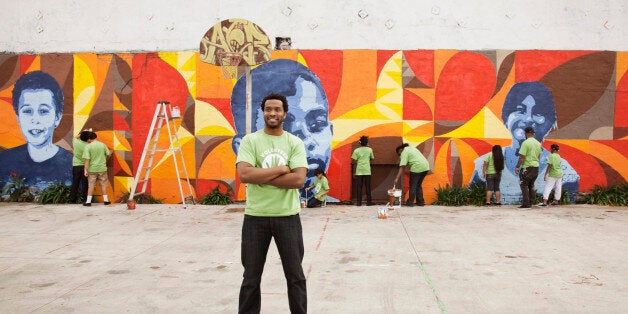 By Craig and Marc Kielburger
When Lance Bucknor stepped hesitantly through the front door of Toronto's Sketch art studio he hadn't finished high school and was living in a shelter.
At 22, he was hoping the arts program for homeless youth would offer a creative outlet to vent his angst and pass the time. What Bucknor found was an opportunity and the tools to turn this life around.
One year later Bucknor is now teaching the creative writing workshops at Sketch and making connections with schools and community centres. He's on his way to being self-sufficient in a job he'd never dared to dream of.
At first glance, arts for marginalized young people may seem like frill or folly -- surely so many more urgent needs must be addressed.
But through Sketch and similar programs, we've seen art is a gateway to everything a troubled young person needs, from gaining life skills and a much-needed sense of community, to finding mentorship and forging networks needed to find a job or start a business like Bucknor is doing.
Perhaps most importantly, art is what brings marginalized, hard-to-reach youth through the door in the first place.
The teen years and 20s are a precarious life stage when identity and direction are in flux, says Sketch staffer Hayley Hoskins. Some 30,000 young Canadians ages 16 to 24 are homeless at any given time, according to the 2013 report by the Canadian Homelessness Research Group.
If you're young and also dealing with abuse, addiction, a broken family or mental illness, finding your way is an immensely tough trek.
Art is an accessible way to confront those seemingly impossible challenges. Through painting, music or dance, young people can express themselves in ways they may never do on a couch with a counsellor.
That was the premise behind Sketch, founded by local theatre actor Phyllis Novak 20 years ago in a storefront in downtown Toronto. Now it's housed in an abandoned elementary school in the West End, with multiple studios for visual and performing arts.
Courses include mentoring in business skills and culinary arts. There's a recording studio funded by Canadian music legend, Gary Slaight, regular exhibits and vending opportunities, and youth have the opportunity to connect with local artistic mentors like Kevin Drew from the famed indie rock band Broken Social Scene. We were especially excited to hear plans for a social enterprise at Sketch that will include a catering company employing grads from the culinary workshops.
The program welcomes 850 marginalized young people a year, ages 16 to 29, from anywhere in Canada on a drop-in basis or in its 10-week workshops.
Other projects also use art as empowerment for youth living on the margins. In addition to their drop-in sessions on evenings and weekends, Saskatoon Community Youth Arts Program runs a full-time, nine-month "urban canvas" program for youth that includes life and employment skills training. Creative Life mentors vulnerable young people in East Vancouver through its youth-led art shows, drop-in sessions and community meals.
Still not convinced art can help heal at-risk youth and set them on solid ground? Sketch's Hoskins cites a study of homeless youth by art therapy professor Janice Hoshino from Seattle's Antioch University. Hoshino discovered the creative process of exploring one's past trials and future options through art builds stronger coping skills, self-control and problem solving skills.
University of Oregon education professor Robert Sylwester has long linked creativity to higher levels of serotonin, a brain chemical that boosts self-confidence while curbing impulsiveness.
Even the simple act of coming to a regular workshop or rehearsal teaches youth the responsibility of keeping a schedule and meeting commitments, adds Hoskins.
Success stories out of Sketch abound. One young man came for the recording studio but discovered a passion for food while volunteering in the kitchen, where Sketch feeds up to 75 youth lunch and dinner daily. Now he's a full-time cook, working back in his home neighbourhood.
In addition to giving youth a healthy dose of empowerment, Sketch refers more than 200 young people a year to local housing, career and mental health services. For these individuals and countless others like Bucknor, art truly is a door to escape the street and start a better future.
Brothers Craig and Marc Kielburger founded a platform for social change that includes the international charity, Free The Children, the social enterprise, Me to We, and the youth empowerment movement, We Day. Visit we.org for more information.
Follow HuffPost Canada Blogs on Facebook