This is the first in a four-part series on Canada's aboriginal people and issues.
"Canada wasn't just founded by two nations, the French and English. First Nations opened their doors to our brothers and sisters when they came across the water."
This is a pointed reminder from Perry Bellegarde, newly-elected National Chief of the Assembly of First Nations, that Canada's indigenous people want to be welcomed as equal partners in the growth of this nation. They are the fastest growing segment of the Canadian population, and as Bellegarde says bluntly, "it makes sense to invest in them."
Bellegarde was elected last December by chiefs from across Canada and now represents the almost one million First Nations citizens in this country. He takes over at what is arguably a historic tipping point for aboriginal issues in Canada.
Last year saw a landmark Supreme Court ruling on treaty rights, nationwide protests over development on aboriginal lands, outrage over the number of missing and murdered aboriginal women in this country, and a failed attempt to create a new First Nations education system.
We recently talked to Bellegarde about the key issues he wants to address as National Chief, that include the preservation of First Nations' languages, education, treaty rights and economic prosperity.
Language is highly personal issue for this leader. He told us he didn't learn his own Cree tongue until university and that profoundly impacted his sense of identity. Knowing their own language, he argues, is essential for First Nations children because "studies have shown that when a child is fluent in their indigenous language, they're more successful in school and life."
In this vein, Bellegarde wants to fix the 43 per cent education funding gap between aboriginal and non-aboriginal students. First Nations communities need equitable resources not just to build schools, says Bellegarde, but to establish a system in which every First Nation community has control over its own education. Only then can these communities ensure that classroom teachings reflect their culture, history, and language. We understand the focus on this issue because in the schools we've visited, we've seen how culturally-relevant education has a positive impact on aboriginal youth.
First Nations chiefs rejected education legislation last year because it was imposed without their input, according to Bellegarde. This means that creating an education system that meets the needs of First Nations requires a new cooperation between the federal government and aboriginal people--and for the sake of youth living in First Nations communities, we hope these two parties can find ways to work together.
Bellegarde also talked to us about the need for government and all citizens to see First Nations land claims and treaty rights as opportunities to partner together, not obstacles. In June 2014, the Supreme Court ruled that federal and provincial governments must get the consent of aboriginal people before developing resources on their lands. Bellegarde also believes revenue sharing in such resources is key to creating much-needed jobs that will end poverty and despair in aboriginal communities.
"When we win, everybody wins," he explains "because there is a huge cost to the socio-economic gap that exists."
There are more issues on which we can work together. Many Canadians support the Assembly of First Nations' call for a plan of action on missing and murdered aboriginal women. And we can ensure the stories of the Truth and Reconciliation Commission -- which will issue a report this June -- become part of a shared history that all Canadians learn.
Bellegarde makes an interesting point that aboriginal issues in this country are not only aboriginal issues. They are Canadian issues that concern us all.
Communities living in third world conditions, angry because they feel they've lost their cultural identity and their rights are trampled--that costs both our economy and our social fabric. Addressing those problems will bring prosperity to our nation as a whole. That's what Bellegarde wants Canadians to realize.
"We're all in this together," he says. We agree -- and let's start working together.
Brothers Craig and Marc Kielburger founded a platform for social change that includes the international charity, Free The Children, the social enterprise, Me to We, and the youth empowerment movement, We Day.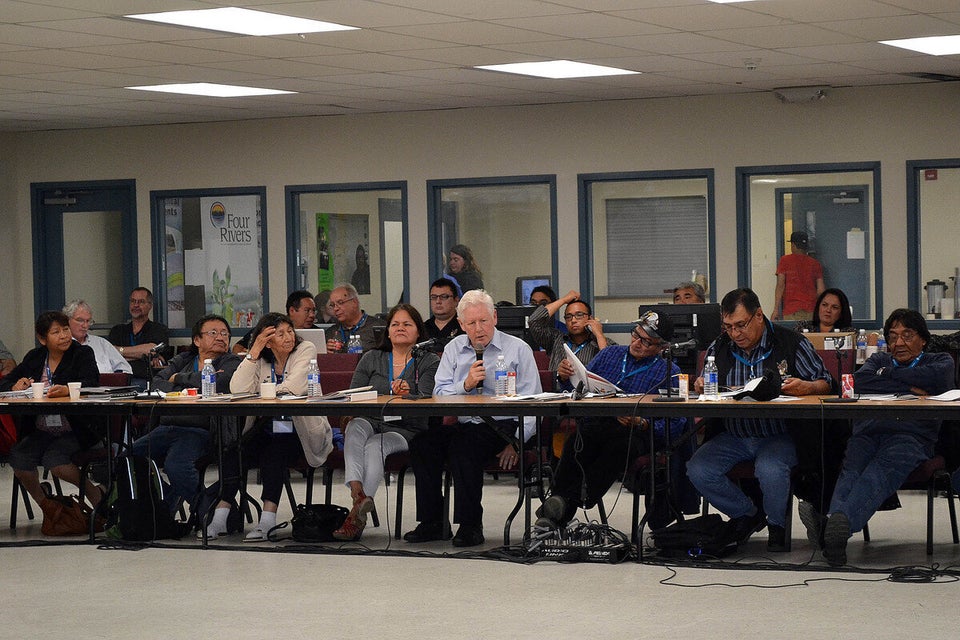 Negotiating The Ring Of Fire