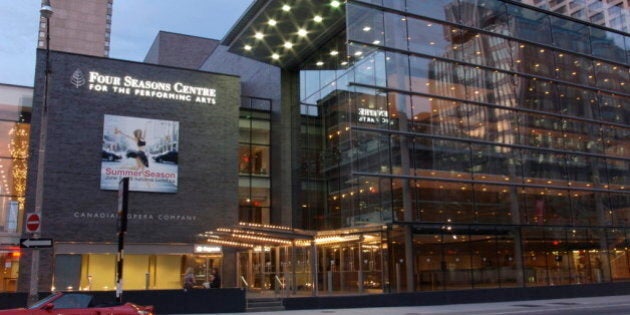 One night. One stage. One opportunity to change your life.
It's not The Voice. It's not American Idol. It's not The X Factor.
Pins and needles sums up the recent third edition of Canadian Opera Company's (COC) Centre Stage , where audiences bore witness to some of Canada's finest emerging opera stars putting it on the line yearning to hear one thing.
"Ladies and gentlemen, the winner of Centre Stage and the Canada's Next Big Opera Star is..."
Years of work, sacrifice and commitment came down to this.
A truly one-of-a-kind program, Centre Stage shines a spotlight on Canada's future opera stars competing for cash prizes, as well as a coveted spot in the COC Ensemble Studio, Canada's premier development program for young opera professionals.
The evening's participants were eight finalists selected from a pool of 120 applicants for this program. The adjudication panel heard each finalist perform two arias accompanied by the COC Orchestra. Attendees were also able to weigh in via a voting system resulting in an "Audience Choice Award."
Audiences were of all walks, but it was great to see a whole bunch of young folks able to purchase specially priced tickets through the Opera Under 30 program.
We had the opportunity to sit down with Charles Sy (2014 winner) and Emily D'Angelo (2015 winner) to explore what this all means, how this changes the game and what their wishes are for audiences and those who wish to make opera their career.
What advice were you given when you won?
This is not the finish line! This is simply another hurdle in my path to becoming a professional opera singer. Although, I have to admit that this was a PRETTY BIG hurdle.
How has the award positively influenced your career?
It is always interesting when people you have never met before know you as "Canada's Next Big Opera Star." Aside from the cash awards, the biggest prize of the competition was the offer to join the Canadian Opera Company's elite training program, the COC Ensemble Studio. It is a rigorous program that is meant to push you to your limits and build your stamina in order to handle the future pressure that accompanies an operatic career. Through this program, I have already met some of the top conductors, directors, coaches and singers in the industry.
What was the most memorable thing that happened this year?
I was very lucky that in my first year of the Ensemble Studio, the Canadian Opera Company decided to cast me right away in their season opener La Traviata by Verdi. What made it even more special is that Toronto is my hometown. I have seen the standard of opera exponentially grow in this city, especially at the Canadian Opera Company, and to think that I am somehow contributing to that growth in this amazing art form is both extremely overwhelming and humbling.
What advice do you have for this year's winner?
Learn how to say no. You receive a lot of exposure after winning this competition. It is very tempting to accept everything that comes at you, but at the end of the day, you need to be responsible with your voice, your body and remember that you are still young. Don't ruin the efficiency of that growth by taking on more than you can handle. Be realistic and acknowledge that you want to be singing for at least the next 30 years and not just the next five.
What was the performance like for you?
One of the most thrilling experiences of my life. What an honour and a privilege it was to sing with the COC Orchestra. The crowd was full of friends and family who were screaming like it was a rock concert. To feel (and hear) all of that excitement and energy in the Four Seasons Centre was a truly amazing experience, and just goes to show what an incredibly supportive community we have.
What advice were you given when you won?
Most of the advice comes before the competition, but the most valuable post-competition advice has probably been to know who your team is and to trust your instincts, because no one knows you better than yourself.
What are you most looking forward now?
I am most looking forward to the musical opportunities that will present themselves because of this experience. To have been recognized by such an internationally respected opera house as the COC is a great honour that has opened many doors for me as a young artist.
What advice do you have for readers who may want to audition for next year?
Give it your best shot. Enjoy and learn from the experience for what it is. There technically must be a "winner," but there are no "losers" in art. This isn't The Hunger Games -- if you don't win, you don't die.
What would you say to Canadians who are unfamiliar with opera?
I would love to encourage people to seek out live music events in their communities -- be it the opera, the symphony, or a jazz band. Recordings are great, but live performance is an experience that cannot be replaced by YouTube or iTunes. It will move you, touch your soul, make you feel alive and, if nothing else, it's an excuse to go out with friends for a night. After all, variety is the spice of life.
In a world where stars and celebrity dominate so much of what we know, the hope is that programs like this enable talented artists like these two to take centre stage in the public consciousness.
And even more so, inspire young Canadians to put their hat in the ring and envision the possibilities of life as an opera artist in this country.
Thought of the week: Opera is the new black and sexier than ever. Discuss.