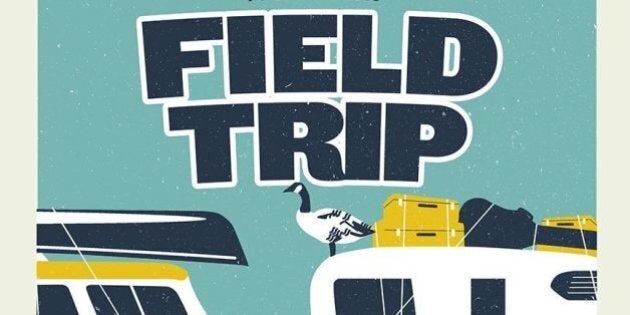 As Toronto continues to grow as a global culture hub, Field Trip is emerging as an annual homegrown star that has its roots in celebrating our cities most important asset: us.
The multi-disciplinary arts, music and food festival heads into its sophomore year this weekend, and its celebration of the local beacons of our city is evident once again.
If Toronto ever wanted a downtown urban internationally relevant festival that celebrates the community, this is it. Chill, approachable, and easy going. A perfect way to enjoy the beginning of summer.
Who should rejoice? Well, this festival is a two day event now (up from one last year) and there is even more crowd pleasing be-spoke curated content to dive into. And the kids? No need for a baby sitter. Bring them, they get in free.
We wanted to get an insiders take on what is in store, so were pleased when Aaron Miller, Arts & Crafts, Manager - Content & Programming/ Field Trip Marketing Manager gave us a few minutes.
What are the top three things you want this year's festival to achieve illustrating growth from last year?
Field Trip is built on the themes of community, discovery and great music. If everyone that comes experiences the great in those things, we will be very happy and hopefully on our way to achieving a place among Toronto's best music and culture events.
What will you be doing at the festival itself as one of its producers?
We've worked hard for months to get to this point. A lot of thought and preparation has gone into this, so at this stage its just ensuring everything is flowing nicely and everyone is having fun. And of course, seeing what does and does not work for next year!
What are the top three things you worry about festival day?
For an outdoor event like Field Trip: weather, weather and weather.
You have created some amazing new food experiences, including the Mess Hall. Why was that important?
Because food can be one of the best things in life -- and because Toronto has an amazing food scene that deserves to remain on display. Great weather, music and food...how can you go wrong?
Day camp for kids, eh? Do tell.
We're calling it Day Camp as a play on the Field Trip theme, but it's really just a part of the grounds we've programmed specifically for families that features a bouncy castle, hula hoops, interactive arts & crafts and a bicycle powered stage with kids performances. Making Field Tripan event that made sense for families was a huge part of our ambition going in. It's going to be really fun.
The idea seems to be for attendees to stay all day and night and experience more than just music. Why?
There are a lot of music festivals, but not many have the benefit of being situated in a place like Downtown Toronto. The incredible diversity and flavour of this city gives us the opportunity to showcase great music but also amazing food, art, fashion and beyond. There's so much out there -- there was no way we could not incorporate as much of it as possible.
Etsyreturns and this year you have the Analogue Gallery Sound Image exhibition. Why are these part of the experience?
Again -- just attempts at making sure there is something for everyone at Field Trip. The Sound Image exhibition is a great place to see amazing music photography, but also a soothing, indoor activity in the midst of this outdoor festival.Etsyis a world class curator and does really fun stuff, which we of course aspire to with Field Trip. And beyond these two, there is a LOT to experience over the two days at Fort York and Garrison Common... really, something for all of us.
Are there tickets left and what is the best way to get? Can you get at door?
Tickets can be purchased in advance via Ticketmaster and Toronto independent music retailers Rotate This and Soundscapes. Tickets will be available at the gates on both days. Full details here.
So there you have it. This is one of those experiences you wished happened more than once a year. Wouldn't miss.