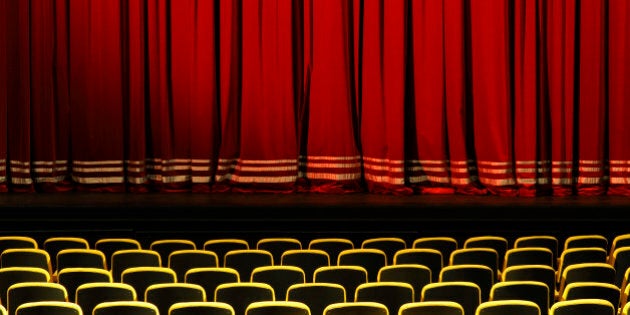 The hottest theatre ticket in town these days may surprise you.
Introducing the November Ticket, a brilliant idea from a collective of artists that decided to do something that seems challenging in an oh so competitive marketplace.
Arm and arm, they decided to work together.
Sharing resources benefits not only the companies and artists themselves.
Nope. Audience win as well here.
We have heard it before. How do we consistently enable theatrical experiences to be accessible, relevant and something that cafe's are buzzing around town talking about?
In a world where experience collecting has become a thing, the November Ticket has created an event like feel that has not been seen in small to mid size theatre.
With a welcoming cozy cafe by day that transitions into a cozy chill lounge by night, your experience continues seamlessly after the show where you will often find actors and creators mingling and inspiring invigorating discussions with audiences. You can even see two shows back to back when you attend.
Something is working here as shows are selling out, artists and audiences are creating a two way dialogue and in many cases, audiences who came to see one show are upgrading their pass so they can see all three.
We had the opportunity to sit down with Ravi Jain, one of the masterminds of the November Ticket, and Artistic Director of Why Not Theatre. Consistently creating and producing some of the most memorable theatrical experiences in recent years, it was clear when we spoke that this new model is a long term passion of his that he hopes will catch on for other companies to use.
You have spoken about a need for a "healthier theatre ecology". Can you explain?
The funding for theatre reflects much of the economy in the rest of the world, where the top one per cent have 99 per cent of the funds. There needs to be more of a relationship with large institutions and artists creating work on the ground level and within communities. The opportunity is a mutually beneficial one, expansion of audiences for institutions and necessary resources for independent artists.
Is this a sector need or just Toronto?
This is a sectoral need and it's true across Canada.
Can you explain the goal of the collaborative producing model that is illustrated with November ticket?
The November Ticket was born out of a long term collaboration between Why Not Theatre and The Theatre Centre. Together we are sharing costs, and working together to build a larger marketing platform (by working together we have more of a reach than we do on our own). In doing so, we're expanding the kind of work the Theatre Centre is known for, expanding the audience base, and pioneering a new way for small independent theatre companies to produce.
Why these three plays and why November?
These three plays deal with a theme that is very important right now; justice. All around the world social media is allowing the public to engage in important discourse to challenge systems to make change. Pressure is on governments, corporations, and media for transparency and accountability. These plays all deal in their own way with the need for Justice.
What is the audience benefit?
An audience member can see two incredible plays in one evening, or they can spread their night out over the course of the month. A three show pass allows them to see any one of the shows whenever they want. The flexibility is very valuable as peoples schedules are always changing.
What has the feedback been from all stakeholders including audiences?
First and foremost people have been blown away by the art. The plays have people on the edge of their seats; the writing is engaging, the casts incredible, the direction boundary pushing. People are thrilled to be part of an independent season that has such high quality of work, which is run in a model that is like a festival.
You have another model called The Riser Project in 2016. Can you tell us about that?
The RISER project is a collaborative producing model designed to address major challenges in the independent theatre sector, namely: lack of resources and building an audience to come see shows. The model works by bringing independent companies together to reduce their costs by sharing resources like space, lighting design and stage management and work together with a wider base to build an audience. Moreover, the key to the model is the relationships we build with senior companies. We incentivize them to invest in the next generation of artists, thus expanding their audience through the sharing of their resources.
The November ticket is one of the biggest events we've ever done. 15 actors. 6 weeks of shows. Three plays. Two Governor general's Award winning playwrights. 1 Obie Award winning playwright. And its all possible because so many people are working together to share resources and risk to try something new. The audience is responding enthusiastically and I hope you (the reader) will come to check it out.
So if you want a fulfilling afternoon or evening out, the November Ticket is for you.
Artists and companies should take note of the success of this, along with all funding bodies, including those who are involved with the Ontario Culture Strategy and Canadian Heritage, who itself is looking at new models to infuse the arts in our every day lives.
The November Ticket continues through this week with the last show on Sunday November 29. Butcher unfortunately has completed its run, but the two other shows are running. All box office info is here.