Lucy Hale posted a picture of herself on Instagram today and pissed a lot of people off.
In honour of Father's Day, she had posted a picture of herself with her dad. It was a beautiful picture and a ton of her fans left comments gushing about how stunning she looked in it. Unfortunately, Lucy made the mistake of responding to the compliments with a critical one of her own. She wrote, "Ugh, I was so fat."
Uh-oh. She used the F-word!
Lucy called herself FAT and social media blasted her for it. I get it, I really do. After all, I'm a body image expert and the founder of the Fit vs Fiction Body image workshops. I'm also an eating disorder survivor, who lost 30 years of my life battling severe body image and eating disorder issues. I put my life at risk, more times than I count, by engaging in dangerous behaviours in an effort to be skinny. I suffered physically, emotionally and psychologically. I understand how damaging it can be when a celebrity who has young fans comments negatively about their weight.
However, being angry at Lucy is a mistake.
Lucy Hale isn't the problem, she's just a symptom of the problem. As is every actress who feels the need to surgically remove every crease, line or wrinkle on her beautiful face. I refuse to judge any celebrity who undergoes plastic surgery, but I DO, however, judge an industry that makes them feel that it's what they need to do in order to stay relevant and employable.
I'm not angry at her for it, and you shouldn't be, either.
I speak at schools to kids as young as five years old who are battling negative body image and I know how important it is for them to receive positive, healthy messages from the media about the importance of loving, respecting and accepting their bodies more for the amazing things they can do than just for how they look. I love when a celebrity is rebellious enough to stand up to our society's twisted adoration of unrealistic and unattainable beauty and says, "This is ME. If you don't like it, screw you!"
Alicia keyes did it, Jamie lee Curtis did it, and so did a slew of other actresses who refuse to be overly critical of every perceived imperfection and instead choose to celebrate it.
I love it, but I can't always expect it. Not yet, and not from everyone.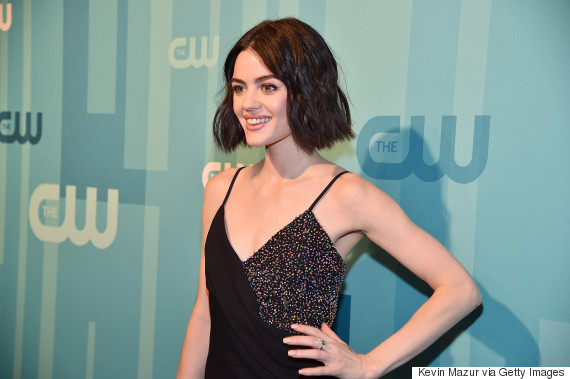 Lucy Hale attends The CW Network's 2017 Upfront at The London Hotel on May 18, 2017 in New York City. (Photo: Kevin Mazur/Getty Images for The CW)
In the September 2012 issue of Cosmopolitan, Lucy admitted to having dealt with an eating disorder. She didn't go into detail and I have no idea if she underwent treatment for it, but I know that once this kind of thing gets its hooks into you, they are very hard to dislodge.
Social media is great because it lets us share exactly what we're feeling at the exact moment that we're feeling it, but it also sucks for the exact same reason.
Lucy saw the picture and had an initial gut reaction that she shared. It was terribly unfortunate. But I'm not angry at her for it, and you shouldn't be, either.
I understand Lucy, because I've shared the same feelings about myself. When you have an eating disorder, the world can think you're perfect, but all you see are flaws.
Should she have said it? Nope.
But let's not crucify her for it. Instead, let's use it as an opportunity to talk about how messed up the entertainment industry is. Let's use it to criticize society's warped image of beauty. Let's use it to demonstrate how the most beautiful looking people can still question their own worth.
Lucy didn't cause this body-image shit storm, she's just trying to fight her way through it like the rest of us.
Follow HuffPost Canada Blogs on Facebook
Also on HuffPost: