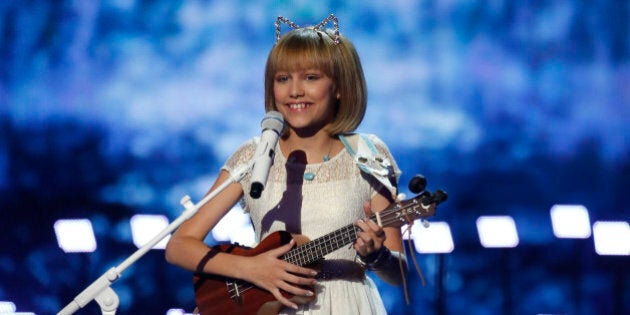 America's Got Talent used to be a really cheesy show with really cheesy acts, but as it often happens when a show develops a huge following, better quality people start auditioning and the tone of the show is elevated.
Such was the case this season, when the acts were so stellar that several of the ones who'd received a golden buzzer -- a direct pass to the live shows - didn't even make it to the finals.
There were so many brilliant singers, dancers, magicians and daredevils that I could actually see them all getting together and creating a Las Vegas spectacular.
In the end, though, the ten finalists definitely deserved to be there; not the least, Grace VanderWall. Her audition was so spectacular that tens of millions of people viewed it on YouTube and she became instantly famous, racking up huge YouTube views for each of her successive performances.
Ultimately, I was hoping that Linkin' Bridge, four old friends from the rough neighbourhoods of Louisville Kentucky, would have won. Their harmonies put the boy bands to shame.
Or I would have been happy to see Brian Justin Crum as the winner. He overcame years of bullying to emerge as an amazing vocalist, and his theatrical approach would have been perfect for the grand prize -- a headline show in Las Vegas.
But Grace VanderWaal prevailed, and it's because the twelve-year old is a tiny artistic phenomenon. She writes her own songs, sings and plays the ukulele, and she's an original.
Her songs are cool, quirky, and have a depth to them that's surprising for such a young person. Even without AGT, it's clear that she would have gone far. Stevie Nicks, of all people, said so in the finale.
After Grace's first audition, in which she sang her own song, "I Don't Know My Name," Howie Mandel said that very soon, everyone would her name, and Simon Cowell -- a man famously ungenerous with his compliments -- called her the next Taylor Swift.
They're probably both right, and I have no doubt that Grace deserved the win, but here's the thing. She's twelve. And I think about the other kids who were discovered when they were so young.
Child actors and musicians have a habit of ending up in rehab by the time they're sixteen, or even younger. They marry at nineteen, are divorced at twenty and often, they've crashed and burned by the time they're twenty-one.
I think that Grace VanderWaal is really special, and I would have preferred it if the big success could have been delayed a bit, so that she could have maintained her innocence for just a little while longer and enjoyed the rest of her childhood. And is Las Vegas the place that any decent parent wants their twelve-year-old hanging out in?
Even older people fall apart under the intense scrutiny that comes with becoming a celebrity. The downside of fame and success is a total lack of privacy and a whole lot of people telling you how you're now supposed to think, act, dress and eat.
There will be sycophants and hangers-on who enable you to be a spoiled brat and trolls whose only purpose in life is to undermine you. It's an awful lot for a twelve-year-old to contend with.
But now Grace VanderWaal has gone and won AGT, and her life will never be the same. Howie said to her, a few shows back, "Don't change. Stay you," but I wonder, can she do it? It's a lot of pressure placed on those very small shoulders.
For all these reasons, I'm not sure if I'm happy about her win. I'm just hoping that her family and teachers and mentors are able to keep her safe, keep her grounded, and keep her being Grace. I guess time will tell.
Sign up here for my free monthly wellness newsletter. October is all about having more love in your life.
Listen here to my latest podcast. John Westenberg talks about embracing your inner creative weirdo.