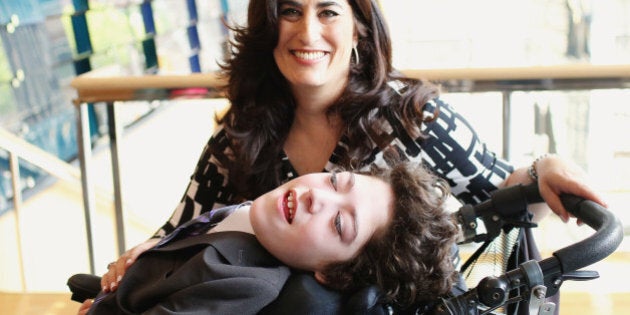 My son, Jacob, was admitted to the hospital on January 23, 2015 for a respiratory infection complicated by Pelizaeus-Merzbacher disease (PMD), a degenerative neurological disorder. Four days later he was moved to the Intensive Care Unit (ICU) where he remained with a machine helping him breathe for three weeks.
When he was moved back to the general floor, we were hopeful a discharge would soon follow. Jake had other plans though, including a two day visit back to see his friends in the ICU.
As days stretched into weeks, I started thinking about the bar mitzvah date I reserved many months earlier.
Jake would turn 13 years old on May 15 and his bar mitzvah, the ceremony and celebration commemorating his entry into Jewish adulthood, was supposed to be May 18. Because of his precarious health, I was unable to focus on party-planning. Hoping he would be home way before the date chosen months earlier to celebrate this milestone, I did not think about the event. It was too difficult to accept that Jake might not be home by then.
In February, during a discussion with the rabbi who was to officiate the ceremony, I mentioned that Jacob might not be home by his birthday. Without a breath of hesitation, he stated that he would perform the bar mitzvah wherever Jacob would be: in the synagogue, in our home or in the hospital. I thanked him for his flexibility and stated that I'd rather postpone the event than hold it in the hospital.
Sometime in mid-April, in the midst of a meeting with two of Jacob's doctors, my husband and I were not-so-subtly encouraged to go ahead with the bar mitzvah as originally planned and not to reschedule to a date in the future. They offered to help us find "the perfect" venue at the hospital and tried their best to put a positive spin on this less-than-ideal situation.
So with a mere five weeks until the date, I had a big party to plan. I was determined to give Jake a bar mitzvah that was commensurate with his achievements and filled with all the love that he has attracted throughout his life. This was going to be a celebration of his incredible strength and of the man is he becoming.
But Jacob had work to do, too. He had to do more than simply show up and party.
He, like all bar mitzvah boys, had to learn his part of the ceremony. But unlike other boys, his part would be recited by blinking his eyes at the appropriate times to activate a computer programmed with the blessings.
And the Torah portion, the verse from the bible that was to be sung on that day, would be recited by Hannah, a friend of Jake's. As she prepared for her own bat mitzvah late last year, Hannah wanted to do a mitzvah (a good deed) in honour of her new responsibilities as a Jewish adult. She decided that she wanted to help Jacob in some way because, as she later stated in her speech at Jake's bar mitzvah "Jacob is very close to my heart and has been my friend and a part of my family for as long as I can remember". We all agreed that by being his voice at the Torah, Hannah would help Jacob have the bar mitzvah he deserved.
With the ceremonial aspect of the day planned, all that remained was the party portion. What would seem like a daunting task, selecting and hiring a caterer, photographer, videographer and DJ, turned out to be simpler than I expected. A good friend voluntarily assumed the role of party planner and created a team of big-hearted, generous, motivated people who came together with the single goal of making one person's special day the best it could possibly be. This group of professionals ensured that nothing would put a damper on the biggest day of my son's life. Not even a 115 day hospitalization.
Most of the people involved in organizing the event had never met the boy of honour.
They had never looked into his sparkling eyes or heard him laugh so hard the alarms on his monitors beep off. They had never seen him smile when his wheelchair is pushed so quickly that the wind blows in his face and makes his hair look even crazier than usual. They haven't witnessed his face light up with pleasure when some of his friends hang out with him.
But all of the invited guests have had the pleasure of listening to his laugh, delighting in the smile that makes you want to smile right back at him and watching his enviously long eyelashes come together as he blinks his eyes in response to a question.
In his 13 years, Jacob has been an incredible teacher to so many people and an inspiration to even more.
From the time he was a little boy, he has demonstrated a strength that amazed those around him. There isn't much that comes easy for him, not breathing, swallowing or moving, things most of us take for granted. Even so, Jacob has managed to show people that there are reasons to smile, plenty of things to laugh about and that simply hanging out with good friends is enough to call a day a good one.
Jacob has grown into a remarkable young man. Despite all the struggles he faces and obstacles he has crossed, he continues to forge ahead with a smile and a mischievous gleam in his eye.
I am proud to be Jacob Trossman's mother.