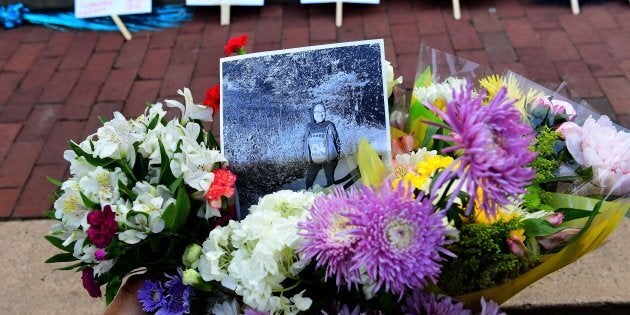 This blog originally began as a light-hearted take on the spike in female consumerism that spreads across Muslim world at the onset of Islam's holiest (and most social) month, Ramadan.
But the brutal murder of 17-year-old Nabra Hassanen has left me stunned and facing a lexicological problem.
After all, how can I possibly wax poetic about the vanity fair circus that is Ramadan and the festival of Eid for so many Muslim women when one of us suffered so grotesquely and has left us too abruptly?
I can think of no semantics to string together in order to adequately describe for the anguish of the community around me nor can I find a way to speak of the pit of angry anxiety currently twisting my insides.
I can coin no phraseologies to properly portray the physical pain and the insurmountable hopelessness that is reverberating from Vancouver to Virginia in the face of such calculated hate.
In young Nabra's face I see the faces of four women who make up a large part of my world. My baby sister currently living alone while completing rotations in one of America's top ten most violent cities, Chicago. My sister-in-law, also a med student, and, like Nabra, also a striking beauty and by virtue of her headscarf, a visibly Muslim woman. And then, my two best friends -- of them one who was, at one point, Canada's youngest resident-physician and the other who spends her week driving around Calgary providing speech-therapy to young children -- both of whom, like Nabra, are wholly entrenched in their communities while clad in the folds of the hijab.
For Muslims the month of Ramadan is of quiet dignity and reflection. Yet, I have spent the better part of these thirty days arguing and pleading with these women (and my husband and parents) to steer clear of large gatherings and to break from a lifelong tradition of nightly prayers at the mosque.
This Ramadan, faith is not my panacea. This Ramadan, fear has finally trumped faith.
I confess that my reasons are rooted in the selfish. From Manchester to Mosul, as the world explodes around us, I find myself frantic over the safety of my lifelines.
Simply put, this Ramadan we have lost too many irreplaceable Muslim and non-Muslim lives.
And, I confess that this recent, ongoing wholesale slaughter of innocents has made me weaker and wearier. I have lost my youthful optimism, my we-must-come-together-and-persevere so let-us-pull-ourselves-up-by-our-bootstraps approach to the dual problems of Islamophobia and radicalized religion.
This Ramadan, faith is not my panacea. This Ramadan, fear has finally trumped faith. This Ramadan, I am bedevilled by so many questions.
Questions like, what should one do when the worst has happened and continues to happen?
Questions about what to tell the parents of Nabra or the parents of Manchester whose loss is too heavy, too permanent to ever be reversed?
And questions about how to string together sentences to ease the guilt of Nabra's friends who must see that there was nothing they could have done to protect their friend from blind rage and lunacy.
And, lastly, the questions that surface in the stillness of the night. How do you console a heart that is heavy and hardened?
Stoics believe that there are no good or bad events, that there is only our perception. Shakespeare encapsulated this idea well when he said: "nothing either good nor bad but thinking makes it so."
Tracing this logic then means that the questions that bedevil and besiege me can maybe be assuaged by turning to those of you who, like the Stoics, are relying on your perception to placate yourself.
Right now, so many of us know what is devastating us from inside. When asked, we are quick and eloquent at articulating our pain and anger. I guess that tragedy after tragedy has left us skilled at telegraphing relatable woe.
Yet despite this dark hour which has caused in us a crisis of faith and left us heavily disenchanted as demagogues seize the day, I guess what I want to know is what (or who) is saving you right now?
Follow HuffPost Canada Blogs on Facebook