Scan­ning the line-up of panellists for this year's Ter­roir Sym­po­sium, held recently in down­town Toronto, Irish-raised Lon­doner Joe Warwick's photo and bio stood out among the ros­ter of famous chefs, well-known restaurant critics and culinary academics.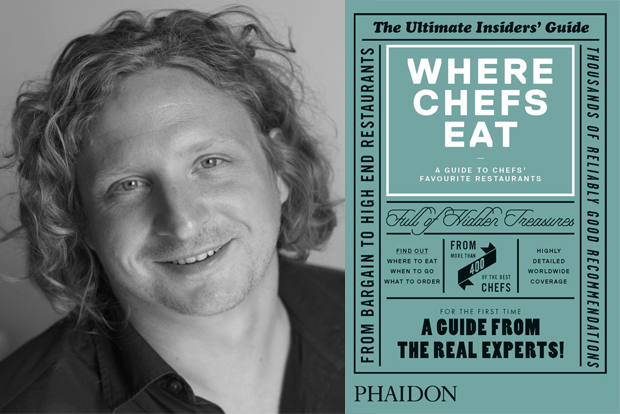 Joe War­wick and his book: Where Chefs Eat
With his long, wavy hair, quirky Twit­ter han­dle, @Gal­leyslav­ery and the unusual title "restau­rant writer," ("I write about other things con­nected with restau­rants, not just reviews") he sounded like a bit of mav­er­ick. And when, micro­phone in hand, I met up with him for an inter­view amid the event's lively crowd, he didn't disappoint.
On a panel with three oth­ers called "For­eign Chefs, Local Restau­rants: The Big Debate," War­wick soon elicited a laugh from the audi­ence by apol­o­giz­ing on behalf of all Brits for Gor­don Ramsay.
Unlike his co-panellists, he wasn't upset by the topic du jour: celebrity chefs set­ting up shop in a for­eign city to rave reviews in that locale.
Think New York chef David Chang of Momo­fuku fame recently gar­ner­ing over-the-top lau­dits from this city's crit­ics for his Toronto eatery, to the dis­may of some. War­wick cited the arrival, to much acclaim, of NYC's brasserie Balt­hazar in London's west end -- with which he has no prob­lem. And nor do I. May the best chefs win.
I was also intrigued with the fat lit­tle book he edited called "Where Chefs Eat" and its nifty sub­ti­tle "A Guide From the Real Experts!" -- a col­lec­tion of more than 2,500 places, from high-end restau­rants to hot dog stands, com­piled by more than 450 chefs from around the world. And that's how we began our chat.
My com­ment that I enjoy eat­ing out with chefs because they usu­ally know more than me about what went into prepar­ing a dish got this response: "I think chefs are tapped into their local restau­rant scene in a way that the aver­age per­son isn't. They know places that are open­ing. They know what's good. They know the time to go."
War­wick notes that chefs are espe­cially knowl­edge­able about late-night spots because of their unusual hours. He also thinks we may be sur­prised at their choices. "Peo­ple might assume if you cook in a very expen­sive restau­rant doing high­fa­lutin food, that's what you want to eat. But that's not the case. I think chefs crave sim­plic­ity when they eat out, for the most part at casual places and fun places... "
Hence the book's advice on where to get a per­fect burger at four in the morn­ing and point­ers for find­ing the ulti­mate her­ring wagon. War­wick has only eaten at 15 to 20 per cent of the eater­ies listed and is espe­cially keen to try a novel "wet burger" sold in Istan­bul: "They get the burger in the bun and then they poach it in chile oil."
Shortly after this inter­view, I trav­elled to Lon­don to visit my 90-year-old mum and checked out a tip War­wick had given me. We had already agreed that the famed lamb chops at Indian restau­rant Tayyabs were well worth the trip to Whitechapel -- once a Jew­ish neigh­bour­hood and now mostly inhab­ited by South Asians. He calls the place "an insti­tu­tion" that's "heav­ily rec­om­mended" in his book.
But I had never been to Sweet­ings: a vin­tage fish eatery in the bank­ing dis­trict that serves only lunch and is one of his favourite spots. Wow, what a lovely meal in a warm and wel­com­ing ambi­ence. Fried had­dock with chips were per­fect. So was the old-fashioned steamed suet pud­ding stud­ded with dried fruit and served with creamy cus­tard called Spot­ted Dick. Judg­ing by this rec­om­men­da­tion, War­wick knows his stuff.
He's in good com­pany, it seems, as famous food­ies Anthony Bour­dain and Fer­gus Hen­der­son are also Sweet­ings fans.
Sadly, I didn't have time to visit Here­ford Road: a newish restau­rant in Not­ting Hill spe­cial­iz­ing in offal with a menu built around British sea­sonal ingre­di­ents that's his cur­rent favourite.
I ask War­wick what he looks for when eat­ing out. "It's about a lot of things but it's not just about the food," he says. "You've got to feel wel­come, you've got to feel com­fort­able and, whether it's the right chair for your behind or the waiter smil­ing at you, it's all of those things and then, of course, ide­ally you want excep­tional food." He adds: "I think some­times you can for­give unex­cep­tional food if all those other things are right."
He's a fan of British ingre­di­ents. "The game I think in the U.K. is the best in the world. Our fish is fan­tas­tic." He sec­onds my pen­chant for British pud­dings: "Yes, sticky tof­fee pud­ding, bread and but­ter pud­ding -- those kind of rib-sticking desserts are fan­tas­tic." But quickly adds, "I usu­ally have to have a nap after one of those. They're designed for Sun­day lunch, I think."
There's been a lot of talk lately about the demise of the restau­rant critic because of online sites like yelp, urban spoon and trip advi­sor. Warwick's response to this: "As a jour­nal­ist, I would like to say that it comes back to con­tent at some stage." He won­ders who is writ­ing these reviews and what they know. "I'm a big believer in recep­tion the­ory," he con­tin­ues, "What you take to an expe­ri­ence is what you get away from it and, if you don't know what you're talk­ing about, you don't know what you're talk­ing about."
He's a fan of Fay Maschler, long-time reviewer for the Lon­don Evening Stan­dard, and Marina O'Loughlin who cri­tiques restau­rants for the Guardian.
He's not against blog­gers who review restau­rants but claims it's impor­tant to find some­one you trust. "I think it's like any­thing else. It's get­ting to know someone's taste and see­ing if you share it."
His is a dicey busi­ness. "A restau­rant meal is not a record; it's not a book. It changes depend­ing on the day," he explains. "I've gone to places that have had ter­ri­ble reviews from peo­ple I trust and had good meals -- and vice versa."
Due to bud­get con­straints, War­wick usu­ally only eats at a place he's review­ing once. He doesn't wear a wig to be incog­nito but does make reser­va­tions using another name.
He con­cedes that it's impor­tant to have "a social media pres­ence" these days and "to be your own brand."
How­ever, in the end: "It's going to come down to con­tent and not just every­one giv­ing their opin­ion." That, he con­cludes is: "Too much noise."
Listen to my chat with Joe Warwick here.
20 Best Restaurants In The World