Paul Child/KPBS
"I was 32 when I started cook­ing; up until then, I just ate." -- Julia Child
I've been a busy mem­ber of Canada's food media for many moons -- more than 30 years of telling sto­ries about my con­sum­ing pas­sion, 18 of them as food editor/columnist for Canada's largest news­pa­per, the Toronto Star.
My work sleuthing sto­ries has been excit­ing, eclec­tic and, I hope, both edu­ca­tional and entertaining.
I've talked to cooks and din­ers behind the scenes and at the tables of home­less shelters.
I enjoyed an inti­mate three-hour Ital­ian lunch for two while chat­ting about her cook­book with film leg­end Sophia Loren.
A few months after 9/11, I spoke with Michael Lomonaco, once the exec­u­tive chef of Win­dows on the World and the man who escaped the Twin Tow­ers dev­as­ta­tion by a for­tu­itous fluke.
I chewed the fat on sev­eral occa­sions with for­mer Mafia cook and cook­book author Joe "Dogs" Ian­nuzzi when he called me from parts unknown while under the wit­ness pro­tec­tion plan.
Early in their stel­lar careers, I inter­viewed British food icons Jamie Oliver and Nigella Law­son -- in the flesh.
But per­haps my fond­est mem­o­ries are of talk­ing shop, chat­ting about life and break­ing bread with my inspir­ing men­tor and beloved friend: North America's cui­sine queen Julia Child.
Here's how that all began.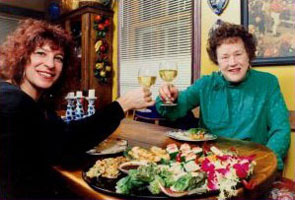 In late 1990, I called Julia Child at her home in Cam­bridge, Mass., where she cheer­fully answered the phone. I was writ­ing a piece for my news­pa­per about what famous food­ies cook for din­ner par­ties. Her answer to that was sweet and sim­ple: "Some oys­ters with cham­pagne to start, then prob­a­bly Boeuf Bour­guignonne with Pota­toes Anna maybe fol­lowed by some good cheese and a nice pear."
Once busi­ness was over, it was her turn to ask me a ques­tion. In typ­i­cal Julia fash­ion, she was curi­ous. "What's Toronto like?" she asked. "Haven't you been here?" came my reply. "No," said she. I asked why. "Well, nobody's invited me."
Min­utes later, I was in the publisher's office. A few months after that, in April, 1991, she arrived in Toronto as a guest of the Toronto Star for a one-day whirl­wind visit to our city.
The friend­ship begun that day con­tin­ued until her death at age 91 on August 13, 2004, when I wrote a full-page obit­u­ary for my newspaper's A section.
A cou­ple of weeks before she died, I received a touch­ing mis­sive: two recipes for Tarte Tatin -- a dessert I was research­ing -- clipped from local news­pa­pers in Santa Bar­bara where she was living.
Julia Child was born Julia McWilliams in Pasadena, Calif., on August 15, 1912.
She grad­u­ated from Smith Col­lege in Northamp­ton, Mass., in 1934 and thought "it would be fun to be a spy" when she joined the Office of Strate­gic Services.
What she became was "a lowly fil­ing clerk who at least got to travel to places like Cey­lon and China." It was in China that she met Paul Child who was 10 years older and worked for the U.S. Infor­ma­tion Service.
The cou­ple went to live in Paris in the late 1940s. Here, Julia attended the Cor­don Bleu acad­emy and soon opened a cook­ing school with her two co-authors-to-be Simone Beck and Louisette Bertholle.
A late bloomer, she found her call­ing as the woman who brought a love of good food, in par­tic­u­lar French cook­ing, to North Amer­ica. This hap­pened in her late 30s dur­ing the period spent in France with her hus­band Paul when she had an epiphany while eat­ing lunch of oys­ters and Sole Meu­niere at a restau­rant called La Couronne in Rouen.
From then on, she was unstoppable.
She was the orig­i­nal celebrity chef when, in 1961, she burst onto the culi­nary scene with her low-budget, one-woman tele­vi­sion show on PBS called "The French Chef." Almost imme­di­ately, it gar­nered a huge and loyal fol­low­ing. Her sem­i­nal book, "Mas­ter­ing the Art of French Cook­ing," pub­lished in the same year, was 10 years in the making.
More cook­books fol­lowed. She was a reg­u­lar on TV. Most impor­tant, she became a beloved men­tor to cooks of every age, shape and social sta­tus by shar­ing her infec­tious pas­sion for prepar­ing deli­cious food then cheer­fully shar­ing it with others.
In 2009, the movie Julie and Julia star­ring Meryl Streep launched a whole new gen­er­a­tion of fans.
What has made Julia Child such an icon? It all boils down to that intan­gi­ble attribute: charisma.
She was larger than life -- lit­er­ally and fig­u­ra­tively. At 6'3", she had a lovely moon face and an unmis­tak­able, sing-song, plummy voice that may have seemed affected on any­one else.
She was gen­uinely out­go­ing and always wanted to know about you, her sur­round­ings and, of course, all things culinary.
She didn't fit any mould. She was a famous woman who didn't act it. She was just plain lov­able and, as they say in Yid­dish, a real mensch.
Last but not least, she was a teacher who was seri­ous about her mis­sion: To impart the cru­cial ele­ments of tech­nique in cook­ing. Her humour and love of life made the other part effort­less: To share a love of good food cooked well.
Since resign­ing from the Toronto Star in 2007, I have been a free­lance food sleuth, writer, broad­caster and cook.
A col­lab­o­ra­tion with Toronto non-profit group Food­Share will yield a cook­book this fall. I have a mem­oir in the works. And this blog is ongoing.
But my first love these days is cre­at­ing documentary-style audio podcasts.
Visit www.marionkane.com and social media (Fol­low me on Face­book, Twit­ter, and Pin­ter­est) for an excit­ing series of audio docs I'm work­ing on with pro­ducer Sean Ras­mussen and social media guru Melissa Lei­th­wood to cel­e­brate Julia Child's 100th birth­day this August 15.
In fact, let's con­sider this entire year a cel­e­bra­tion while we raise a toast to Julia Child. As she liked to say: "Bon Appetit!"
Cheese Souf­flé
There are ver­sions of this sweet and sim­ple dish - a Child trade­mark -- in almost all of her many cook­books includ­ing my favourite: The Way To Cook (Knopf). With a tossed salad and hunks of crusty baguette, it makes a lovely light lunch or sup­per. I didn't bother mak­ing a col­lar for the bak­ing dish, which makes for an ele­gant pre­sen­ta­tion as described by Child, but it looked and tasted great. You'll need a 6-cup souf­flé dish or straight-sided bak­ing dish.
About 1 tbsp soft­ened but­ter
2 tbsp finely, freshly grated parme­san cheese
2½ tbsp but­ter
3 tbsp all-purpose flour
1 cup hot milk
¼ tsp paprika
A pinch of grated nut­meg
½ tsp salt
Pinch of ground white pep­per
4 egg yolks
5 egg whites
1 cup (about 4 oz/125 g) coarsely grated gruyere cheese
Pre­heat oven to 400F.
Grease bot­tom and sides of bak­ing dish with soft­ened but­ter. Sprin­kle on grated parme­san, turn­ing dish so cheese adheres to its sides and bot­tom.
In medium saucepan, melt 2½ tbsp but­ter over medium-low heat. Add flour and cook, whisk­ing, until mix­ture foams, about 2 min. Remove from heat. Whisk in hot milk. Return to heat, bring to boil, reduce heat and sim­mer 1 to 2 min. or until thick­ened. Remove from heat; stir in paprika, nut­meg, salt and pep­per, Stir in egg yolks, one at a time, until com­bined
Using man­ual or hand-held elec­tric mixer, in medium glass bowl, beat egg whites until stiff and glossy. Whisk about a quar­ter of them into sauce in saucepan, then del­i­cately fold in remain­der alter­nately with grated gruyere. Care­fully turn mix­ture into pre­pared bak­ing dish.
Reduce oven tem­per­a­ture to 375F. Bake souf­flé 25 to 30 min. or until puffed and nicely browned. It will fall slightly as it cools. To serve, hold serv­ing spoon and fork upright and back to back in mid­dle of souf­flé and pull it apart.
Makes 4 servings.