I have it in front of me: The orig­i­nal Sil­ver Palate Cook­book by Julee Rosso and Sheila Lukins first pub­lished by Work­man in 1979.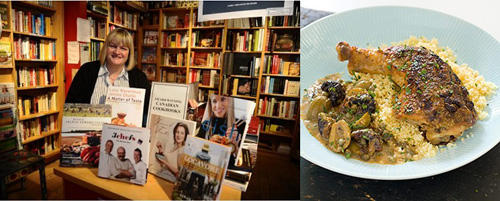 Ali­son Fryer, man­ager of The Cook­book Store (left) and Even Bet­ter Chicken Mar­bella (right)
Oh, the mem­o­ries it brings back. Mostly of being part of the baby-boom gen­er­a­tion and of try­ing to have it all: a career, moth­er­hood, fem­i­nism, home-making, look­ing good in tight bell-bottoms -- the list goes on. It was the era of super­woman and a challenging one I real­ize looking back.
But per­haps para­mount in my social set was being the queen of the din­ner party who knew how to enter­tain and, even more impor­tant, how to cook a mean meal. Martha Stew­art was break­ing on to the scene and, even though we joked about her sta­tus as a role model for home-making per­fec­tion, it was hard to be immune.
So we cooked and we enter­tained -- and then did it some more.
I recall almost falling under the table at the home of friends after din­ing on rich, gooey cheese fon­due robustly laced with kirsch and wine. There was rab­bit lus­ciously braised in red wine spiked with juniper berries pre­pared by a cou­ple I knew. And yummy, crisp Veal Milanese savoured at another such soiree.
With a degree in lan­guages (Russ­ian and French) under my belt and no job prospect in sight as an interpreter at the U.N. (nat­u­rally, I say that in jest), I found myself in Toronto in the mid-1970s with a hus­band (now ex) and daugh­ter Esther (now 41) in tow.
Hap­pily and acci­den­tally, I lucked into work for Toronto Life mag­a­zine as a free­lance restau­rant reviewer. Then, in 1983 -- again, mostly by luck -- I was hired as the first food edi­tor at the Toronto Sun.
In 1989, I was wooed away to the Toronto Star where I spent 18 action-packed years as the food edi­tor and then weekly columnist.
Enter the famous Chicken Mar­bella of my early culi­nary efforts. And re-enter The Sil­ver Palate Cook­book, the first of sev­eral books by the same authors, in which that famous recipe appeared and rapidly became a hit with all and sundry.
I have that trusty cook­book to thank for my cook­ing expe­ri­ence, in par­tic­u­lar trade­mark dishes of the era that I turned out a rapid rate: Bouil­l­abaisse, Chicken Liver Pate with Green Pep­per­corns, Beef Car­bon­nade and Car­rot Cake. I have that book to thank for the con­fi­dence required to cook for oth­ers. I have that book to thank for Chicken Mar­bella, which I have pre­pared at inter­vals -- tweak­ing the recipe as I went -- for more than 30 years.
And what a coin­ci­dence. I had just tried a new and, I must say, its best ren­di­tion when The Cook­book Store in down­town Toronto announced its 30th anniver­sary cel­e­bra­tions hap­pen­ing this month.
It appeared in a mag­a­zine put out by the tire­less folk at Cook's Illus­trated with the irre­sistible title: The Best of America's Test Kitchen.
Chicken Mar­bella is basi­cally a twist on the Mid­dle East­ern dish Tagine and is chicken pre­pared with olives, capers and prunes. It is strong-flavoured but the flavours all com­ple­ment each other: salty, sour and sweet. This explains its pop­u­lar­ity and its stay­ing power.
This ver­sion com­bines those key ingre­di­ents into a paste that is smeared on the chicken which is then mar­i­nated and is much eas­ier than the original.
This recipe is my toast to The Cook­book Store's 30th anniver­sary. Thank you Ali­son, Jen­nifer and all the oth­ers who've made your won­der­ful store the per­fect place to cel­e­brate food and cook­ing in Toronto for all these years.
Even Bet­ter Chicken Marbella

I used some chicken breasts along with bone­less thighs, with great results. I sub­sti­tuted about a tea­spoon of anchovy paste for anchovies. I haven't included the two bay leaves in the recipe -- I feel they're redun­dant. The paste can be made ahead and refrigerated.

Paste:

1⁄3 cup pit­ted green olives, minced

1⁄3 cup pit­ted prunes

3 tbsp olive oil

4 gar­lic cloves, peeled

2 tbsp capers, rinsed

3 anchovy fil­lets, rinsed

1⁄2 tsp dried oregano

1⁄2 tsp ground pepper

1⁄4 tsp kosher salt

Pinch of red pep­per flakes

Chicken:

2 1⁄2 to 3 lb (about 1 1⁄2 kilos) chicken parts (thighs, breasts)

2 tsp olive oil

3⁄4 cup chicken stock

1⁄3 cup dry white wine

1⁄3 cup pit­ted green olives, rinsed and halved

1 tbsp capers, rinsed

1⁄3 cup pit­ted prunes, coarsely chopped

1 tbsp butter

1 tsp red wine vinegar

2 tbsp chopped fresh parsley

Pre­heat oven to 400F.

For paste, pulse all ingre­di­ents together in food proces­sor until finely chopped. Scrape down bowl; pulse until almost smooth. Trans­fer to bowl.

For chicken, pat dry with paper tow­els. Sprin­kle with salt and pepper.

Heat oil in large heavy skil­let over medium-high heat until smok­ing. Add chicken, skin side down, and cook with­out mov­ing until browned, 5 to 8 min­utes. Trans­fer to large plate. Drain all but 1 tea­spoon of fat from skil­let; reduce heat to medium-low.

Add 1⁄3 cup paste to skil­let and cook, stir­ring con­stantly, until slightly thick­ened, 1 to 2 min­utes. Stir in stock, wine, olives and capers, scrap­ing up any browned bits. Return chicken, skin side up, to skil­let; trans­fer to oven. Roast, uncov­ered, 15 minutes.

Remove skil­let from oven. Use back of spoon to spread remain­ing paste over chicken. Sprin­kle prunes around chicken. Return to oven; roast until paste begins to brown and chicken is cooked through, 7 to 12 minutes.

Trans­fer chicken to warmed serv­ing plat­ter. Whisk but­ter and vine­gar into sauce in skil­let. Add salt and pepper to taste. Sprin­kle with parsley.

Makes about 4 to 6 servings.