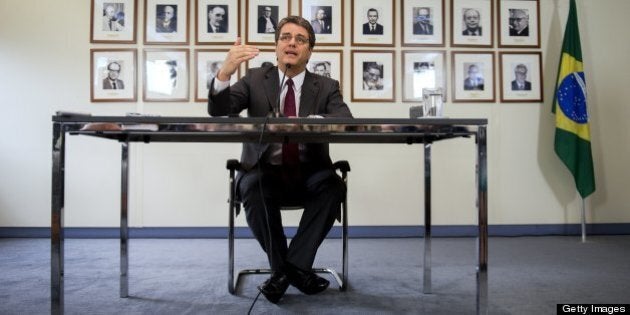 We haven't heard much out of the World Trade Organization since 2005, when the US government decided to continue subsidizing corporate farms rather than forge a global trade deal. Yet the WTO machinery keeps grinding on -- and grinding poor countries down.
At hand is a looming deadline in July by which the Least Developed Countries (LDCs) are supposed to conform to the WTO agreement on intellectual property, known as the TRIPS Agreement. Approved in 1996, TRIPS sets stringent rules to protect all technology-rich products, including medicines, from competition for up to 25 years.
For the poorest countries, TRIPS constitutes an obstacle to development. It deprives them of following in the footsteps of the rich countries and more recent success stories like Korea, Taiwan, China or Brazil. These all built up their technological capacity and industrialized their economies by copying and experimenting with proprietary technologies. TRIPS outlaws that route to development.
What's more, by allowing monopoly pricing on essential goods like medicines, TRIPS causes direct harm to the poorest people. Government health budgets can't afford to cover key drugs, sick people must impoverish themselves to pay out of pocket, and often they simply die.
Deal threatens nascent industries
After much bellyaching, in 2002 rich countries agreed to allow some flexibility for developing countries, including the right to override patents for public health reasons. They also offered a waiver on TRIPS implementation until July 2013 for the Least Developed Countries (LDCs), and that's the deadline now occupying trade negotiators in Geneva.
The LDCs are 50 countries, including Haiti, Afghanistan, Bangladesh and Sudan, where Gross National Income is under $1,190 per capita, human development indicators are abysmal, and economies are utterly vulnerable. Their 880 million people include more than half the world's poorest (earning under $1.25 a day).
These countries have no technological base or functioning high-tech markets; and a strict Intellectual Property regime would threaten nascent industries rather than expand the potential for development.
For example, the Indian generics firm Cipla has set up manufacturing facilities to produce quality, low-cost versions of patented medicines in Bangladesh and Uganda. Obliging those countries to implement TRIPS would prevent that industry from continuing, much less flourishing.
What's more, implementing TRIPS is expensive. It would be hard to find a bigger booster of Intellectual Property rights than the members of the Computer and Communication Industry Association. But they understand why TRIPS makes no sense for the poorest countries.
Their spokesman Nick Ashton-Hart wrote: "If you are a policymaker in an LDC, are you likely to believe creating IP systems is the best way to spend your governments' funds, or is concentrating on the basics your people need a better approach?"
Rich countries lined up to say no
Last fall, the LDCs requested that the "transition period" last until the moment a country graduates from LDC status. Virtually all the world agrees. After all, trade rules grant the Least Developed Countries special status because they are vulnerable.
Sadly, the richest countries have lined up to say no. Instead, they want to make a deal that makes LDCs pay for any postponement.
The European Union and the United States have offered a five-year extension. In return the LDCs would be obliged not to reduce their current level of patent protection or their commitment to full implementation of the TRIPS agreement at the end of the five-year period.
That only sounds reasonable if you know nothing about the reality of such desperately poor countries. Why on earth are the richest countries concerned about the ones that together subsist on less than one per cent of the world's wealth?
Canada is said to be seeking to "bridge the gap" between the hard-line US/EU stance and the Least Developed Countries proposal, which by the way enjoys the support of virtually everyone else. Kudos to our negotiators in Geneva, but surely the only fair resolution is to support the permanent waiver the LDCs have asked for.
Heavy arm-twisting is occurring as you read this, but the LDCs are standing firm. The issue will be decided at the TRIPS Council meeting in June.