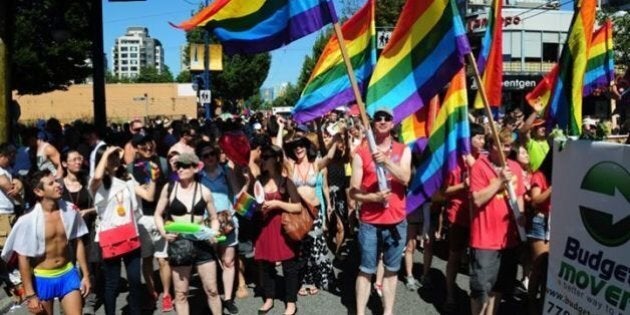 Skepticism should drive journalism. To fulfill its role in a democracy, the news media, in whatever form, must always question the official story. Sometimes the official story is true. Sometimes it isn't. Journalism must bridge that gap. Anything less is public relations.
This Sunday, the annual Pride Parade will march through Vancouver's West End. It's a loud, flamboyant, colourful costume party of various agendas.
Where floats full of gyrating young men in Speedos promote Davie Street nightclubs. Where drag queens dodge lesbians on Harleys. Where nudists and anti-circumcision activists in full-length penis outfits make their point.
Where politicians try to out-gay each other with gay stereotypes in a shameless attempt at pandering. Like Liberal MP Hedy Fry who strolled the 2009 parade route in a shiny, multi-tentacled ocu-dress that would make Lady Gaga blush. Or Mayor Gregor Robertson, whose past parade performances include a stiff techno dancing exhibition and a wobbly rollerblade ride in a pair of too-short-for-anything shorts.
Anyway, the parade's not for everyone. And that's fine.
But thanks to Vancouver city council, almost everyone in Vancouver is now paying for it.
Council, armed with a report from Jerry Dobrovolny, the city's director of transportation, voted unanimously in May to grant civic status to the Vaisakhi Parade, the Chinatown Spring Festival Parade and the Pride Parade. Which means taxpayers will help pay for these events in perpetuity.
But here's the key. The level of city funding depends on parade attendance figures. The more folks on the sidewalk, the more money for the parade. If a parade eclipses the 400,000 attendee threshold, it qualifies for the maximum amount of money available to civic parades. The Sikhs and the Chinese didn't come close. But according to the Dobrovolny report, the Pride Parade attracts "crowds close to half a million people."
Now taxpayers will provide up to $50,000 for "city services related specifically" to the Pride Parade. Policing, sanitation and such. The Pride Society, the non-profit in charge of the Pride Parade, will receive up to $20,000 for "planning support" and $10,000 for a "green parade initiative." Not bad for an organization that already cashes big sponsorship cheques from corporations such as TD and Telus.
Considering the pivotal role parade attendance figures play in the public funding process, the obvious question arises: Where did Dobrovolny, and by extension, city council obtain their Pride Parade attendance figures?
I posed this question to city spokesperson Christie Smith who responded via email: "Attendance figures are from previous years, the applicant, and VPD estimates."
When Smith says "previous years" and the "the applicant," she's talking about the Pride Society, whose "Official 2013 Pride Guide" claims the parade regularly attracts "more than 650,000" attendees. Or more than a quarter of the entire 2.4 million population of Metro Vancouver.
Smith also notes "VPD estimates" of Pride Parade attendance. There's only one problem with that. The VPD has never estimated crowd numbers for the parade. Not last year. Not this year. Not any year. "The estimate for the Pride Parade attendance," says VPD Const. Brian Montague, "would come from the event organizers." Again, the Pride Society.
In 2010, after the Pride Society claimed attendance of "more than 700,000," a number parroted by most major media outlets in Vancouver, I enlisted the help of math whiz Mark Robinson who taught mathematics at Regent Christian Academy, a private school in Surrey. Robinson analyzed the 2010 parade route, which began at Robson and Bute, horseshoed around Denman, and finished at Pacific and Bute--the same route that will be used this Sunday.
According to Robinson's calculations, considering the route length (2.7 kilometres), a crowd of 700,000 would be packed 47 deep, shoulder-to-shoulder, on both sides of the route from start to finish, a physical impossibility thanks to sidewalks and storefronts. A crowd of 10 deep, shoulder-to-shoulder, on both sides of the route produces an attendance figure of less than 150,000. Because of the narrow viewing areas, concluded Robinson, particularly on Denman, the 2010 parade likely attracted roughly 90,000 attendees.
Yikes. That kind of estimate would disqualify the Pride Parade from civic status, which, according to the Dobrovolny report, requires an "average attendance of 100,000 or more."
If you're confused, don't be. It's really quite simple. When the Pride Society, one of the most influential activist organizations in Vancouver's prosperous and politically active gay community, comes knocking, Vision Vancouver, the current rulers at city hall, and the NPA, the loyal opposition, bow down. And when a trumped up "report" goes to council claiming attendance figures so outrageous they deserve their own float in the parade, nobody bats an eye.
Which brings us back to journalism. To my knowledge, no journalist, other than yours truly, has publically questioned the Pride Society's attendance figures. Not during Pride Week. Not when reporting directly from the parade. And most importantly, not last May when city council blessed the parade with the highest level of civic status. And there are three main reasons why:
a) To report honestly on any story, which may cast an unfavourable light on a gay person and/or persons, is to court charges of bigotry. That fact, in and of itself, is enough to scare off most Vancouver journalists.
b) The new wrinkle in the Pride Parade story -- public money from Joe and Judy Taxpayer--doesn't interest most Vancouver journalists. When it comes to government spending, they couldn't care less.
c) They love the Pride Parade. It's cool and hip. Leave it alone, dude. Stop being a buzz-kill.
No skepticism, no journalism. Only public relations. If they aren't willing to report honestly about a parade, what else escapes them?