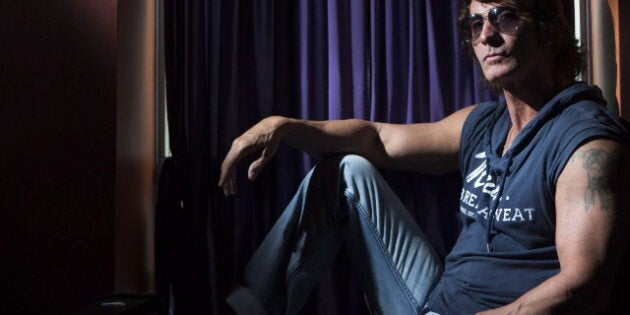 November 2008: After Kenny MacLean asked me for the 222nd time if I would consider getting the band back together and start addressing a myriad of unfinished business, I finally said yes. After remixing so many current indie bands for the dance floor in my role as a DJ and producer, it became quite clear to me that so many of the sounds and musical styles of these recordings had been influenced by Platinum Blonde. I had always felt that there may come a time when Platinum Blonde would take our finger off the pause button and NOW seemed a better time than NEVER. In order to solidify our resolve. I agreed to perform two classic Platinum Blonde numbers live, on stage with MacLean and his band on a Friday, Nov. 21, 2008. I honestly don't think that I ever saw MacLean so happy and fulfilled as on that night we played together. We shook hands, said goodnight and then a few hours later, he was gone.
I took some time after MacLean's passing to get ourselves together. It was a hard time, but NOW we were more determined than ever to make this new album and tour plans a reality. We adamantly refused to be one of those bands that went on tour to relive their former glory and cash in on nostalgia. The past should be respected but it's not alive! What makes artists reach a point in their life where they stop writing new music is a mystery to me. I believe that they made the fatal mistake of growing up. Music is a game for those who are never satisfied with their body of work and constantly feel the need to create more. To be current and relevant is everything to me. I personally hope that I continue to feel the unquenchable thirst to write new music until the day I draw my last breath.
March 2010: With some new material in hand, the band started practicing for an upcoming live show at The Mod Club to mark our induction into the Hall of Fame. Robert Laidlaw, who worked with MacLean on many musical projects, was employed to hold down the bass and backing vocals. Things were really starting to take shape when we received some bad news: Chris Steffler, whom we had wanted to rejoin the band for the album and tour, was no longer physically able to perform. Steffler had been suffering from tinnitus for some time and the situation had become worse making it impossible to rehearse and play live. He recommended his good friend, Daniel Todd.
July 2011: After playing a few preliminary live shows with a new lineup, we had decided to get into the studio and officially press the record button. Laidlaw had recommended mixer and producer Murray Daigle at A71 to man the console. So with reckless abandon, we finally started making our new album Now & Never. At this time my friends Crystal Castles, along with Robert Smith, released a version of "Not In Love" that became a top-ten hit around the world. Before we knew it, there was a sea of new Platinum Blonde fans from all reaches of the globe.
June 18, 2012: We released our first single "Beautiful" which was the first song written for the new record. However, the music business had changed dramatically since we were last on the airwaves. But this time it seemed to be a change for the better. The internet traffic seemed to have given the band a cult status and the single took on a mind of it's own. We are so appreciative of all the support from fans old and new.
August 2012: I'm writing this blog as our album hits the world on August 21, 2012 and I have to say that word for word and note for note that this is probably the best Platinum Blonde record so far. I'm really proud of it. I can't stop listening to the new tracks and thinking about the long road it took to get here. It all became so real as we were performing the new single at festivals this summer. When the first few notes of "Beautiful" were played, the crowd roared and when the chorus arrived, I watched thousands of fans singing along loader than I could have ever imagined. My heart has burst with emotion and the realization that Platinum Blonde are back!
You Can Find Platinum Blonde's New Album, Now & Never At Your Nearest Record Store On August 21, 2012.