Facebook
"When you came to the junction ten years ago everything was to the right -- the park, Tofino, the beaches," says Oyster Jim Martin as we hike along his life's work, Ucluelet's famous Wild Pacific Trail.
Martin, who acquired his nickname as an oyster farmer in a previous life, devoted 35 years to creating this five mile long network of paths hugging the spectacular coastline of the Ucluth Peninsula.
"Back then Ucluelet was all about logging and fishing and there wasn't an atmosphere welcoming to tourism," he says as we stop to admire the view from one of the trail's numerous lookout points. "This trail helped Ucluelet really come into its own."
Long in the shadow of Tofino, its more famous neighbour to the north, Ucluelet is an unpretentious working harbour town that's becoming a popular wild west coast getaway. Today, it offers visitors everything from whale watching and kayaking excursions to fresh dining options, as well as a range of accommodations.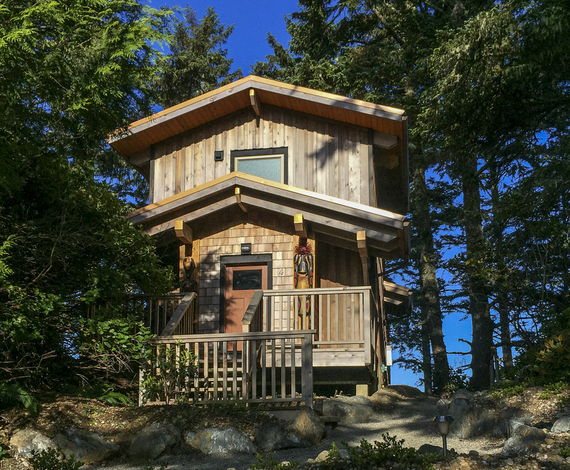 Photo by Wya Point Resort
One of the most popular is Wya Point Resort, located 5 kilometres north of Ucluelet on its own stretch of private beach. This First Nations-owned and operated eco-lodge set on 600 acres of old-growth forest offers timber frame lodges boasting spectacular ocean views and walk-on beach access, spacious yurts and secluded oceanfront camping spots.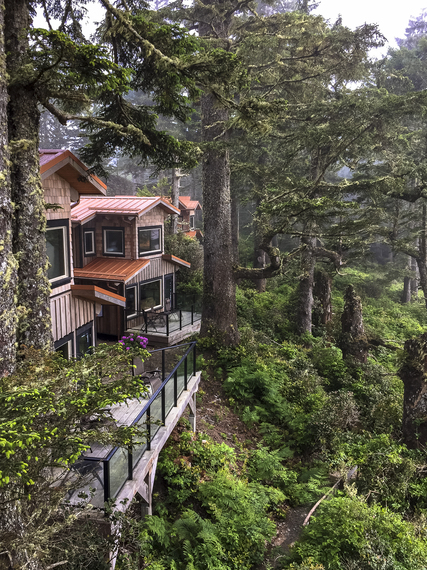 Photo by Mark Sissons
Wya Point is a successful model of culturally and ecologically sensitive, sustainable development along this still largely pristine stretch of coastline that includes world-famous Pacific Rim National Park, explains Tyson Touchie, the band's former economic development officer.
"This is an actual village site of the Ucluelet First Nation. That's special for our people," he says. "What makes this place special is it really means something to our people because we actually own it. It's been a long time coming."
According to Touchie, the band elders only gave the resort their blessing when assured that not a single tree would be cut down during construction, and that whatever was built could one day be removable to let their sacred forest recover. "The resulting construction is sensitive not only to our cultural needs but is also low impact," he adds.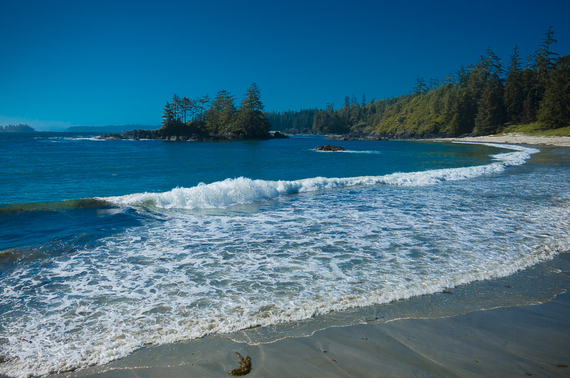 Photo by Mark Sissons
That evening at the Kwisitis Feast House, a Ucluelet First Nation operated restaurant with a panoramic view of Wickanninish Beach attached to the Parks Canada Kwisitis Visitor Centre in Pacific Rim National Park Reserve, Touchie shares stories of life growing up in this wild neck of the west coast woods. His grandfather carved the grand canoe on display in the Visitor Centre, which was developed in collaboration with local First Nations to accurately capture the cultural history and natural features of the area.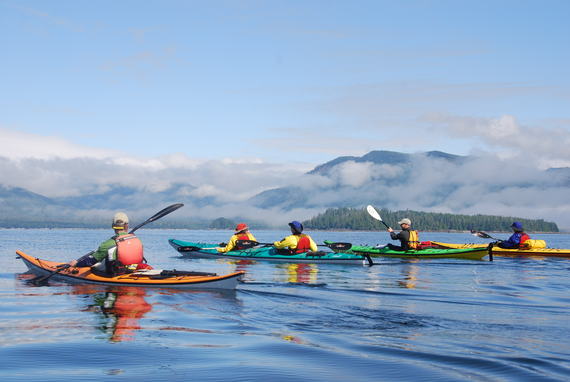 Photo by Majestic Ocean Kayaking
The next morning I set off on a two hour harbour tour with Majestic Ocean Kayaking, which offers guided paddling tours around Ucluelet, Tofino, the Pacific Rim National Park Reserve and Clayoquot Sound.
As we circumnavigate Ucluelet's harbour, owner Ted Eeftink scouts for black bears that occasionally wander along the shore. On this intertidal excursion we encounter a river otter scrambling over the shoreline rocks and a few curious harbour seals popping their heads out of the water, content to pose for my camera as Great Blue Herons and bald eagles circle overhead.
Opportunities for up close and personal interaction with West Coast marine life also abound at the Ucluelet Aquarium, a non-profit public facility that displays everything from spotted ratfish and Humboldt squid to basket starfish.
The aquarium's most popular resident animal is the giant Pacific octopus, which has to be released and a replacement found every four months because they double in size during that time. Collected each March from nearby Barkley Sound and Clayoquot Sound, the aquarium's remaining specimens are released back into the ocean by November.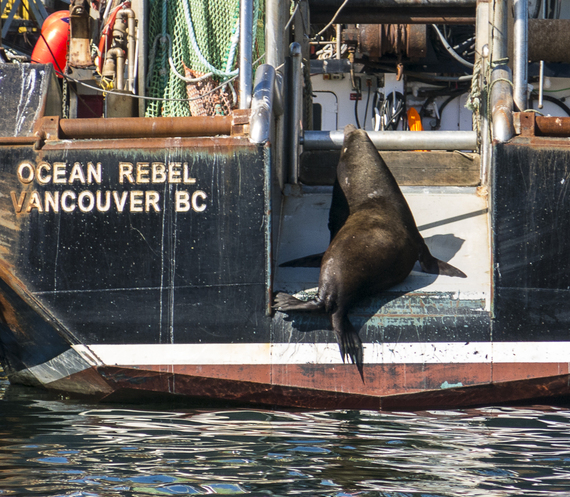 Photo by Mark Sissons
That rich marine habitat attracts all manner of other creatures, including a male sea lion I spot sleeping on the rear-loading ramp of a moored fishing boat the next morning as my whale watching tour embarks for Barkley Sound. Rising from its slumber as we pass, it bellows and slides into the water to bark for fishy handouts from nearby fishermen.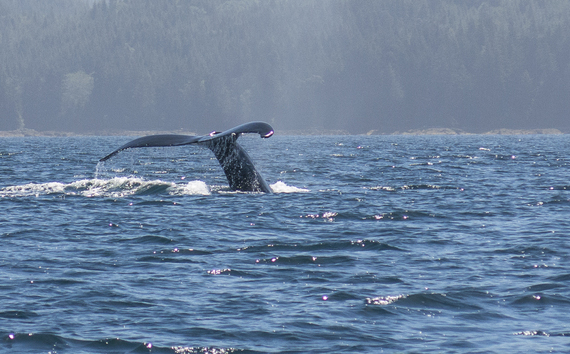 Photo by Mark Sissons
Riding in the front of Subtidal Adventures' zodiac, "Discovery", I'm soon bouncing as it skims the Pacific chop, searching for humpback, gray and killer (Orca) whales, as well as seals, sea lions, eagles and sea birds. During our three-hour tour, the skipper receives word that a Humpback named Pinky and her calf have been spotted in the area. Named for the skin colour within the throat grooves, Pinky was first photographed in Barkley Sound in 2006.
Half an hour later we're idling in between two of the Broken Islands Group under cloudless blue skies, watching intently for Pinky to breach and blow. An occasional deep dive with iconic full tail flapping elicits gasps and cheers from the zodiac passengers. Later, nearing the entrance to Ucluelet Harbour, we spot and pursue an Orca hunting at full speed, its dorsal fin knifing through the whitecaps like a U-Boat on patrol.
Rounding the cape, I can see Oyster Jim Martin's Wild Pacific Trail, hugging the wild coastline of the Ucluth Peninsula. As the locals like to say, experiencing Ucluelet and the still wild places that surround it really is a taste of life on the edge.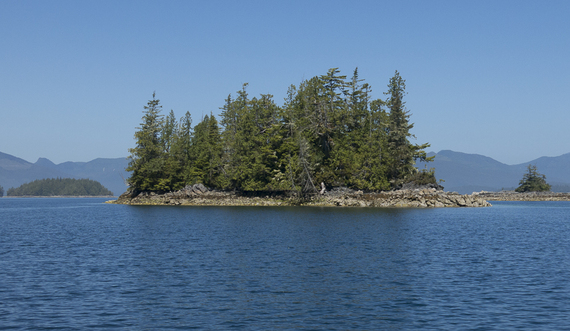 Photo by Mark Sissons
Getting there
From Vancouver International Airport's South Terminal it's just a 50-minute hop aboard Orca Air to Tofino Airport, followed by a 40-minute drive along the Pacific Rim Highway.
This story originally appeared in Vacay.ca.
MORE ON HUFFPOST:
Natural Wonders Of British Columbia