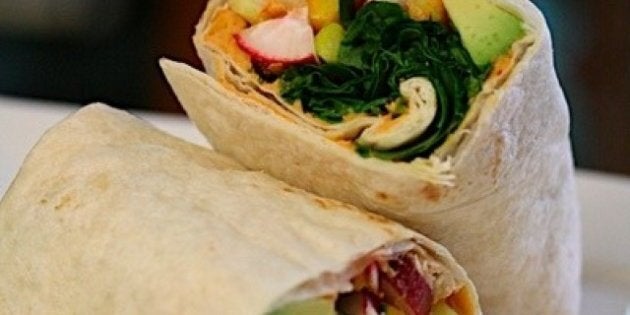 I hear it all the time; people just don't know what to pack for lunch! Those who are opting for healthier options -- that don't involve vending machines or the take-out place down the street -- seem to be the most confused. It may seem like an overwhelming and time-consuming feat to pack a good lunch, but let me tell you that it's not. Once your lunch bag is brimming full of healthy options, you'll not only be thankful for the savings in empty calories, but it will save you money without taking up extra time and effort!
Just remember that packing a healthy lunch is only easy when you have healthy ingredients at home to choose from. Here are some suggestions for packing the perfect lunch to go:
1. Make a pure bean dip loaded with heart-healthy fiber and protein. A batch of this goes a long way throughout the week and can be tossed into a wrap, sandwich, eaten with veggies, or even placed on top of brown rice for an energy-boosting lunch.
2. Whenever you make a meal during the week, whether it is a vegetarian Shepherd's pie, baked sweet potatoes, or mac and cheese, make enough for lunch the next day. You can also make a large batch of whole grains like quinoa, brown rice, or wild rice to supplement several meals. Just don't use the microwave to heat up your leftover goodies. It will taste just fine at room temperature!
3. Keep your pantry and fridge filled with whole grain breads, wraps, and crackers to stuff, or top them with anything from sliced avocado to bean dip. There's also nothing wrong with a simple old-time favourite like an almond butter and natural jam sandwich!
4. Cut up veggies and have them available in your fridge and ready to go so you can easily munch on them throughout the day or enjoy them with bean dip for lunch. They also work well when stuffed into a sprouted whole grain wrap or can be chopped up in the morning and placed on a big bed of salad greens for a nutritious fresh salad.
5. Have some hearty options on hand like black beans, kidney beans, garbanzo beans, avocado, organic eggs, or goat cheese to accompany your salad, spread on some bread or a wrap, or mix with some quinoa. Then they can be topped with simple condiments like Dijon mustard, tamari, or tahini.
1 cup soaked or 1 *can of organic navy beans, black beans, or garbanzo beans
1 bunch of fresh dill, parsley or basil, finely chopped
(Add water if a thinner consistency is desired)
1. Cook soaked beans in a large pot for 45 minutes to one hour.
2. Place garlic, lemon juice, and half of the beans into a blender or food processor and blend well.
3. Add the remaining beans, tahini, olive oil, salt, and pepper and blend until smooth (add water if necessary).
4. Transfer spread to bowl and stir in the fresh herbs.
5. Serve with flatbread, gluten-free crackers, or a slice of sprouted bread.
*It is important to select an organic variety of canned beans, as they are preserved naturally. If you use Eden Organic Brand, the cans are BPA-free!
You can also make your lunch eco-friendly by using Laptop Lunches or sealed glassware. These are some great steps to reducing your waste at lunchtime!