On Tuesday, July 2nd, Patrick Webb, Vice President of the Rotary Club of High River, District 5360, sent out this request:
The High River Rotary Club again are very pleased to have volunteers from several other Rotary clubs join us in providing help to flooded out citizens of High River. Although the number of volunteers was lower because today was the first day back to work for many Rotarians in all areas, the spirit of the volunteers was great. We have even had some volunteers come for their third day here and they are still so willingly dragging out sodden possessions, ruined carpets and soaked drywall. Everything our volunteers do is intended to ease the devastation which has been put upon so many vulnerable people.

Again we ask that volunteers come to High River to help in this noble effort, coming to the COOP store parking lot on 12th Ave, just east of Center Street between 8:00 and 10:00 AM. We have masks and gloves ready to go for those who need them, water is provided and all we need is a few hours of your time. The work is tiring, dirty and so very rewarding.
I am a member of the Rotary Club of Cochrane, so I thought I'd head out and see how I could help. High River is just over an hour's drive South East of Cochrane and, as I entered the town, I noticed the first signs of damage. The railway tracks had been twisted like pretzels and sleepers stood up like fence posts. In the silt-covered Co-op parking lot, I spotted a gentleman wearing a Rotary cap. It was Bob, from the Rotary Club of High River. He partnered me up with Alan, from the Rotary Club of Stettler, and asked us to go to an address on 3rd Street West and find Harvie.
Blog continues after the slideshow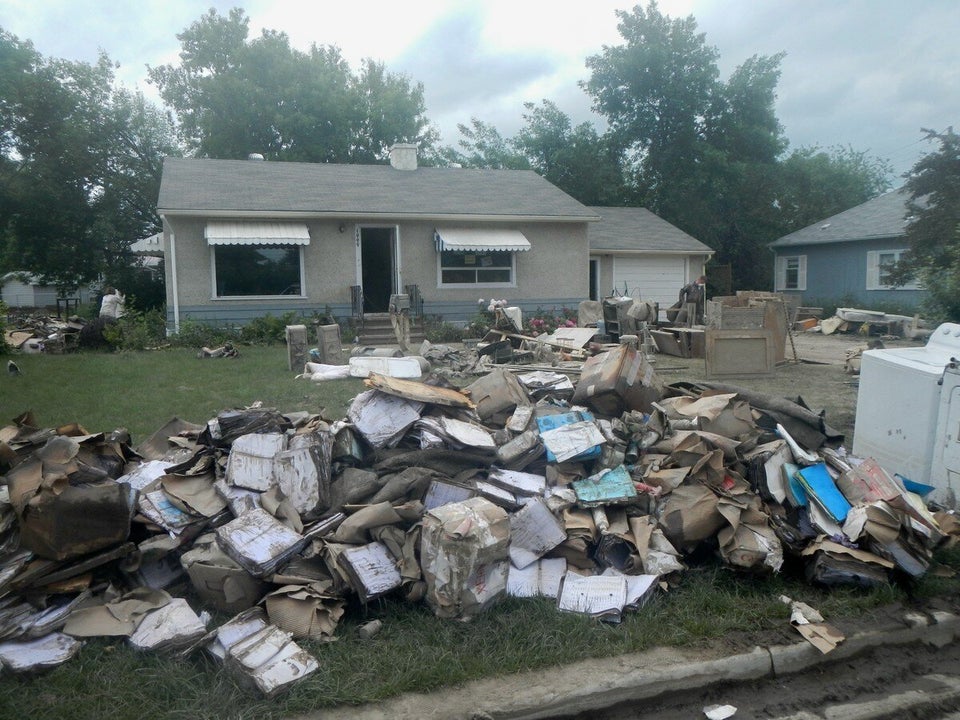 On arrival, we found the door locked and no Harvie. Checking our list, we spotted another address close by where help was needed. We went over and the door was open, and so we walked in. Owen, the owner, gave us a tour. The water had climbed three feet up the outside wall but had not reached the main floor. However, the basement had been completely submerged and our job was to remove the sodden contents.
Owen is a retired business owner and all his records were stored in a large closet. The paper had soaked up the water like a sponge and Alan and I started to lug wads of saturated documents to a skip. The work was hot, wet and filthy. The silt made everything slimy and the tubs of debris were heavy and awkward. During a water break, Alan and I chatted with Bob, a neighbour of Owen's. Bob and his wife are in their 70s and have a number of medical conditions. They have lost the will to go back into their house and they don't know where to turn. They were finding it so overwhelming.
Later that morning, we were joined by Cece, a basement tenant, along with Clancy, from Calgary Heritage Park Rotary Club, Anne, Calgary South Rotary Club and Mary, from Calgary Rotary Club. The Subway sandwich shop had just reopened and Owen bought us lunch. As we sat around in the shade of his yard, he explained the designation each house had been given. Yellow was in reasonable shape, Orange needed approval on the electrics and other services and red was basically a write-off. Owen pointed out three neighbours whose houses had been classified "Red".
The afternoon was spent doing more of the same. We removed the rest of the paper and started stripping the drywall. At 4.00pm I headed off and walked back to the Co-op parking lot. I passed house after house, street after street, which had been devastated by the flood.
Driving back to Cochrane, CBC was announcing that a bus shuttle service would run, every two hours, from Mount Royal and Bishop O'Byrnes School in Calgary to the Rodeo grounds in High River. They interviewed a resident of the town who said that there were 6,000 homes, each needing a team of 10 people, over several days, to clean it out.
It's important that these homes are cleaned up quickly before mould sets in and they are condemned. The people of High River need your help.
As the Rotary motto says: "Service Above Self".