Last week the Tour of Alberta rolled into the Province with a bang. Cycling is extremely popular around the world and this event was shown in a 150 countries and watched by over 50 million people.
There were 6 stages, from September 3rd to 8th. The start was in Edmonton and after riding 900 kms through rural Southern Alberta finished in Calgary. The race comprised of 15 professional teams and 117 participating riders. Some of the top names included Cadel Evans, Australian, winner of the 2011 Tour de France; and Ryder Hesjedal, Canadian, winner of 2012 Giro d'Italia.
On Sunday September 8th I was at Seaman Stadium, Okotoks, with my buddies Kevin and Roy. We were there to participate in another event, the TransRockies Tour of Alberta. This was an opportunity for recreational riders to cycle some of the same terrain that the professional teams would be covering on the 6th stage of the Tour of Alberta. It was also my seventh event in TransRockies Quest 888. If I could complete the 130 km course then I would achieve 751 kms towards my target of 888 kms.
Our start time was 7.00am. There were two distances to choose from, an 80km and the 130km loop and at 6.55am the 300 plus rides for both distances were in the start chute. With two minutes to go I heard a familiar tune, ACDC's "Highway to Hell" and we were off. As the sun was rising we rolled through a sleepy Okotoks and on to the country roads. The first hour we rode in and out of banks of mist, as we headed west.
Kevin, Roy and I set up a "mini-peloton" and the kms clicked by. We were then joined by Gerry and our gang of four ate up the mileage. I did have one little mishap along the way. After a nature call I was getting back on my bike and leaned the same way as my foot was clipped in. The fall was not graceful but I only received a flesh wound. Back on the bike we pushed to the finish line.
In the stadium, the crowds were gathering for the 1pm. start of the 6th and final stage of the race. A number of the riders were signing autographs and I had the pleasure of meeting Antoine Duchesne, from the Canadian National team. A number of these riders support charities. Mark Cavendish, winner of 25 stages of the Tour de France, was not there but he is a Right To Play Athlete Ambassador, in the UK.
Blog continues after slideshow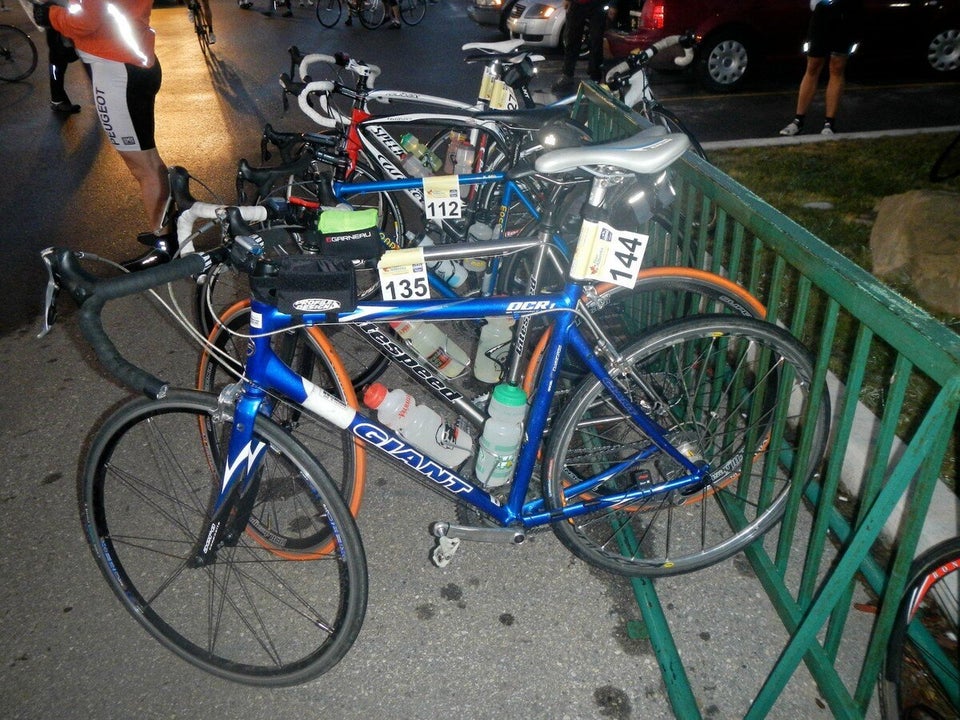 TransRockies Tour of Alberta
Driving back to Cochrane I started to think about the ninth event in TransRockies Quest 888, the Heli-Run on September 21st.
This race involves teams of two. One runs up a mountain 21 kms and the other flies up in a helicopter. They then swap places, the runner flies down and the other runs down. Should be fun.