In a recent edition of the New York Times, journalist Gretchen Reynolds highlighted the findings from a study published by the Public Library of Science, under the heading "What Ultra-Marathons Do to Our Bodies"
In summary, the study established that there was a lower prevalence of serious medical issues, including cancer (4.5%), coronary artery disease( 0.7%), seizure disorders(0.7%), to name a few. It also looked at the incidence of diabetes, asthma and physical injury amongst a group of ultra-marathon runners.
An ultra-marathon is a foot race longer than the standard 42.2km marathon distance. The reason why I was so interested in the findings of this study is because I have run a few ultras during my running career, including the Blackfoot 100 km, the 125 km Canadian Death Race , the 146 km Sinister Seven and the 160 km Lost Souls. In addition and perhaps most interesting, in 2010, I ran 250 marathons in one year, averaging 5 marathons most weeks and covering a total of 10,550 kms (6,550 miles).
I was regularly monitored by my family physician, a physiotherapist and a chiropractor. My blood work was done on a weekly basis. At the beginning and end, of my year of marathons, I underwent a VO2max test and in the month after I had finished, was given a 3D bone-imaging analysis at the University of Calgary.
Blog continues below slideshow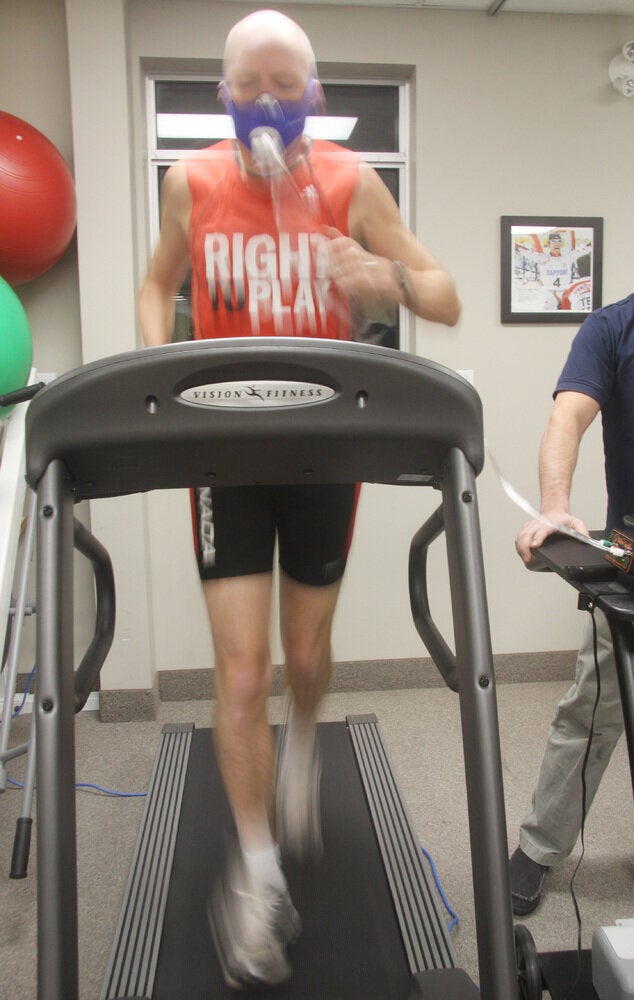 There was a lot of medical terminology in the reports, so I've paraphrased and added-in some points of clarification:
Chest: Appears within normal limits. The heart is normal in size, the lungs and pleural space are clear with no active intrathoracic disease detected. Meaning: Looks good.
Hips: Appear well maintained. No significant degenerative changes identified. Bony pelvis is unremarkable. Who says it's unremarkable!
Knees: Shows good maintenance of joint space with no specific arthropathy apparent. No joint fluid or radiopaque loose bodies. No acute fracture or dislocation. Meaning: Not bad for an old fella.
Bone Density: Researcher, John Schipilow at the University of Calgary stated, "Overall, I would say your bone health is very good. I was not surprised by the results, mainly for the tibia. The one thing that really surprised me was the values for your radius. I did not think they would be as high as the tibia, but your wrist bones were looking a lot better than I expected. My initial thoughts are that there may be some sort of whole-body effects occurring with your extreme lifestyle over the past year." Meaning: Good bones.
Heart: Normal left ventricular size, wall motion and wall thickness with an estimated left ventricular ejection fraction of approximately 60 per cent. No other significant abnormality is identified. Meaning: The ticker's still going.
I was pleased with the results of the tests and with all the medical testing I've undergone since. I continue to run long distances and in March of this year, am looking forward to my next challenge, running 1,014 kms (630 miles) along the South West Coast Path in England. I'm calling it Rotary Coastal Quest 630 and is the next event in my "Quests for Kids" initiative, to raise $1,000,000 in five years for Right To Play and, in the process help 20,000 disadvantaged children. Not bad for a guy who began his running career ten years ago, at the age of 47.