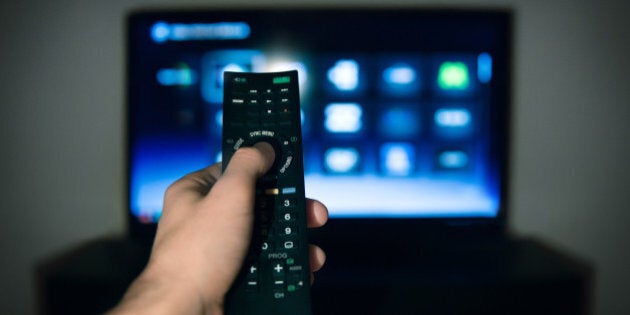 I'm a child of television and have grown up on great television. I recognize TV is a tough business and it's hard to make television that is good. Still, that doesn't excuse most reality TV. The (still expanding) genre has received its deserved share of flagellation thus no need to extrapolate. Thankfully, good television is still being made and 2014 had its share of great TV moments. Here, some of my favourites:
Indra K. Nooyi, CEO of Pepsi, on whether or not women can "have it all." This was the perfect answer to last year's Sheryl Sandberg media tour.
Billy Bob Thornton on Cooking Competitions.
Oprah's "Master Class" is by far one of my favourite hour on television. The Billy Bob episode was no exception and it delivered this little golden nugget:
Barbara Walters' Farewell On The View.
Many prominent women on television credit Walters as their mentor. And they came out for her last show on The View. History.
Chris Rock On Charlie Rose, on being famous as a Black man.
In my eyes, Charlie Rose remains one of the very best interviewers. And because he is such a good interviewer, his guests feel at ease and are able to in return, deliver great interviews.
PBS' "American Masters" - "The Boomer List".
I've often said that my yearly contribution to PBS is some of the best money I spend. The shows Frontline and American Masters could be put in "the best television in the world" vault. Here's the trailer from American Masters' "The Boomer List" series:
Portlandia - "History Of Hip Hop "
Portlandia is a gem of a TV series. This particular featurette captures the show's essence and wit.
Viola Davis, in a clip the Academy should use as her (most likely Emmy nod), from the TV show How To Get Away With Murder.
Shonda Rhimes penned yet another must-see-series. Oscar winner Viola Davis delivered a goosebumpy scene without saying a word. A bit like she did in Doubt.
This came à point nommé, in the wake of the Eric Garner grand jury travesty. "Be Free" is a manifesto.
Cindy Crowley's CNN Farewell.
CNN use to be great. And in its early days of greatness, Cindy Crowley was there. 2014 marked her last year at the network and the farewell featured a clip of her first question as a White House Correspondent. Gold.
John Oliver takes down FIFA and the World Cup.
John Oliver's weekly HBO show is what we all needed. His editorials are smart and enlightening. His FIFA and World Cup rant was exceptional considering how much of a fùtbol fan he is.
Senator Elizabeth Warren, on Letterman.
Because there is an option to Hillary Clinton in 2016 and because Letterman is not the goof he wants you to think he is. A great exchange between two raconteurs.
CBS commentator James Brown addresses domestic violence in the NFL.
How do I love thee? Let me count the ways. James Brown, a Harvard alum, is definately on top of the "best sports commentator" chart. This editorial delivered in the wake of the Ray Rice debacle was powerful not only because of its content but also because of the timing of its delivery. Brown used a pre-game show on a network that recently signed a very lucrative deal with the NFL. With subtlety, he challenged not only the league but also its questionable Commissioner.
There were many moments to choose from: his star-studded farewell, his Eric Garner Grand Jury editorial, his Mike Brown editorial. I chose this short clip from the Kennedy Center Honors Soirée. Short, sweet and testament to his politico acumen:
All things on CBS This Morning.
No need to sugarcoat it: "CBS This Morning" is an impeccable news show. Tightly produced, well-researched with great co-hosting by Charlie Rose, Nora O'Donnell and Gayle King. In addition to the co-hosting, the show boasts a series of correspondants who very often deliver must-see reportages. Anthony Mason, one of my favourites, does great music pieces. In 2014, notable ones included interviews with Arcade Fire in Montréal and one with Neil Diamond.
'LADY CHATTERLEY'S LOVER'