Twenty sixteen was a year of collective loss and sorrow. A year that spanked us. A year when the news made the news. And so it is fitting that many of my most memorable TV moments came straight from newscasts.
Many critics have said Netflix's House of Cards had lost some of its luster. I disagree. It's a slow-moving study of human behaviour that delivers punches when you least expect them. The last scene of Season 4 was an upper-cut that knocked-me out.
Yes, we're tired of hearing about Trump. But alas, we don't get to fast-forward through his presidency. So we need to pay attention. Andrea Mitchell is a formidable political reporter. One would have to wake up very early in the morning to understand Washington better than Mitchell does.
Since the first day of Trump's candidacy, she's been saying one thing: "Pay attention!" On this short excerpt of one of her appearances on "Meet The Press", she couldn't be clearer on Trump: "When He Doesn't Know Something, He Just Changes The Subject, Makes It All About Himself."
The American presidential election was brutal and unsophisticated. Still, it delivered a few tender moments. Larry Sanders, Bernie's brother, at the Democratic National Convention was one of them.
Leonardo DiCaprio didn't need an Oscar. But after six nominations, he finally grabbed the golden statue and delivered a perfect speech. It had emotion and purpose.
Prince died and we'll never recover from it because it was unexpected. From Springsteen covering Purple Rain to journalist Tamron Hall homaging her friend Prince live on-air, various public figures echoed our sorrow. But it was former White House Wonder Boy and now CNN commentator Van Jones that had one of the most poignant and raw reaction to the death of the Purple One, his friend.
There is so much I loved about Gwen Ifill, on many different levels. I had no idea she had been battling cancer and her death came as a total shock. Her friend, NBC journalist Pete Williams, usually a tower of strength, delivered the news of Ifill's death with the emotion journalists are taught to suppress. It made the moment authentic.
I adore Joe Biden more than words could explain. He's tough yet tender, always a gaffe away and the man brought the word "malarkey" back in our modern lexicon. Biden is relatable to so many because like many of us, he's had to deal with grief and has been very open about it. "Note To Self" is a great CBS This Morning feature. Here's Joe Biden's
There are many instances when the media failed American electors in 2016. But, many journalists were consistent and rigorous in their reporting. Following the revelation of Trump's vile comments, bragging about sexual assault, CNN's Jake Tapper was stellar when interviewing Trump defender Rudy Giuliani, cutting through the rubbish.
Barack Obama has said many times that his biggest failure as a president was his inability to change gun control laws as much as he wanted to. Here, in a presser at the White House where he unveiled new gun control measures, we see an exasperated president, overcome with emotions. In my book, sensibility, emotion and tenderness are signs of strength.
In 1988, Charlie Rose interviewed Leonard Cohen. Following Cohen's death this year, Charlie Rose unearthed and aired that interview, that I had never seen but found much comfort in watching.
I don't know what it says about us that the best social commentary in 2016 came from comedy. From Kate McKinnon's cold open as Hillary Clinton singing Hallelujah, a few days after Leonard Cohen's death to John Olivier's editorials, hard truths came with a side of laughter and malaise. Comedian Dave Chappelle hit the SNL stage after years away from it. His monologue had so many layers of social commentary that I believe it could easily be used in Social Studies classes.
Rio had many glorious Olympic moments. But it was U.S. swimmer Ryan Lochte's trumped-up claim of a robbery that delivered one of the most infuriating moments of the Olympic coverage. The Today Show's Billy Bush, a Lochte apologist, faced common-sense Al Roker on live television. In that moment, we were all Al Roker, tired of entitlement, forced-down-your-throat privilege and Billy Bushes.
The crazy tweets are a distraction, you know. As is Kanye visiting Trump. Law enforcement killing black males, on the other hand, is real and reached epidemic proportions in the last years. In 2016, the epidemic was recorded. The frustration in no means justify killing cops.
The push and pull of this issue was heart-wrenchingly described by Dr. Brian H. Williams, a trauma-surgeon from Dallas who treated many of the city's police officers who had been shot during a rampage. This is a two-minute excerpt that speaks volumes. Also know that he was sitting next to police officers during the media-presser. What you will see is a fed-up courageous man.
Another Barack moment. This time, from a celebration at the White House where we see a happy POTUS and some légéreté after eight years of being scrutinized and judge like no other president before. If you don't think that's true, you haven't been paying attention. And not paying attention is how Trump was elected.
As we gallop into 2017, here's hoping the newscasts will deliver better news than in 2016. If not, there is always the option of watching The West Wing reruns instead.
Follow HuffPost Canada Blogs on Facebook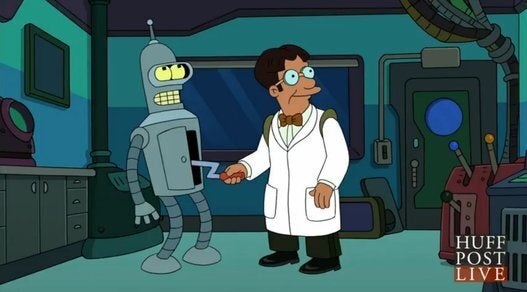 Netflix Canada Picks for January 2017