Toronto mayor Rob Ford's recent bizarre behaviour, drinking and illegal drug use has led many of this friends and colleagues to suggest that he get help. But, he insists that he does not have an addiction problem and that he does not need help. What his friends and colleagues are doing is known as mental health first aid. They see a problem and suggest a solution. And that is something that many of us do when we see a close friend or relative exhibit behaviour that might suggest depression, anxiety, alcoholism or other mental health problems.
It is a difficult topic to broach with people but we do it out of concern and love and it is intuitive. But, quite often it is met with the same denials as those by Rob Ford with little achieved.
So, imagine my surprise to discover that this act of common sense is actually an international movement that governments spend scarce mental health money on. In 1997, a couple of Aussies walking a dog in Canberra came up with the trademarked Mental Health First Aid (MHFA) Program. Tony Jorm, a mental health literacy researcher, developed the idea of a first aid course for depression and other mental illnesses with his wife Betty Kitchener. Betty had taught first aid and had also suffered with severe depression.
Today, Mental Health First Aid has spread beyond Australia to Canada, the U.S., and a total of 22 countries . And the standard course involves a 12 hour program that helps participants learn about the signs and symptoms of a number of common illnesses, how to provide initial help, where to get professional help and how to provide first aid in a crisis. In Canada, MHFA is supported by the Mental Health Commission of Canada. In the US, MHFA is supported by the National Council for Behavioral Health and in January, President Obama announced that $50 million would be allocated to "train teachers to identify signs of mental illness or provide "Mental Health First Aid" and ensure that students have access to mental health care."
I would assume that the purpose of first aid is to provide the initial treatment until emergency personnel arrive. With traditional first aid, those who are trained would give CPR to someone in cardiac arrest until the paramedics arrived or staunch bleeding or do mouth to mouth. The ill individual would be helped and then handed over to the professionals. So, my question is does MHFA accomplish the same. Do those they counsel end with professional help? The answer from the evaluations that have been done is no.
The Australians provide summaries of 20 evaluations that they and others have done. All of the studies conclude that people who take the course say their attitudes and knowledge about mental health has improved. But, there is no evidence (and no reason to believe) that there is or can be any impact on others.
For example, one study published in 2006 said that although MHFA training has been found to change knowledge, attitudes and helping behaviours, and even benefit the mental health of participants, there has not yet been an evaluation of the effects on those who are the recipients of the first aid. In other words, there is no evidence that this program benefits anyone other than those who have taken the course.
The most recent evaluation involved 32 US colleges and universities between 2009 and 2011 and is described as the largest evaluations of this program. It found that "training was effective in enhancing trainees' self-perceived knowledge and self-efficacy, but these gains did not result in effects for the target population. The trainees were more likely to seek professional mental health support for themselves, a finding consistent with at least one other recent study." It helped those who took the course but no one else.
A draft of this complete study can be found at here as a downloadable PDF.
If the purpose of MHFA is to increase the number of troubled people acquiring the help they need, then why are we funding this program when there is no evidence it does what it is supposed to do? The current problem for those with mental illnesses is the lack of appropriate services. A study just released and published in the journal Psychiatric Services found that "only a minority of youths with psychiatric disorders receive treatment of any sort. Much of this treatment was provided in service settings in which few providers were likely to have specialist mental health training." That study was based on a 12 month time period.
The availability of treatment for serious mental illnesses is horrific. A TV station in New Mexico recently described the plight of one mother who has written letters to judges, the courts and community homes pleading with anyone who would listen to take her son in for treatment. The mother of this 40 year old man with schizophrenia described his adventures as "It's like a revolving door. He's in the mental hospital. He's out. He's in jail. He's out. He's in jail. He's out."
Virginia State Senator, Creigh Deeds, was stabbed multiple times by his son, Doug, who then killed himself. The day before this incident, Doug Deeds was evaluated at Bath Community Hospital but was released because no psychiatric bed could be located across a wide area of western Virginia according to a report in the Richmond Times Dispatch.
And a similar difficulty exists north of the border. Even in the provincial capital of British Columbia, Victoria, the Gibson family could not find a community psychiatrist for husband John, an internationally known scientist when he developed a psychotic disorder. That family's adventures are described in the recent book by Marion Gibson, Unfaithful Mind. A review said "this story doesn't reflect well on the Canadian healthcare system".
The graph found here vividly demonstrates just how much the system has deteriorated between 1963 and 2003. Huge increases in the number of severely mentally ill either homeless or in jail with corresponding decreases in the population of mental hospitals.
The money being spent on Mental Health First Aid would be better utilized on services for those with mental illness. And, the ironic thing is that if the program actually accomplished what it sets out to do -- get people to the services they need -- they would have nowhere to go.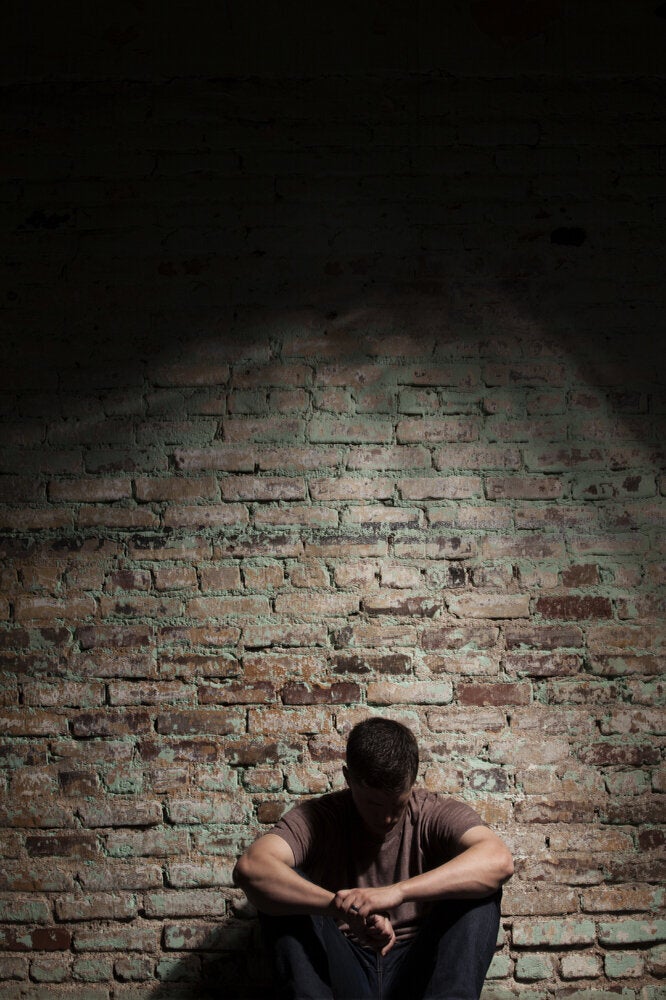 Facts About Mental Health in Canada