Ontario is embarking on a guaranteed basic income pilot program and while I agree with the concept, I have reservations. I think it is nothing but a crass attempt to demonstrate how progressive the Liberal party is at a time when their standing is a dismal third in the polls. Before they do anything, they should bring welfare and disability rates back to where they were when the right-wing Harris government slashed them in 1995.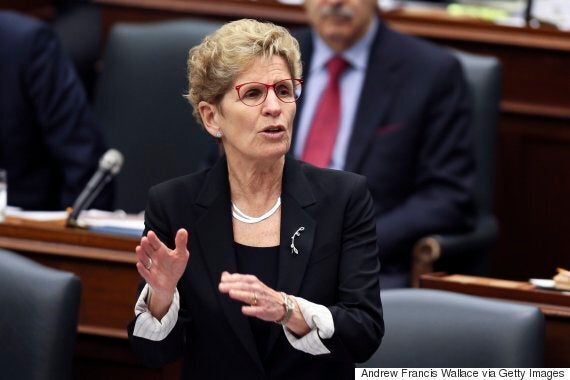 Harris won the Ontario election in 1995 on what he called the Common Sense Revolution and quickly cut welfare and disability payments by close to 22 per cent. Many felt that this was an "assault on the province's poorest citizens. Within months there were huge demonstrations that turned into clashes with riot police outside the legislature in Toronto and at Tory functions across the province."
The rookie minister charged with overseeing this was David Tsubouchi who distinguished himself by suggesting that people could buy dented tins of tuna for 69 cents and "suggested welfare parents could just ask neighbours to look after their children, and accidentally ordered 115,000 disabled people and senior citizens to be cut off from their welfare benefits."
The sample diet proposed by Tsubouchi claimed that a single person could live on $90 a month. In dollar terms, the 1995 welfare rate was cut from $663 to $520. In 2015, an analysis showed that if that rate had been adjusted for inflation, it would have been $754 but was only $681. The cost of the welfare diet increased by 107 per cent from 1995 to 2015.
And, according to a study published in 2016 by the Canadian Centre for Policy Alternatives, people on social assistance (welfare and disability) are worse off today under the Liberal Government of Kathleen Wynne than they were when rates were slashed by Mike Harris. Up to 1993, the poverty gap had narrowed and people on assistance had incomes above the poverty line (See Figure One). From 2002 to 2014, single people on welfare experienced a poverty gap increase from 53 per cent to 59 per cent while, for a single person with a disability, the gap increased from 19 per cent to 33 per cent.
One analysis done in 2013 found that the welfare and disability rates would need to be increased by 56 per cent to restore the 1993 levels.
The Liberals have only given modest increases to the rates and improved the amount of money someone working part-time could keep if they did work. They have largely ignored this segment of the Ontario population -- the bulk of whom have disabilities. Instead, they have announced a pilot program "to assess whether a basic income can better support vulnerable workers, improve health and education outcomes for people on low incomes, and help ensure that everyone shares in Ontario's economic growth."
The pilot is to take place in Hamilton, Brantford and Brant County, Thunder Bay and region and Lindsay and a total of 4000 people will be randomly selected and asked if they wish to participate. The Income Security Advocacy Centre has provided information on how this basic income will impact those on assistance and it can be downloaded from their website.
The basic amount offered for a single person is up to $16,989 per year and for a couple it is up to $24,027. Someone with a disability is eligible for an additional $6000. Those with no other income will get the maximum and income from other sources like work will have half the net salary deducted. Those on employment insurance, etc will have the total amount deducted. At present, a single disabled person gets $1128 a month and that will go up by $787.75 in the pilot. A disabled couple now get $1688 and that will increase by $814.25.
While they will lose some of the extra benefits they get on disability, the participants will be able to keep their drug plan which is essential for them. But, they will have to withdraw from the disability support program if they decide to enrol in the pilot and the pilot only runs for three years. What will happen at the end of three years has not been decided but they will likely have to go back on disability or welfare and take a large cut in income. The Liberals will probably not in power anyway when that happens.
As this is a pilot study, it will be evaluated and a control group of 4000 low income people will be compared to those in the program. I'm not sure what measures will be looked at but common sense would suggest that those who have more money to live on will have better outcomes than those with less. Isn't it just common sense.
As I said at the outset, a minimum wage makes perfect sense in a world where unskilled and low skilled jobs no longer exist or are shrinking. In days gone by, people who were not disabled could pump gas, work in a car wash, in assembly and other positions. Those jobs are no longer there and the number of bank tellers is declining along with check out cashiers and many other jobs.
The people who could have filled those positions deserve a living wage. But, before that happens, we should address the incomes for those on disability and for those on welfare to at least bring them back to the 1995 level. I know, it doesn't sound sexy and get headlines but it is the right thing to do.
Follow HuffPost Canada Blogs on Facebook