 On Thursday morning over Skype, Babak, a human rights activist who had fled Iran and is currently in Turkey waiting on a UN decision on his asylum status, asked me for help: "Something horrible has happened to a Baha'i family in Kayseri, the same city I'm situated in. May you get the word out?"
Babak played me an interview he conducted with Haifa Mohammad Ali, a mother who had just discovered that Farnaz, her 10-year-old daughter, was murdered by Firouz, her husband (also the child's father). Below is my English interpretation of Haifa's story as explained to Babak in Persian: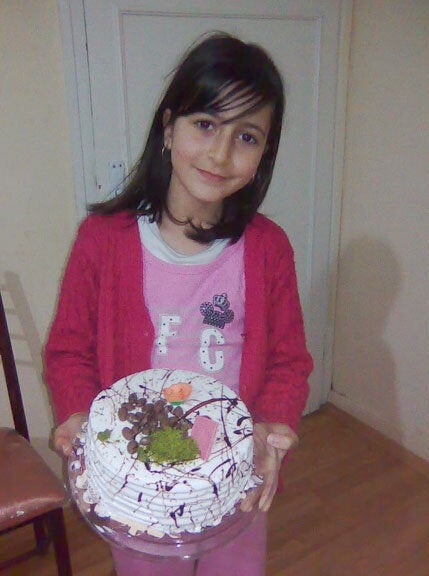 Nearly one year ago, Haifa and Firouz made the decision to leave Iran and relocate to Kayseri, Turkey because their belief in the Baha'i faith had jeopardized their safety. They hoped to gain asylum in a new country with the help of the United Nations. Haifa's main concern was Farnaz. She wanted her daughter to grow up with the opportunity to obtain a recognized post-secondary education. The Islamic Republic regime bans Baha'is from university.
The tragedy occurred 10 months following their move to Turkey. On July 30 around noon, Firouz had arrived home and became outraged when he noticed Haifa didn't prepare lunch to his standards. Firouz's anger scared Haifa, and, like the other instances throughout their abusive marriage, she threatened to leave him. She had wanted to divorce Firouz many times in the past but Iranian laws required his permission first.
Firouz grabbed Farnaz and a kitchen knife then threatened to kill his daughter and wife. Horrified, Haifa made a dash for the front door and ran all the way to the police station. Her intention was to file a formal complaint against her husband and have a police officer accompany her home to save her daughter. Unable to understand Persian, the officers called in Ali, an Iranian man who was to sit in as the translator. Haifa explained what had transpired, adding that her husband has a history of mental illness. Ali, addressing Haifa and the authorities, said:
"If your husband was capable of killing your daughter he wouldn't have issued a threat beforehand. You and your daughter are not in real danger. She's lying about all this to get out of Turkey faster. In the past, we have had many other refugees act in the same manner."
Then, in an unprecedented move for a country that is secular, the authorities inquired about Haifa's religion. When Ali heard she was a Baha'i, he convinced the authorities that her religion was artificial and not based on divinity. "She's saying all this to get attention. Baha'is are all liars," he added.
Haifa spent at least three hours at the police station attempting to convince the authorities she was telling the truth but the Kayseri police refused to take her seriously. Around 6 p.m., Firouz murdered Farnaz. He first choked her then stabbed her multiple times. More, he attempted to kill himself but didn't succeed. When the police finally went to the murder scene and found Firouz unconscious they rushed him to the emergency section of the hospital.
Haifa's story especially affected me because a main part of my activism consists of managing translations of human rights violation reports and letters by political prisoners. Throughout the past three years, since I became active for the Iranian freedom movement, I have learned the importance and power of a translation and the obligation we have to do it properly.
Translations should only be about removing the barrier of verbal communication because -- no matter where you live in the world -- the fear for your family's safety, the yearning for freedom, and discrimination are universal themes. Feelings don't need to be translated, languages do. Ali's mistake, as a translator, was that he manipulated Haifa's words. He had the power to convince the authorities of Haifa's genuineness but instead chose to convey what he thought to be the truth.
In addition to her husband, Haifa holds the police and Ali responsible for her daughter's murder. She believes, if the Kayseri police had acted responsibly and dutifully, Farnaz may have still been alive today.
From my viewpoint, the main culprit of any Iranian refugee story is the Islamic Republic regime for its systematic abuse of human rights. There are currently several thousand Iranian victims stuck in Turkey and the Kurdistan region in Iraq who are waiting on the United Nations to give them asylum in a new country.
They are ethnic and religious minorities, students, human rights and political activists, journalists, labour activists and members of the LGBT community. Most of them have to wait between an average of one and a half to three years before receiving an answer from the United Nations. During this time they are forced to live among corrupt authority figures who make life extremely difficult for them. I believe it is the duty of democratic nations of the world to help victims of human rights violations rather than treat them like liars and criminals.
Although Haifa's suffering is eternal and our actions going forward will not erase her pain, I hope that by writing and spreading her story we can help prevent similar injustices from occurring.