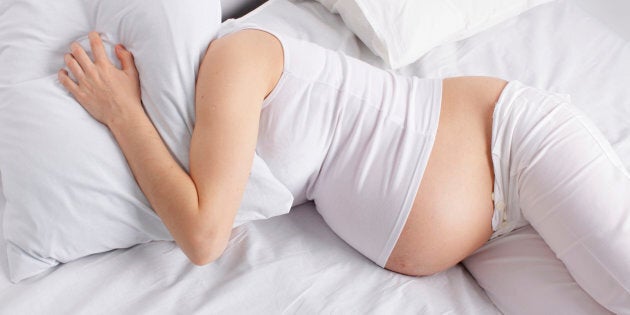 It looked innocuous enough. I have told people in the five years since that it looked like the squiggle a pen makes on a scrap of paper — a gum wrapper or a matchbook — when you can't quite get it to write at first. When the dried ink needs prodding, we doodle a mindless starter squiggle. That's what it looked like — the starter squiggle of a bad pen. Only, of course, that's not what it was. This was a random dot on the bottom of my left foot — second toe over, longtime neighbour of Big Toe.
I was seven months into an already unforgettably vile pregnancy. In the interest of full disclosure, I threw up daily — yes, daily — for the 40 weeks of my little one's gestation. I wore a scarf around my neck in a jaunty way that suggested "inspired by hip Parisian." In actuality, its purpose was to catch the vomit when it came too fast for me to take necessary steps to source an appropriate vomit receptacle (ie: toilet, bushes, open car window.) I called it my Barf Scarf. As touted by the American Express card television ads of 1979, I did not leave home without it.
Well-intentioned passersby would sheepishly ask: "morning sickness?" I would laugh a meek laugh at the irony of the word "morning." The nausea would hit at all hours and, in fact, even accosted me in my sleep. The throw-up would ricochet off my watermelon stomach in the middle of the night, splashing me in the face. The force of those late-night assaults would leave me looking as though I'd been bobbing for apples in a tub of cookie dough batter.
In the interest of full disclosure, I threw up daily — yes, daily — for the 40 weeks of my little one's gestation.
So, no, I would tell them, it's not morning sickness. It's Mourning Sickness — an illness which inflicts disillusioned soon-to-be-parents who mourn the passing of life as we once knew it; when a scarf really was just a jaunty accessory reminiscent of laid-back Europeans who cycle to work on a bike with a basket.
I did not glow — except perhaps in the way the survivor of a spill at a nuclear power plant might.
When I threw up in the bushes at a friend's house after a dinner party, and was simultaneously sprayed by a skunk, I was relatively certain I'd hit pregnancy rock bottom. The skunk — an equal-opportunity marksman — hit my husband too. And as the two of us (Chad and I, not the skunk and I) flailed around the backyard stripping off our clothes, we looked like Adam and Eve running wind sprints. That night, as the smell of skunk didn't "linger" so much as it "lumbered," I wrote in my journal: "Anyone who says she's never felt more beautiful than she did when she was pregnant is a shithead."
So when I showed the innocuous red squiggle to my dermatologist and she casually diagnosed it by saying: "That's a blood blister," I was relieved. I'd already had two melanomas in the last 15 years — paybacks for perpetrating the "healthy tan" mythology of the 1980s — and I really wasn't in the mood for a third. When I told Chad, he said something he'd never said before: "Get a second opinion."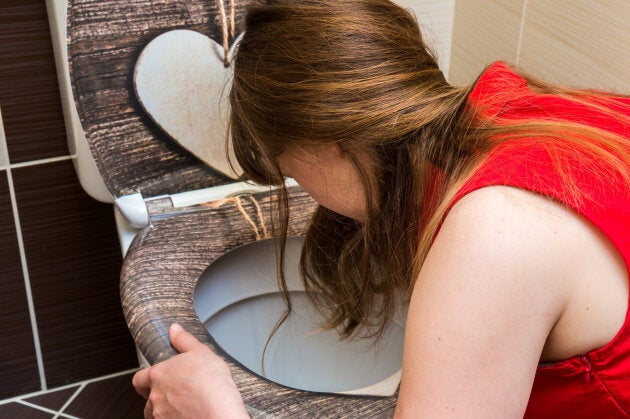 I'd never gotten a second opinion on anything in my life. And, if you look at photos of me in the aforementioned 1980s era, you will not find this difficult to process. I didn't ask for a second opinion when I decided to wear a Swatch watch around my ankle. And I certainly didn't get a second opinion when I teased my bangs before I left for school.
Fast forward to 2012, however, and on Chad's insistence I would get a second opinion as it pertained to the "blood blister." And the second-opinion doctor gave me just that — a second opinion. Her words, in fact, were: "That has to come off. Now." And so it came off — right then. Now.
When, a week later, the second-opinion doctor said she needed to talk to me face-to-face, I knew I had bigger problems afoot (bad pun) than the inconvenience of a Barf Scarf or the smell of rotting cabbage seeping from my pores on account of my unfortunate skunk encounter.
It was melanoma — and, this time, it had started to spread.
I cried until I made the decision to replace the act of creating self-pity with the act of creating an action plan.
While news of this nature is difficult to process no matter what day of the week you get it, I was hearing this end-of-day on the Friday of a long weekend. Which meant that while other people — those silly people who didn't smell like skunk carcass, or have a trail of recycled food splattered around their neck, or have cancer growing in their foot — did end-summer things like eat ice cream and run through sprinklers, I curled in the fetal position and cried and cried and cried until I didn't.
I cried until I made the decision to replace the act of creating self-pity with the act of creating an action plan.
And after a nasty but necessary skin graft successfully stopped the cancer from further spreading and ruled out amputation, I was the happiest pregnant woman on crutches in the whole wide world.
In the gift of the five years since — equal parts blink and eternity — I've milked the minutes as they've ticked. I've become a mom — twice. I've worked with people whose insights I respect. I've run a marathon, done a triathlon, launched a podcast, written and appeared in my one-woman show. I have loved fiercely. I've made mistakes, I've made memories, I've made beds, I've made breakfasts. I've travelled and travelled and travelled some more. I've distanced myself from negativity, naysayers, and ninkumpoops. I have a new dermatologist now — actually, make that two. One to give me a first opinion, and the other to give me a second. I no longer wear a Barf Scarf.