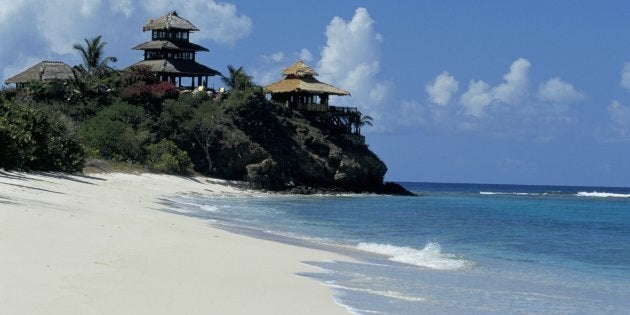 A friend of mine, leadership coach and author Susanne Biro, first introduced me to the organization called Change Makers Rule Breakers (CMRB) two years ago, when she, a vocal vegan on a gentle mission to educate leaders about the environmental implications of going meatless, had been invited to partake in the group's annual pilgrimage to Necker Island, the 74-acre paradise owned and occupied by Sir Richard Branson. Founded in 2014, CMRB is a global collective founded from the idea that great minds and great experiences can ignite great change. In short, about 20 neat people who embody the notion that "anything's possible" are invited to the British Virgin Islands to make connections -- and memories -- while being hosted by one of this planet's most cherished tycoons and philanthropists.
She went. I gloated. After all, that's what friends do. We borrow one another's life highs as if they're our own. Like borrowing that great top for the school dance. On an intellectual level, I understand the top is Susanne's. But oh, the joy in believing it's mine.
Just weeks from 2017's adventure, however, when a spot on the roster became available due to a previously slotted attendee's scheduling conflict, Susanne put my name forward as a potential participant. Being a notorious planner, there was no way I felt I could pull off such a lofty voyage in so short a timeframe. When my husband, Chad, asked me the simple question: "Is this something you'd really like to do?" I said the word we've all uttered from time-to-time over the span of our lives: "Oh, someday."
You know, someday. When the kids are older. When work slows down. When we're thinner. When we're richer. When the house is paid off. When we feel worthy. Someday. Yes, then.
After reminding me that I'm not -- gulp -- getting any younger, Chad does what partners are supposed to do. He pushes me. And so, after the deliberation of decision makers, within 48-hours, I'm officially deemed a change maker and rule breaker. Suddenly, it's "someday", and I am off.
I arrive on Necker without expectation or agenda. There's nothing in particular I want to "get". I'm simply eager to see what I'll see, learn what I'll learn, meet who I'll meet. Where typically I would have goals and timelines scribbled madly across my metaphoric chalkboard, I arrive on Necker a blank slate. Postcard blue waters (#NoFilter) engulf every geographically perfect edge. Cheeky lemurs squawk in the distance. Island flora thickens the air with warm perfume. Lizards ranging in size from doppio to venti make a Necker traffic jam. And two-dozen legitimately funny, smarty-pants assemble to ideas-swap on topics from the future of technology to the future of our oceans. The likeable hotshots include authors, finance professionals, entrepreneurs, lawyers, and techies. Oh, the techies -- it's like I'm making an appearance on a reality series co-starring the affable cast of HBO's Silicon Valley.
I first meet Richard -- that's how he introduces himself, just "Richard" -- about an hour after my arrival. He is, as rumours would suggest, barefoot and approachable; ever the nonconventional business patriarch. While the respect factor is huge, the intimidation factor is nil. The greatness ghosts of cross-disciplinary visitors linger – from Nelson Mandela to Lady Diana -- yet there is an utter lack of pretension. This place thrives on a carefully balanced trifecta of serenity, big ideas, and good fun. Not five minutes into our banter, Richard challenges me to guess what the dining room chandeliers are made of. The answer? Ostrich eggs. About 90 of them, in fact. He goes on to explain that this is the first incubation system of its kind, replicating the heat of the nest. Within minutes of the first baby's birth, he tells me, all eggs will start to crack at which time a netting system is rolled out to catch newborns. I laugh and say: "As if." But after a few minutes of his precise description -- this is the man on the cusp of commercializing space travel, after all -- I finally believe him. As soon as I do, he says it: "Gotcha!"
I'm in for a memorable week.
Days are spent attending sessions that bridge a wealth of relevant expertise. I moderate a discussion among CEOs on the impact of leadership on company culture. In an intimate group conversation, Richard says his leadership style is straightforward: "We hire adults and we treat them like adults." Right, that. Despite ample contenders jockeying for top spot on my "professional life highlight" list, it's in said interactions I'm most captivated. Not only by what he says, which is consistently simple yet profound, but by how he says it. He's present-focused. There's no texting, no checking Social Media. He's an expert listener. When I, on the other hand, am busy, I act busy. Short-fused, irritable. Stingy when it comes to dolling out my time. There's no trace of that in our laid back host.
In each encounter, I fixate on the space between his temples. Not in a creepy way -- I don't think -- more with intrigue by that which has occupied that precious real estate. I reflect on a recent occurrence whereby, after giving someone a pet goldfish as a birthday gift, I overheard one party-attendee declare: "Goldfish are such a pain to look after." In conversations with Sir Richard, a man who admits his hope is that within a year he will be at last be an astronaut, I'm reminded that there exists a continuum. On one side are those who believe space travel is difficult work, but who go for it anyway. On the other are those who believe caring for a goldfish is, and who don't go after much of anything. Where we choose to seed ourselves on the spectrum of what's possible is what will ultimately define the size of our lives. Well, that, and making the realization that "someday" is really just "today" in disguise.