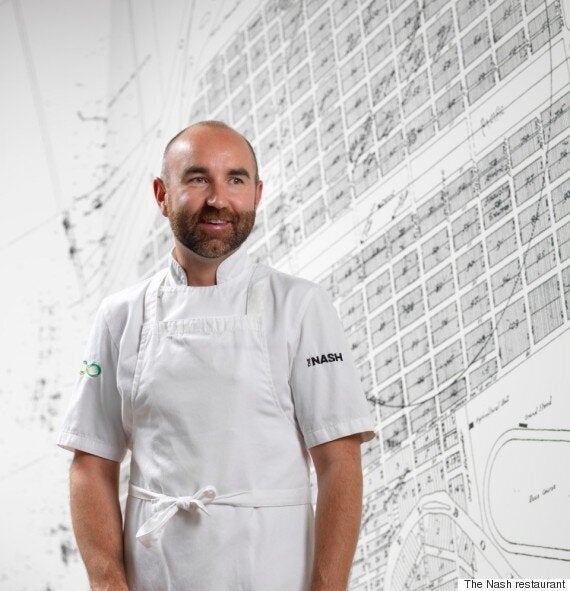 (Photo: Courtesy of The Nash restaurant)
Food is Matt Batey's livelihood and his passion. But when World Vision issued one of Canada's top chefs a challenge -- give up food for 30 hours to raise awareness for the world's hungry children -- this award-winning chef didn't hesitate. Matt was so passionate about the cause that he went for 48 hours. Here's his story.
And as with every human being, food is key to my survival. It nourishes me. It's how I make a living to provide for my family, literally using food to put food on the table. But for me, food is about much more than that.
Food is the medium that joins people together, whether we're sitting with friends and family, or serving complete strangers as a chef or waiter. And as the executive chef at The Nash restaurant in Calgary, a place which celebrates sourcing food locally, food also joins me with the people who grow the produce or catch the fish.
Around the world today, nearly 800 million people are without secure, reliable, regular sources of food to eat.
I have so many great memories of meals as a child. My parents were very busy but always made time to make us a family meal. My father often cooked breakfast for dinner: pancakes, fried eggs and sausages. Loads of protein for our growing bodies, and a tummy full of satisfaction heading to bed.
But the satisfaction of food wasn't just physical. It was about being together. I can fondly recall staying up late to watch Monday Night Football with my dad while he did the week's baking. Muffins were a staple. A cake, crisp or pie meant we were in for a particularly tasty week. So for me, food has always been the medium that brings people together. It's a value I've held my whole life.
When World Vision asked me to join the 30 Hour Famine last weekend, I knew what I needed to do. Around the world today, nearly 800 million people are without secure, reliable, regular sources of food to eat. I have never gone hungry a day in my life. It was time to experience just a little of what it's like to be desperate for food, but unable to eat.
What would it be like to know that mealtime was approaching and I'd need to go without? What it would be like to keep touching fresh vegetables and top-quality meats, or inhaling the intoxicating aroma in the restaurant kitchen on a Friday night -- without having anything to eat myself?
In the weeks ahead of the Famine, I got myself mentally prepared. The kitchens of The Nash restaurant are busy and intense, so maintaining the mental acuity needed to perform at my highest level was key.
My last meal before giving up food was dinner, last Thursday night. While the 30 Hour Famine is just that -- 30 hours -- I had decided to go 48 hours without food. I wanted to go the distance, have the full experience of what it was like to be hungry and still have to work around food. Doing this was very close to my heart.
When my alarm clock went off Friday morning, I awoke to the memory that there would be no breakfast that day. Or lunch. Or dinner. And I knew I had a busy restaurant to run Friday night, and on Saturday. I geared up for a long stretch, convincing myself that could do it. I felt nervous, but excited.
By Friday night, I was so, so hungry. Running the restaurant kitchen, I was having the usual tantalizing experiences of being around fresh ingredients combining magically with herbs and spices. But I couldn't eat any of it.
I had these crazy swings of feeling woozy, alternating with incredible bursts of energy, knowing I had to run a restaurant during one of its business nights of the week.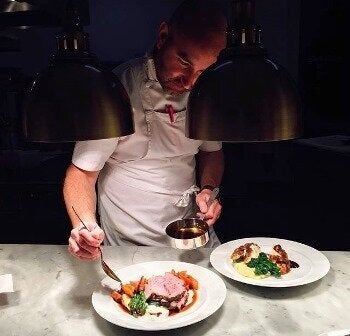 Preparing this delicious food without being able to eat was so difficult! (Photo: Courtesy of Matt Batey)
One of the toughest things was giving up the connection food offers. Sitting down with colleagues, friends or family to break bread and talk about the day. A shared enjoyment of something warm and comforting can put everyone at ease, bringing out their best selves and drawing everyone close. I really missed that communal feeling of stopping to grab a bite with the people around me.
My job as a chef is to be close to food all of the time. For me, it's all joy. But as I worked without eating, I tried to imagine what it would be like to be a child overseas, working long hours at a food stall or bakery for very little pay. I know this is the norm for many children, it's probably the most heartbreaking aspect of all.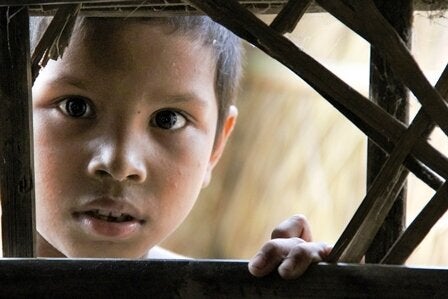 In Bangladesh, Morsalin works all day in a restaurant for the equivalent of 50 cents a shift. He takes everything home to his mother, a widow. (Photo: World Vision)
Getting ready for the Famine, I had done some research on child hunger. I learned that lack of nutritious food can permanently affect a child's physical and mental development.
Around the world, more than 160 million young children are stunted due to malnutrition. This means that they are short for their ages, but also that their brains also haven't developed properly. This makes it much harder to learn in school, and break out of poverty.
As my hunger got more intense, I also thought about what it would be like for parents in poor countries. As a dad, if I had to pick between feeding myself or my kids, there's no question what I'd do. It's a no-brainer. I would provide for children at my own peril, whatever it took. And around the world, millions of parents will go to work hungry today for the sake of their children.
How did I get through the hours? The same way that thousands of Canadian teenagers did this past weekend, doing the 30 Hour Famine in their schools and churches. I kept reminding myself that I would be helping bring awareness to this important cause -- and that I was making a difference.
I read a statistic on how kids who gets enough healthy food before turning two finish at least four more grades in school than those who don't. Those same kids are 33 per cent more likely to escape poverty as adults. If I've helped World Vision raise funds for food programs overseas, going without food for two days was one of the best things I've ever done.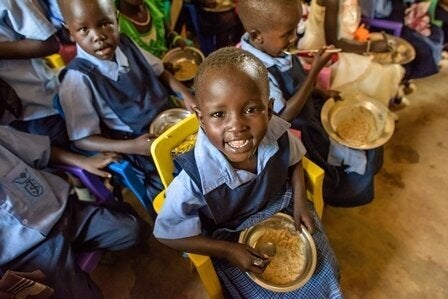 In South Sudan, children enjoy a school meal together, to nourish their growing bodies and help learning go better. (Photo: World Vision)
I finished the 30 Hour Famine feeling very humble and grateful. Grateful for that meal on Saturday night, and the one on Sunday morning. Grateful that I've never seen hunger in my own life -- not real hunger, anyway. And so grateful that my own children don't go to bed hungry at night.
I will always have a dynamic, exciting, fulfilling relationship with food. But now, that combination is infused with a new thankfulness -- and a reminder that I can do something to help.
Follow HuffPost Canada Blogs on Facebook