For the past forty years, His Royal Highness The Prince of Wales has focused much of his charitable work on the well-being of the individual within the community. It is an interdependent relationship, with both requiring sacrifices and allowances from the other. There is no doubt that people need communities to thrive, after all we are social animals; but communities are only as strong as the individuals who inhabit them.
His Royal Highness has taken up this challenge by founding charities that focus on issues such as corporate social responsibility (Business in the Community and Scottish Business in the Community), helping young people start their own businesses (Youth Business International), distributing surplus goods to those in need (In Kind Direct) and helping tap the business potential of seniors (The Prince's Initiative for Mature Enterprise and The Prince's Initiative for Mature Enterprise - Wales).
Prince's Charities Canada, the Prince's Canadian charitable office has addressed similar causes while developing a distinctly made-in-Canada approach to improving social outcomes. One such example is The Prince's Seeing is Believing (PSiB). Developed by His Royal Highness in the UK over 20 years ago, PSiB was created out of a belief that business had a very real role to play in tackling social issues. The Canadian program challenges CEOs and senior executives from coast to coast to coast to use the same critical problem solving and strategic thinking they employ everyday in the office to come up with innovative solutions to social problems. PSiB community visit days, as they're called, bring leaders out from behind their desks and immerse them in a very different reality. The goal is to inspire participants to take what they've learned and develop business-inspired solutions to the problems faced by their communities.
Canadian PSiB visit days have focused on education, training and employment strategies for youth, especially those from disadvantaged backgrounds. Some of the resulting outcomes include workplace internships and social enterprise assignments for street-involved youth; review of hiring practices in large corporations; an initiative to develop and implement a hiring program for Aboriginal youth in the Greater Toronto Area and social marketing support to bring increased visibility to Aboriginal enterprises and opportunities.
Click here for an overview of the latest PSiB community visit day to Weyburn/Regina, Saskatchewan.
While PSiB is an example of a best practice taken from the Prince of Wales's existing UK-based charitable activities, the Prince's Operation Entrepreneur (POE) is entirely made in Canada. A program of Prince's Charities Canada, POE combines the strengths of the Canadian Youth Business Foundation (itself an affiliate of The Prince's Youth Business International), the student business organization Enactus and some of the country's leading business schools to create a one-of-a-kind entrepreneurial training program for transitioning military personnel.
His Royal Highness' patronages also focus on socially responsible business, including Canadian CSR pioneer Canadian Business for Social Responsibility.
Responsible business and enterprise is also the focus for the Prince's latest blog for HuffPost UK, which includes a beautifully shot video highlighting the breadth of His Royal Highness' efforts in this area.
For more information about The Prince of Wales's Canadian charitable works please visit: www.princescharities.ca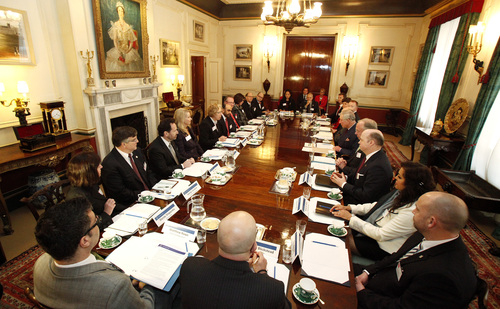 HRH The Prince of Wales meeting with a group of Canadian CEOs to discuss corporate social responsibility in a private audience at Clarence House in January 2013