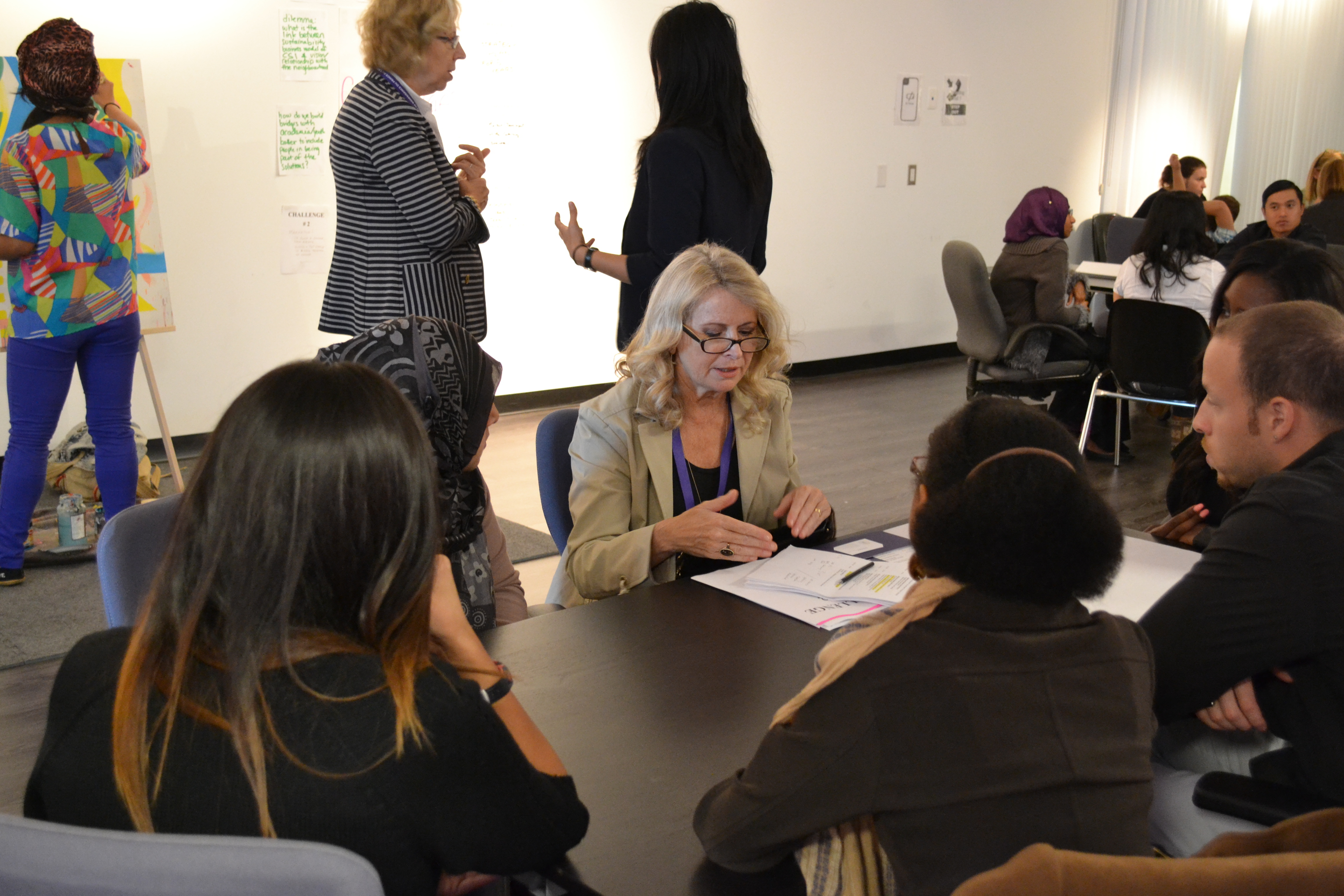 Gay Mitchell (Deputy Chair - RBC Wealth Management) taking part in discussions as part of the Oct. 3, Prince's Seeing is Believing visit day
It's a simple idea; bring CEOs out of the boardroom and into the community. While you've got their attention educate them about social challenges, introduce them to some people they wouldn't normally meet, show them a bit of what's being done and then challenge them to make it better.
When HRH The Prince of Wales started the "Prince's Seeing is Believing" over 20 years ago in the United Kingdom he wanted to create a new way of engaging businesses in the communities that they serve. The result is a program that taps corporate leaders and asks them to use their position, their resources and their contacts to become agents for social change. Recently Prince's Charities Canada (the Prince's Canadian charitable office) has brought the program to Canada where CEOs from across the country are embracing this new approach to corporate social responsibility.
Last Thursday Gay Mitchell (Deputy Chair, RBC Wealth Management) led a group of CEOs including: John Andras (The Andras Group), Tom Anselmi (formerly of Maple Leaf Sports and Entertainment), Pavi Binning (George Weston Ltd.), John Crean (National Public Relations), Alex Gill (Mendicant Group), Vikas Gupta (Transgaming), Valerie Pringle (Broadcaster), John Stackhouse (Globe & Mail), Marilyn Struthers (Ryerson University) and Peter Willson (Willson International Brokerage) on a PSiB Community Visit Day.
The group visited two organizations in Toronto to learn more about how the arts are being used to create unique opportunities for their communities.
The first stop was the Artscape Daniels Spectrum, which provides top-notch office and creative space to eight different arts organizations who serve the surrounding Regent Park community. The group of leaders were given a brief intro to the day, a video welcome from HRH and then it was straight to work looking at the offerings and the challenges facing the different tenants.
PSiB aims first and foremost to tap the brainpower and networks of the corporate participants. Gay Mitchell distilled the message perfectly saying, "CEOs solve problems for a living. This program taps those skills and puts them to work in support of the community."
As the CEOs learned and brainstormed solutions with the tenants a painter worked on a special piece of art in the centre of the room using the conversations around her as inspiration.
The second stop for the group was the home of SKETCH located in the old Shaw Street School (still a very active construction site) on Queen West. SKETCH is a organization that engages young people who live homeless or on the margins in order to build leadership and self-sufficiency and cultivate social and environmental change through the arts.
The space was raw (it won't officially open until Winter 2014) but here the CEOs learned about the sheer breadth of programs offered and how they change so many lives. CEOs toured the facility, worked on a shared art project with some of program's youth and then spoke with SKETCH's leaders about the challenges that they face.
The day ended at RBC headquarters where the CEOs met in private, spoke about what they'd seen and heard and made plans for how they'll be able to help. Over the coming weeks, Ms. Mitchell will be working with her fellow business leaders to finalize those action plans and then get to work in supporting these organizations.
Again it's a simple exercise but it's a model that works.
Already PSiB visit days in Canada have generated internships, improved access to capital, marketing support, mentorships and jobs initiatives. With future visit days planned for Halifax, Calgary, Vancouver and Winnipeg, PSiB will continue to grow its network of engaged corporate leaders from coast to coast to coast.
To learn more about the Prince's Seeing is Believing and HRH's Canadian charitable activities visit: www.princescharities.ca