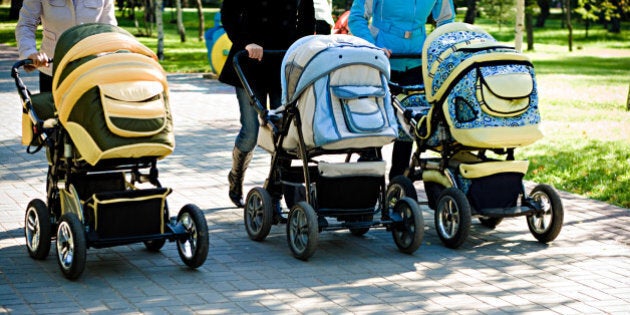 Strollers are so expensive these days. As an example, the UPPAbaby Vista starts around $1,199 and the Bugaboo Cameleon3 Classic+ Collection Complete starts at $1,349.
With these prices, I would expect top of the line safety and lots of amazing features. I think they cover off the safety well (remember the under construction building falling on a stroller with a baby, and the baby being unharmed??), but when it comes to forward thinking features, these strollers stink.
We just had our baby two months ago, so I am pretty new to using a stroller, but I have already identified nine ways to improve the stroller functionality, and while there are plenty of hacks, I don't want a stroller that looks like a souped up car (especially if dropping over $1000).
Here is a list of nine items that I thought should be included in the specs of the stroller, and not just add ons after:
Build in a hook. The under storage can be great, but there are times you want easy to access bags, and a multi-purpose hook built in would be beneficial. One hack that people use is the "Mommy Hook", which costs just under $10 - I am sure you can get a no-name brand for pennies.
Have a cup holder that doesn't spill drinks all over the place. Ugh. We bought the add on to the UPPAbaby, and it is garbage - and costs a whopping $30. Putting a drink in there is the equivalent to just spilling the drink all over the floor.
Have optional "winter tires" for bad weather. There is a hack circulating the internet that you can use zip-ties, but dangnabbit, no chance that will create a comfortable ride for the precious passenger.
Reflectors on the rims. Take a second, and think about when you cross the street with your stroller - your stroller hits the road before you do. Don't you want to keep your baby safe from cars??? So, why the heck isn't there reflectors all over the stroller? This should be standard.
UPPAbaby recently contacted me, and told that they just started selling reflectors. You can check them out here. But, I still think that with their price-tag, these should be included.
Blanket Clip. Every time we take Haddie for a walk in the cold, we drape a blanket over the stroller to keep in some warmth, and keep out the wind. But, the wind always wins and blows the blanket off the stroller. Why isn't there a clip for the blanket to stay secured??
Built in GPS locator. As mentioned, strollers cost a fortune these days, but people just leave them outside their houses. You wouldn't leave an unlocked bike in front of your house, so why are you leaving a stroller??? Actually, I don't care why you do this, but shouldn't the stroller manufacturers have a built in GPS tracking system, along with proof of ownership? Yes.
Light over the bucket. Isn't it nice to check on your baby while you are driving, or walking? But, without a light, it is a pain in the butt. Sure, you could use the light on your phone, but that doesn't work when driving, and that light is so bright. If a light can work on a BBQ for lobster, it can work for a stroller in the same way. So, lets get a built in nice and warm light installed.
Light in front of stroller. While talking about lights, lets also get some lights integrated on the front of the stroller, so people can see you better. Bicycles are doing it, why aren't strollers?!
Built for a world of escalators. Is it unsafe to take a baby on an escalator?? I've heard that there are ways, but surely these strollers can be built to handle it.
Follow HuffPost Canada Blogs on Facebook