As we begin another year, many Canadians enter 2016 with a renewed enthusiasm towards achieving their fitness goals. Even though many nay-sayers will joke about short-lived New Year's fitness resolutions I think we need to look at it in a more positive light.
To those Canadians who are motivated by the arrival of January 1 to go to your local gym, I say WAY TO GO! Don't listen to the people who want to throw depressing stats in your face or tell you that you won't go to the gym past February.
Instead, block out that negativity and focus on this one positive thought -- all you need to do is show up.
Once you're in the gym, it is then the responsibility of myself and my fellow certified fitness professionals to get you on the right path to achieving long-term success by showing you the most effective fitness trends.
I realize with all the information out there it can be challenging, or even a bit overwhelming, to know what those aforementioned 'most effective trends' are. So to help provide clarity, canfitpro, the largest fitness education provider in Canada, tallied responses from more than 1,500 fitness professionals as they ranked their choice for the most effective fitness trend of 2016.
So without further adieu, here are Canada's Top 10 Most Effective Fitness Trends for 2016.
Functional fitness involves exercising using multiple muscle groups versus one specific muscle group at a time. Functional fitness programs include practical, balance-challenging movements that simulate activities like shovelling snow, carrying groceries, or unloading the car. This focus helps prepare for the physical activities of daily life and counters the movement patterns associated with a sedentary lifestyle. Fitness programs like Les Mills BODYPUMP and MYBootcamp are based on functional fitness exercises like squats and lunges.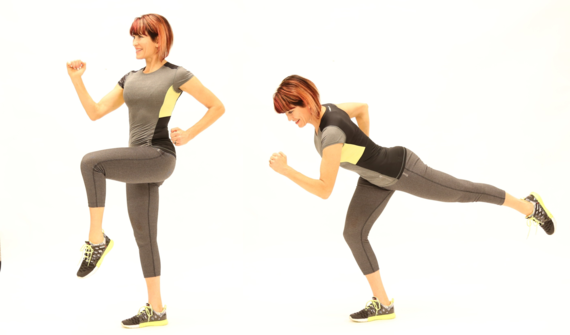 The single leg running man is a great functional fitness exercise that uses multiple muscle groups while also improving balance
2. High-Intensity Interval Training (HIIT)
HIIT workouts involve intense periods of exercise followed by durations of rest. This high intensity approach is increasingly popular because of the significant benefits it generates in a shorter time than steady-state cardio and because it works for all fitness levels. As more Canadians cite 'not enough time' as an excuse for not exercising, HIIT addresses that time crunch, burning fat and improving cardiovascular benefits quickly and effectively. Examples of HIIT include elements of CrossFit, along with classes like Jillian Michaels BODYSHRED.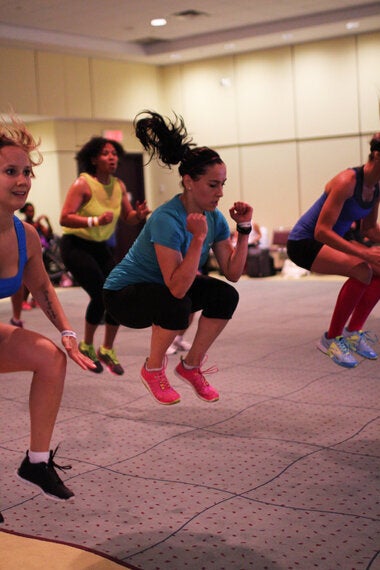 The tuck jump, seen here, is a great way to get your heart rate up
3. Life/wellness coaching to complement your fitness training
Life and wellness coaches provide expertise and support to help clients improve their health and lead a more balanced lifestyle. Coaches can help clients reduce stress, lose weight, quit smoking or eat better. Working with a coach, clients can set realistic goals, learn routines to build life balance and healthy habits, and stay on track to achieve results. Many coaches offer their services online to ensure they remain accessible when clients need them. In Canada, many life and wellness coaches take part in Certified Coach Practitioner training offered in conjunction with the Certified Coaches Federation and canfitpro.
4. Nutrition and healthy eating programs
Combining exercise with healthy eating is the best solution to achieve optimal health. Proper nutrition complements fitness efforts and boosts metabolism and energy levels, leading to better results in a shorter time. More Canadian fitness professionals are taking additional training to improve their nutrition expertise, including canfitpro's Healthy Eating & Weight Loss Coach certification and Tosca Reno's Eat-Clean Foundations.
Express workouts encourage participants do multiple exercises at a fast pace to generate maximum results. This is an effective approach for people on a tight schedule - perfect for lunch time or after work. Providing the ultimate convenience, an express workout typically lasts 30 minutes or less. A good example of a total body express workout is the GoodLife Fitness FIT FIX circuit.
By 2030, close to one in four Canadians will be 65 years or over. As Baby Boomers reach their golden years, there is significant demand for fitness programs and services to help them stay active and maintain their quality of life. Fitness professionals are taking specialized training for active aging to enable them to deliver safe and effective programs for the older adult. Many fitness classes, like Newbody, offer a safe, low-impact workout for people of all ages.
7. Fusion-style group fitness
New types of group fitness classes that combine disciplines -- like yoga and cycling or Pilates and boxing -- are springing up across Canada. Mixing totally different types of exercise to create a new workout helps develop more strength, agility, balance and coordination than a single exercise discipline. Some popular fusion-style group fitness classes include Les Mills BODYFLOW and Piloxing.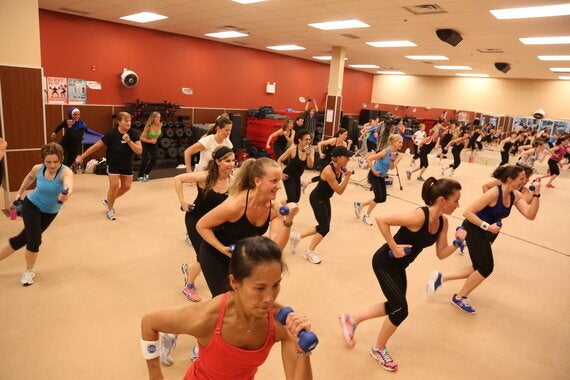 More Canadians than ever are choosing to work with personal trainers to accelerate their workout results. Trainers create customized fitness plans, offer advice for healthy eating and provide one-on-one motivational coaching to reach fitness goals safely and with proper form. Personal trainers are required to achieve and maintain their Personal Training Specialist certification, and are encouraged to continuously upgrade their qualifications to improve their expertise.
9. Working with certified and experienced fitness professionals
Like hiring an electrician or an accountant, it's important to research and identify certified, qualified fitness professionals to help structure and guide your fitness routine. Canadians can now find and assess the credentials of registered fitness professionals in their area using repscanada, the Canadian Register of Exercise and Fitness Professionals.
Using your own body weight to create resistance is a growing workout trend among Canadian fitness professionals and consumers. This form of exercise builds strength and muscle and burns fat without the need for equipment, making it easy to get started and less intimidating for beginners. TRX and the Lebert Equalizer are examples of body weight training systems that enable people to manoeuvre their own body weight while doing movements like lunges, push-ups and pull-ups.
It's time to make 2016 the year you become the happiest and healthiest version of yourself.
What is your health/wellness/fitness goal for 2016? Let me know in the comments below!