For many expectant parents, a caesarean birth or C-section is not part of the plan, and when the possibility of a C-section is raised, it can cause a lot of anxiety. After all, everyone is eager to remind the parents-to-be that a caesarean is major abdominal surgery! And everyone knows someone that had a horrendous recovery from such a procedure, possibly after a particularly long labour.
In that way, a caesarean birth is the same as any birth, because everyone has a scary story they are eager to share.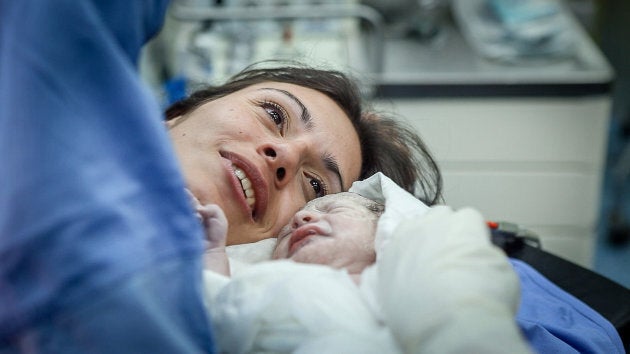 But a C-section doesn't have to be scary, and it is still a birth! When you know what to expect and how to make your caesarean birth a great experience, there is nothing to be nervous about.
Here are five unnecessary fears I often hear from clients when it comes to caesarean births.
1. They told me it's an 'emergency' C-section!
This is one I hear a lot from clients. They recount stories of a friend/sister/aunt who had an emergency caesarean where everyone was in danger, and they are frightened it will happen to them.
There are some things you can do to make your C-section birth feel more like the birth you had envisioned.
While I wasn't at those births and don't know what happened, "emergency" means something different when it comes to a C-section. An emergency caesarean is simply one that was not scheduled. Usually the birthing person is in labour, their waters have broken, or baby is showing signs of being tired — but terming it an "emergency" does not necessarily mean any danger. Typically, the birthing person is awake and has a support person with them. These caesareans are "emergencies" only because they can't be delayed until another day.
2. It won't feel like a 'real' birth
A caesarean birth is a birth, period. And there are some things you can do to make your C-section birth feel more like the birth you had envisioned.
Having skin-to-skin in the operating room, asking them to lower the drapes when your baby is born so that you can see the birth, delaying newborn procedures until after the first feed, delayed cord clamping and even negotiating an extra support person are all things that can be discussed or requested with your medical care team.
3. Will I see... everything?
This is a very common fear for partners. There is a drape that is used to protect the sterile field that also acts as a curtain so you can't see what is happening. The incision is also made so low on the belly that you can't see it from above. You can ask your nurse to lower the drape just a little so you can see your baby being born, just like if someone told you to look down during a vaginal birth.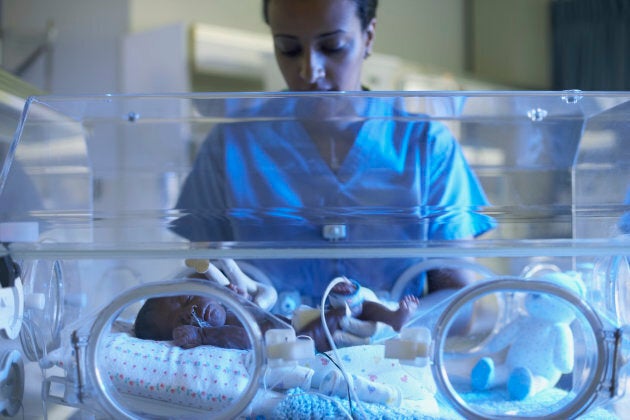 It's also a good idea to take a couple of quick glances around when you enter the operating room. Take note if you have to walk past the drape to get to the baby warmer, especially if the support person is planning to go to baby. Also glance at the ceiling. Some hospitals have glass-covered lighting in the OR, and glass sometimes reflects more than people would like to see. If you see a light like that, don't look up during the birth!
4. Too many people
The operating room is not always as large as people expect. Near the birthing person's head there is a stool for a partner or one support person, but the anesthesiologist and their equipment are there as well. For that reason, many hospitals do not allow doulas or a second support person in the OR. If you are having a scheduled caesarean, this is something you can discuss with your OB, and potentially with the anesthesiologist in advance.
A caesarean birth doesn't have to be scary. It is just a different kind of birth experience.
If you have an emergency C-section, the person you usually need to convince is the anesthesiologist because they're the most likely to feel crowded if an extra person is brought in. Don't worry, though — your primary support person will be with you during the birth either way.
5. Will I miss my baby's first moments?
Believe it or not, you can take your phone into the C-section procedure with you! While you won't be chatting on it with a friend, you can use it to play music in one ear if you would like, and more importantly, you can use it to take pictures of your baby's first moments. Most new parents like to take a few pictures of their baby, especially if they weigh the baby in the operating room.
A caesarean birth doesn't have to be scary. It is just a different kind of birth experience. If you are anxious, you can always ask your nurse, doctor, or anyone on the medical team to help you and explain things to you. This is the birth of your baby, and it is a time of celebration!
Have you been affected personally by this or another issue? Share your story on HuffPost Canada blogs. We feature the best of Canadian opinion and perspectives. Find out how to contribute here.