In true Canadian fashion we went from ice storms to bathing suits without a lot of time in between! With the hot weather here, what's a pregnant person to do? There is a furnace the size of a baby bump strapped to your torso, and now Mother Nature is rubbing the (sweaty) salt in the wound!
Becoming overheated during pregnancy can be worse than just being uncomfortable. This is why it is advised against using hot tubs and saunas, and why fevers are more concerning when someone is pregnant. Depending on how long your temperature is elevated and how far along you are, having an increased temperature for a prolonged period of time can be dangerous for the baby.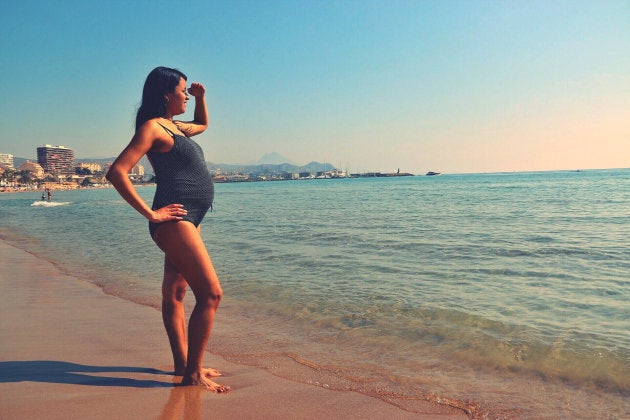 While it is possible to limit activities that elevate your core body temperature, like hot tubs and saunas, it is a bit harder to avoid the heat of the summer. So what can be done to keep you and your baby safe and comfortable? Here are 10 tips.
Tip #1: Stay hydrated
This is particularly important for those in their third trimester as dehydration can lead to pre-term labour. Keep lots of cold drinks on hand and set a reminder to drink if you are prone to forgetting. Water, iced teas and fruit juices are all excellent sources of fluids. If you are already feeling dehydrated, try drinking something with electrolytes like a sports drink or coconut water. And since summer wouldn't be the same without popsicles, frozen coconut water makes an excellent homemade treat!
Tip #2: Follow Spain's example
We know that a midday nap probably isn't always easy, but the siesta came out of a need to avoid the unbearable midday heat. Try to avoid spending too much time outdoors in the middle of the day. Bring your lunch to work with you so you don't need to go out, and if you like to exercise outside try to stick to early morning or the evening when things are a bit cooler.
Tip #3: Crank the AC
Remember Father of the Bride Part II? The scene where outside there are kids cooking eggs on the pavement and inside the men are wearing winter parkas and mittens? It was funny, in part, because it can also be accurate. It can be hard to get the house to a comfortable temperature and you may be setting your thermostat at a much cooler temperature than usual.
Swimming is not only helpful for cooling you down, it is great prenatal exercise.
Tip #4: Clothing optional
Clothing may not be optional at the office, but keep your wardrobe choices in mind as you navigate the heat. Thin layers that can be removed as the day warms up are great. Moisture-wicking and stay-cool materials are also excellent, particularly if you are going to be outside for long periods of time.
Tip #5: Dip your toes in
Have a neighbour with a pool, or one yourself? Enjoy! Swimming is not only helpful for cooling you down, it is great prenatal exercise and can take the weight and pressure of your growing bump off your back for a short period of time. Just beware — you might not want to get out!
Athlete, that is. Cooling towels can be found at sport stores and outdoor stores, and sometimes they even show up at dollar stores! These towels can be draped over your neck, shoulders or even head, and can help you to stay cool. Bonus, they are a great help next summer if you are planning to wear your baby — same problem, just with baby on the outside!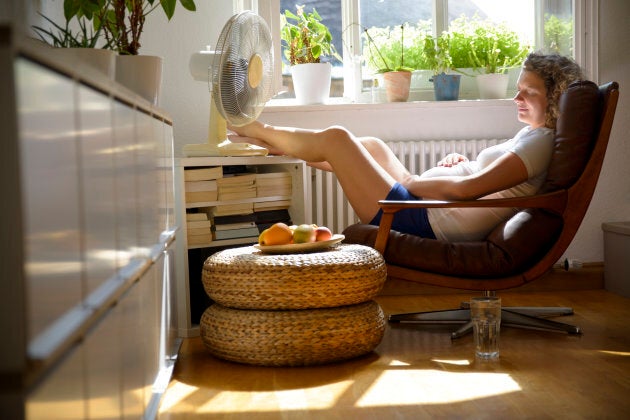 Tip #7: Dance in the rain
Or just take a cool shower. Either way, the moisture on your skin, usually cooler than the air temperature, and a breeze will help cool you down. But really, let loose and dance in the rain.
If you are already hot and/or overheated, putting cold packs on your pulse points is a fast way to bring your temperature down quickly. Cold compresses, ice cubes or cold packs can all help. In a pinch, run the tap and put your wrists under the cold running water.
Tip #9: Go natural
Plant-based fibres such as cotton, bamboo and hemp breathe much easier next to the skin than synthetic materials or even fibres like silk. Try to avoid the silk blouse and stick with lightly coloured cotton.
Tip #10: Complain
OK, so this one won't help you feel less hot or prevent you from overheating. But being pregnant in the heat warrants a complaint or 10.
These tips are suggestions but you do not need to stress too much about overheating. If you are comfortable, baby is too — and that is what matters. Just don't forget the sunscreen! It won't keep you cool, but many people find they are more prone to sunburns when pregnant.
Whatever else you do, keep cool and enjoy the summer!