As I took a deep breath and reminded my oldest (for about the tenth time that morning) to put his lunch bag into his bag so he didn't forget it, I thought back to when my kids were younger. Morning routines have never come easy (morning people terrify me) but trying to get multiple kids out the door can feel like a Herculean feat. And if any of those little ones are little it can throw even more wrinkles into your plans.
Getting into a routine with one child can be challenging enough, but following up after a distractible four-year-old while you have a six-month-old on your hip would make anyone frazzled. It can be even harder when school drop off is exactly the time your new baby eats, poops, or naps! So how do you coordinate the school-morning routine and a newborn?
1. Divide and Conquer
If there is another adult in the home, discuss what needs to happen and who will do what, then stick to those roles. In my home, dad makes lunches while he makes his own and I do drop off. Other families, one parent does drop off while the other parent does pick up – and it's often the parent who is working outside the home does drop off while the parent at home does pick up.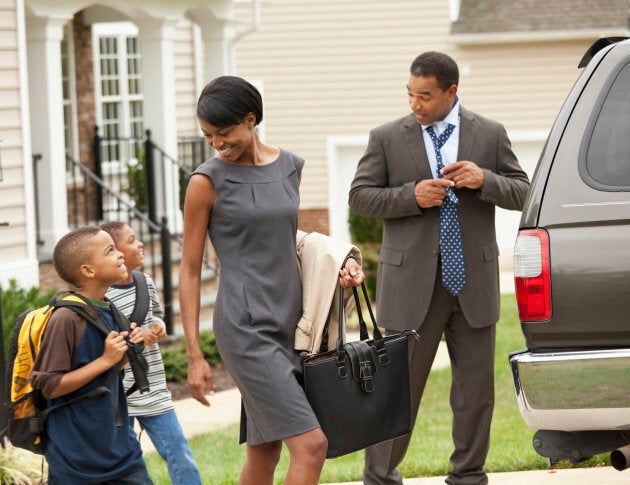 2. Be a Scout
Be prepared! And by that, I mean do everything you can ahead of time. Plan lunches on the weekend so you get everything at the grocery store. Pick clothes out the night before. Sign permission forms and check for homework instead of your child springing it on you over the breakfast table. By planning ahead you can save yourself some of the decision-making in the morning.
3. Involve Your Child
So your baby probably won't be much help (unless spit up is helpful!) but the child(ren) you are trying to get out the door to class can. In our house we talk a lot about what a person's "responsibilities" are. If clothes are picked out, your child should be able to get dressed on their own. Are they a bit older and able to pour their own cereal or pack their bag?
Giving them both ownership and responsibility helps to set them up for other school successes, while lifting the burden off your shoulders in the morning. Checklists can also help kids! If your child reads, you can write theirs, but even those little ones headed off for their first year or two of school can follow a checklist that has pictures.
4. Don't Look At Pinterest
Did anyone else have the friend on Facebook whose pictures on the first day of school looked like a four course breakfast and photo-shoot worthy pictures, complete with a gorgeous and detailed chalkboard about their child? Turns out I am not a Pinterest mom! I'm pretty sure my oldest ate leftover pancakes and the other had Cheerios.
It is OK to not be a Pinterest parent. It is also OK to be a Pinterest Parent. Just don't let the expectations of social media dictate how you get your day started – because as the doula showing up to help after those perfect photo-shoots, I promise their behind-the-scenes isn't quite as organized.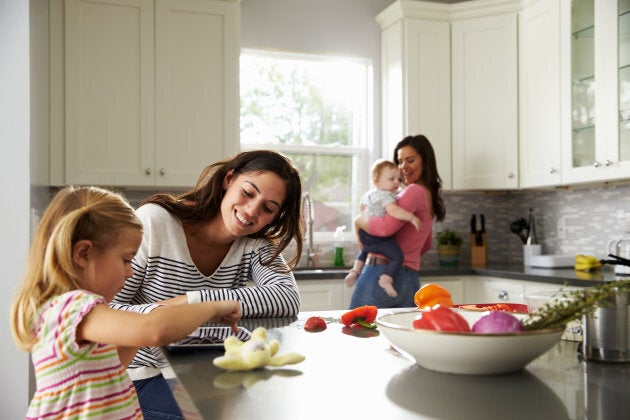 5. Embrace Chaos
Honestly? There are going to be really bad mornings. And there are going to be mornings when you rush out the door, get to the playground, and realize that you are somehow, magically, early (a feat you will never be able to repeat intentionally). It is OK if things aren't perfect or don't meet the expectations you had before you had to get multiple children out the door.
Most other parents are more worried about how chaotic their morning was than they are about judging you. And hey, your kid's socks don't match? It's a fashion statement! Wearing your PJ pants in the drop off line? You are comfortable while everyone else adjusts the waist on his or her jeans and dress pants. Forgot to pack their lunch? You are going to be a hit when you drop off a slice of pizza as you rush back to the office.
Kids are kids and mornings are mornings, it's never going to be perfect. And that is OK. Keeping it simple and getting your little ones involved will hopefully make the rest of the school year a little easier.
Have you been affected personally by this or another issue? Share your story on HuffPost Canada blogs. We feature the best of Canadian opinion and perspectives. Find out how to contribute here.