Hello 2018! As we've said our goodbyes to 2017, let's also say good riddance to the worst fashion trends of the past year. Scrolling our social feeds, we saw them rear their ugly heads in street style, strut down catwalks and even on red carpets donned by celebs and stars. But the new year is here, and it's definitely out with the old and in with the new when it comes to these fashion faux pas.
The Man Romper (RompHim)
You can blame this gem on a Kickstarter campaign that made a huge splash and some serious coin to turn the RompHim "dream" into a reality. Making their debut just in time for summer 2017, man rompers were the male fashion trend that no one was expecting and everyone was talking about. But despite all the jokes around the bromper, more than a few brave souls sported these man onesies over the summer.
Then in June, Los Angeles fashion brand, Hologram City, took the male romper to the next level when they introduced lace shirts and shorts in a series of pastel colours like pink, blue, yellow, green and purple, which could be styled individually or as a romper. The reactions to the men's lace styles were extreme, some loving and others loathing the look. Lace shorts for men? "Y'all, this is just WRONG", one Twitter user wrote. "Make it stop" another said. And of course, as you can imagine the memes and GIFs were endless on this one!
This past holiday season there was even a collection of Christmas and Hanukkah-inspired man rompers for the men that wanted to celebrate in festive romper style. But the party's over, and the new year has arrived. Let's resolve to leave this one-piece wonder to the babies and women in our lives.
PJs in public
Arriving in early 2017, the "pajamas as daywear" trend slithered its silky way in as #fashion. With strong catwalk influences like Givenchy driving this trend, paired with some of the most popular street stylers seemingly loving the look, it took some convincing, but it soon took off. Before we knew it, women were wearing satin jammy sets like two-piece tailored suits. But I say we leave the silk and satin sets for between the sheets. While the comfy-sleek look was popular with celebs like Zendaya, Gigi Hadid, Alessandra Ambrosio and others, it didn't make it any better.
Ugly shoes elevated
From designer Crocs to Furkenstocks, these bad shoe situations were one-part cringe-worthy, one-part laugh out loud. No doubt these are probably mad comfy, it doesn't take away from the fact they are mad ugly too. Jumping out both feet fugly, this is definitely one trend that we should leave behind.
On October 1, during Paris Fashion Week, Balenciaga baffled us when they debuted a platform Croc shoe on the runway — it definitely had people talking and gawking. The Crocs have a 10-centimeter platform and are sold in a variety of colours, including pink and yellow as pictured below. Note: Making the world's ugliest shoes taller does not make them look any better.
Clear plastic clothing
I see London, I see France...I definitely see your underpants.
During Milan Fashion Week, Moschino revealed their dry cleaner plastic bag dress, err sorry the "Cape Sheer Overlay Dress." Although even the description on the Brown's website references the so-called luxurious laundry gown, cheekily suggesting the 'plastic bag' dress is the only kind of dress you'd be willing do to laundry for.
This clear classic beauty can be yours for a mere $895 -- though you'll also have to wear another dress underneath it so you may have to fork out some more cash to perfect this lovely laundry look.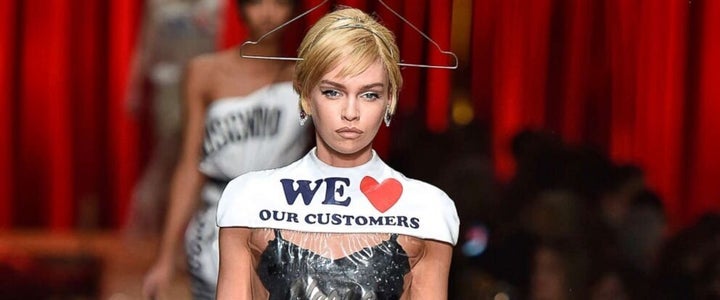 TopShop also took a dip in clear lake with these jeans.
Sure to make you hot, bothered and super sweaty, these clear cuts should call it quits.
Disaster denim
From double jeans, muddy jeans, detachable jeans, jeans with clear knees, to the ultimate wtf-faux-pas, the thong jean, these denim nightmares need to be put to rest this year.
2017 is over and so are we with these looks.
Follow HuffPost Canada Blogs on Facebook